Jackpot Giant Features
Despite being set in a prehistoric time, Jackpot Giant has exciting features to help you in your game. They may not be complicated, but they sure are useful. It contains traditional staples such as scatters and wilds but extras such as a progressive jackpot to really thrill players.
Wilds play a huge part as rolling 5 of a kind on payline 1 can activate the giant if other conditions are met. Not only that, but if you roll 5 wilds on any other payline, then you can win up to 50,000x your line bet.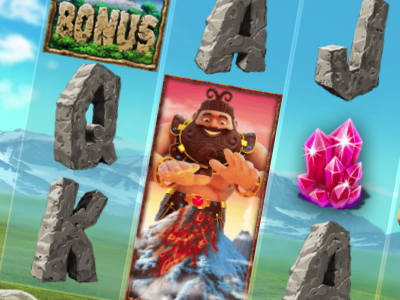 Stacked Symbols
Appearing on all reels during the main game, there are 2 stacked giant symbols that can appear. They occupy 2 vertical reels and will pay out each winning combination they are a part of.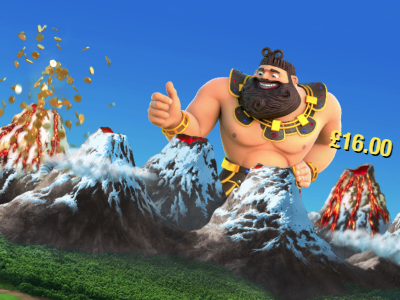 Giant Bonus
Landing Bonus Symbols on reels 1 and 5 triggers the Giant Bonus that erupts with cash prizes. You can pick 3 volcanoes to win random amounts and sometimes an extra volcano. Some volcanoes can cause a chain reaction and award all cash prizes at once.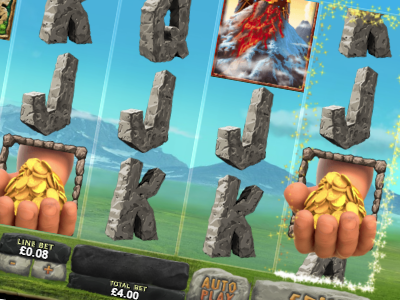 Mystery Bonus
When 2 to 4 giant hand symbols are in view on the reels, the Mystery Bonus is activated. The giant hand symbols will toss coins and pay out cash prizes to players.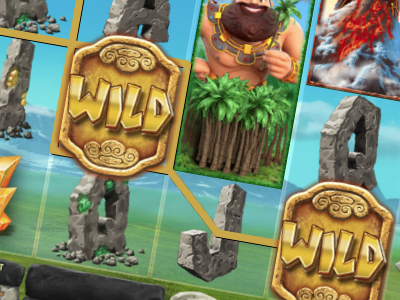 Giant Jackpot
If you land 5 of the same wilds on payline 1, then you trigger the Giant Jackpot. It only activates if you bet the maximum of 4.00. The jackpot is progressive, so it grows with every play.
Jackpot Giant Review
Journey back to the Stone Age and meets the friendliest giant in the land. Not only is he friendly, but he also has a huge progressive jackpot that can be yours for the taking. Jackpot Giant is a 5-reel, 50 payline slot developed by Playtech.
Design
Full of cartoony graphics and unforgettable sounds, Jackpot Giant is an amusing slot that'll excite fans of the Stone Age theme. The entire aesthetic is perfect and makes it eye-catching to play. From the giant's animations to the volcanoes in the background, it feels so epic.
Win Potential
There may be a select amount of features, but it contains the staples needed in modern online slots. You have bonus rounds and wilds to help you ultimately reach the enormous progressive jackpot.
Unfortunately, the RTP is at a measly 94.22% which is below the average standard. Despite this, it has a low volatility level so it's perfect for novice slot fans or enthusiasts who are looking for small frequent payouts.
Conclusion
If you are looking for quick entertainment, then Jackpot Giant is one you should check out. Destroying volcanoes as a giant is so much fun, but even better when you can win mighty cash prizes.