Street Fighter II: The World Warrior Slot Features
Where does someone even begin with the multitude of features from NetEnt's Street Fighter II: The World Warrior slot? Perhaps with the fact that you get to decide which character you'd prefer to play as.
Not only that, but you get to decide on your volatility level by selecting these characters. Ryu, Guile, E. Honda and Dhalsim are more towards medium volatility whilst Blanka, Chun-Li, Ken and Zangief are more aimed at higher volatility players. These characters also have their own abilities that go off once their meter bar is full. The abilities are listed below:
Ryu - Adds 3 wilds to a row.
Chun-Li - Adds 2 or 7 wilds randomly to the grid.
Ken - Adds 1 or 5 wilds to a row.
Dhalsim - Adds 3 or 4 wilds randomly to the grid.
E. Honda - Adds 3 wilds to the same reel.
Guile - Adds 2 vertical stacks of 2 wilds to the grid.
Zangief - Adds 2 horizontal stacks of 2 wilds to the grid.
Blanka - Adds 1 or 5 wilds to the same reel.
You can even take on the 4 big bads of Balrog, Vega, Sagat and M. Bison to gain up to 10x your multiplier. It feels like a real video game as you try your hardest to beat the bosses! Losing your health isn't the end either as you can unlock Car Smash Bonus Game and use the Insert Coin gamble feature.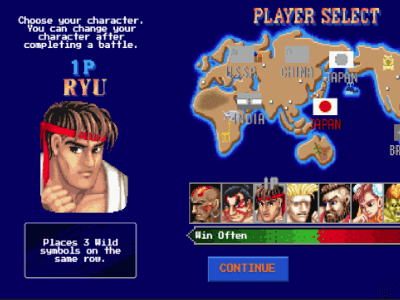 Character Selection
On the startup screen, you can select 1 of 8 characters just like in the original game. Each character has different abilities and volatility levels meaning that you can adapt the game to suit you.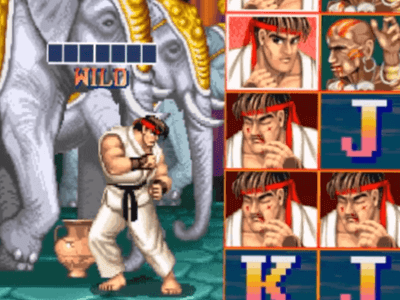 Wild Meter
You'll find a meter above each character's head. Fill the meter by one point for each high-value symbol in a winning combination. If there are no winning combinations or 7 or more points in the wild meter, the character uses their special ability to play random wilds.
Health Points
Your character will deal damage when winning combinations include their victory or defeat symbols e.g. them looking happy or disappointed. Similarly, opponent symbols of victory or defeat can deal damage to your health. Defeat your opponent to activate the Beat the Boss Free Spins.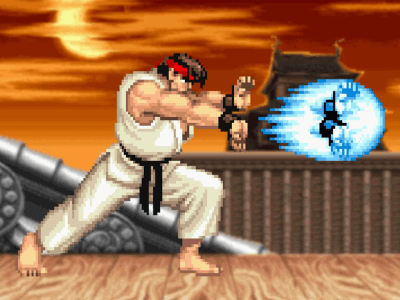 Beat The Boss Free Spins
Take on 4 bosses to receive free spins with a multiplier that can go up to 10x! Starting with Balrog at 2x, then going to Vega at 3x and Sagat at 5x. Beating the ultimate M. Bison will award up to 10x multipliers and the maximum win of 7,000x.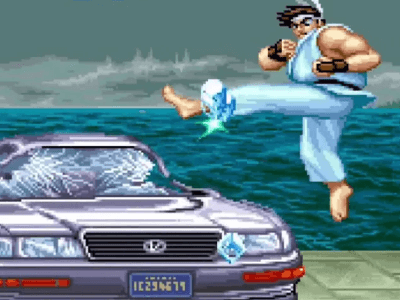 Car Smash Bonus Game
Don't feel bad if you get defeated in the first round of fights during the base game as losing all your health will result in this bonus game. You smash up a car with the P and K keys to win a random win of 5 to 15x the bet.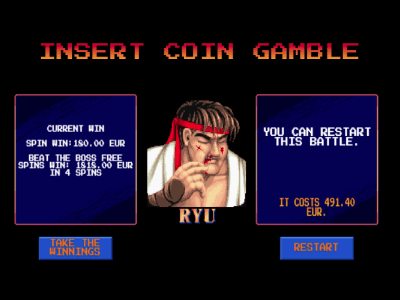 Insert Coin
Just like in the arcade, you can restart the boss battles by using this feature and sacrificing a portion of your winnings. This can only be used once and may not be available in the UK, check with your chosen casino first.
Street Fighter II: The World Warrior Slot Review
The original game was released in 1991 by Capcom and took the world by storm. Street Fighter II: The World Warrior slot was bigger and better than the first game. Arguably, the slot made fighting games popular and is one that is still beloved even today.
It's no surprise that NetEnt decided to celebrate the game by paying homage through a slot. They have created something that appeals to both video game nerds and slot players alike. Playing on a grid of 5x5 and using a cluster system makes the gameplay even more exciting. Fans can play as their favourite characters and beat the bosses all whilst trying to procure a tasty win. Prepare your best fighter and dive straight into Street Fighter II: The World Warrior slot.
Design
The first thing you'll notice is the 16-bit visuals to emulate the original game. With characters and sound designs taken straight from the original game, it feels like a faithful adaptation. You'll feel immediate nostalgia by seeing familiar locations and hearing battle cries. Honestly, it's a fans delight and is utterly outstanding.
The music will make you excited and feel pumped for each battle. There's no way to describe it without saying epic. You don't even need to be a fan of the original game to love the music and aesthetic. It's a solid 10/10 on design alone which'll make all fans happy.
Gameplay
As it uses a cluster system, you win by forming clusters instead of spinning reels. During fights, the clusters will be in the middle of the screen with characters on the other sides fighting just like in the original game.
All settings can be found on the bottom left with pay tables included, as well as sound settings. Like most slots, the spin button is in the middle with the autoplay button next to it. Amazingly, you can select up to 1,000 autospins if you choose to do so.
Win Potential
Impressively, the RTP is at a mighty 96.06%! This is over the standard and more than what you'd expect for a branded slot which is incredible. The volatility varies between medium to high with certain players changing the volatility level which means that you can adapt the gameplay to what you desire.
The maximum payout comes from beating the bosses and filling up the clusters. It's believed to go up to 7,000x your stake - which can be a little low for high rollers. The free spins and multipliers in the game do make up for the low maximum payout though - both in style and substance.
Our Verdict
This slot is literally a knock-out! Street Fighter II: The World Warrior slot is an icon that shows just how much creativity can be brought into online slots. It shows that they can be a work of art whilst being fun. This is not your average slot, it's a milestone and a landmark with slot culture.
All the references to the source material show a true level of detail from NetEnt and it'll make all sorts of gamers happy. There's no real way to describe this slot aside from it being an utter masterpiece. You'd be a fool not to try this slot!