Join the summer of sizzling offers at Foxy Games and Foxy Bingo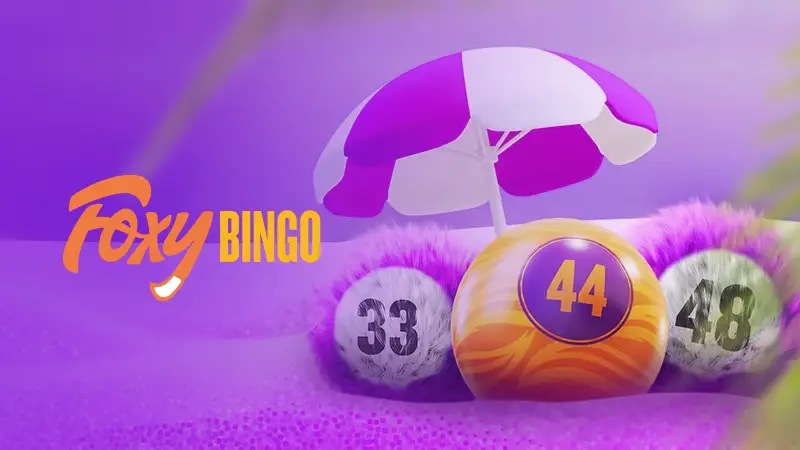 Summer is finally in full swing, even if sunny weather still seems far away. Don't despair! If you're looking to take matters into your own hands and turn up the heat over the holidays, Foxy Bingo & Foxy Games have just the thing for you.
As well as a top welcome offer at both sites, there are a plethora of fabulous other promos doing the rounds this summer with this household brand.
One of our favourites right now is the Summer Winner's Wheel over at Foxy Bingo.
Throughout August, full house bingo wins are boosted in the Forever Foxy Room, with additional spins and bigger wins available throughout the whole month.
Fox your way to a full house and you'll be on for a spin on the Summer Winner's Wheel, with up to £1,000 to be won in extra cash. Not bad for the Forever Foxy Room, which offers up tickets from as little as just 10p a go.
Get involved from Saturday to Thursday for the chance to win a quick £20, or play on Fridays for the full £1,000. It's all part of this summer's lineup from one of the UK's most loved bingo sites.
How It Works
The Forever Foxy Room offers daily chances to win all year round. Players can buy in from 10p-20p per ticket, with a maximum number of 96 tickets per game. Win the full house and you'll be in with a shot at spinning the Summer Winner's Wheel for your chance to win up to the £1,000 extra cash jackpot. The games play every day at set times, between 18:35 and 22:40.
Prizes on the Summer Winner's Wheel start at £5, up to the maximum of either £20 Saturday to Thursday, or £1,000 on Fridays. When there are multiple winners, prizes are shared equally between them—over and above the prizes to be won from the main game. The Summer Winner's Wheel is a second chance to win. Simply spin the wheel to see how much you can win.
Turn up the full house, and you'll be directed straight to the Summer Winner's Wheel. To qualify, you only need to buy 6 tickets from 10p each for the Forever Foxy Room, and you'll be in with a chance of being Foxy Bingo's next summer winner.
Terms and Conditions
As with all promotions, there are terms and conditions to be aware of if you want to capitalise on the summer boost. The promotion is only open to eligible players signed up for an account with Foxy Bingo. If you don't have an account already, sign up within the promotional period, which runs until the last promotional game starts at 22:40 on Thursday 31st August.
You need to be 18+, located in the UK, have a verified website account with Foxy Bingo, and not be accessing the site from any of the restricted countries on the restricted countries list. Provided you fall within the scope of an 'eligible player', which will almost always be the case for regular UK bingo players, you'll be in line to qualify for a spin of the Summer Winner's Wheel when you win in the Forever Foxy Room.
Prizes are paid out in cash and automatically applied to your bingo account. There's no wagering involved, so you won't need to play through anything you win before withdrawing. It's a no-strings prize that pays out to winners directly, which you can withdraw or roll over onto more bingo play.
With only a maximum of 96 players per room, get yourself involved as soon as possible to be in with a shout at the maximum £1,000 prize every Friday. If you don't win on any given day, there's always the chance to play again later—the Forever Foxy Room games play multiple times per hour from 18:35 till 22:40 every night, with the biggest prizes to be won on Friday nights.
A full list of the terms and conditions are available from the Foxy Bingo website. Fortunately, there are no nasty surprises here; it's a straightforward prize boost until the end of August, with no hidden extras.
Why Play with Foxy Bingo
One of the most recognisable names in online bingo, Foxy Bingo is a popular choice for players everywhere. The selection of games covers the full sweep of everything you'd want to play, with bingo rooms for all tastes and preferences. A highly sociable place to play, there's a sense of fun that runs throughout Foxy Bingo's bingo rooms that keeps players coming back time and time again.
The bonuses and promotions are generally fair and generous, and you won't find the kind of overly restrictive terms and conditions some bingo sites rely on to tighten their offers. Players are welcomed into the Foxy Bingo community with open arms, whether they're long-time bingo fans or total newbies.
With the Forever Foxy Room now even more generous over the rest of August, and no wagering prizes up for grabs on the Summer Winner's Wheel, there's never been a better time to get involved at Foxy Bingo.