What Are Wagering Requirements?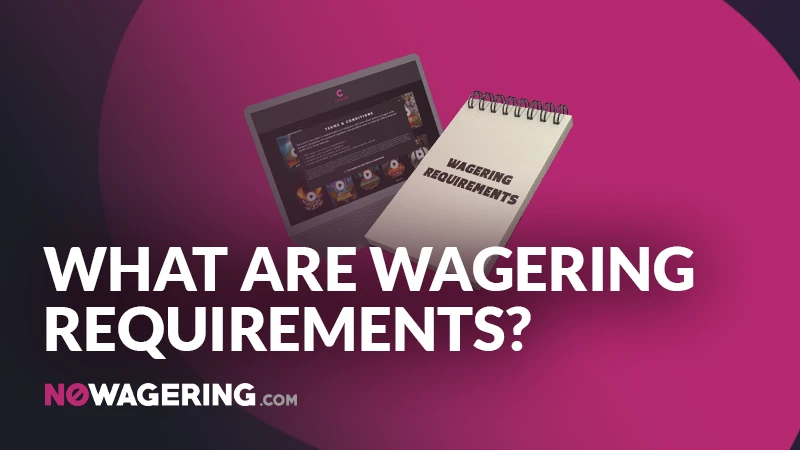 Wagering requirements explained
Wagering requirements are conditions most online casinos impose on bonuses and free spins in order to prevent players from abusing the offer. Most online casinos offer one or more bonuses in order to attract new players and keep them engaged, whether they be welcome bonuses, free spins, re-deposit bonuses or bonus credit handed out as part of a weekly or seasonal promotion. The problem with these bonuses is that players often think it is free credit to play the casino's games with the chance of winning some real money. In reality however, this is far from the truth...
The truth about casino bonuses
The truth is that most bonuses will have wagering requirements attached to them which mean that players have to wager the bonus amount many times over before they would be able to withdraw any winnings. For example, let's say we have a £100 bonus with a 50x wagering requirement. In order to withdraw any winnings you'd won off the bonus, you would have to wager over £5,000 (£100 x 50) before being able to withdraw those winnings. Not quite so appealing now is it?
Imagine you had won £1,000, £2,000 or even £5,000 off that bonus, only to realise you'd have to carry on playing and risk losing it all just to be able to withdraw it. Many players refuse to accept any bonuses for that very reason - they prefer to use their own cash to play so at least if they do win, there are no surprises when it comes to cashing out.
Wagering requirements - Doing the maths
It's worth keeping in mind that wagering £5,000 doesn't necessarily mean losing £5,000. In virtually all cases, players do wager many many more times than they lose. For example, most slots pay out every few spins, and often have payout percentages (known as RTP) of around 95% (the other 5% being the house edge). What that means is that, theoretically, the slot game pays out £95 for every £100 worth of bets placed on it.
On that (theoretical) basis therefore, if a player were to wager £5,000 on a slot game then they could expect to receive £4,750 in winnings over the duration of their play. On the flip side, if a player loses £100 over the duration of play on the slot game, they have theoretically wagered £2,000 on it during that period (£100 / 5% = £2,000).
Playing games with a high RTP and low house edge, therefore, is a wise way to maximise your potential profit when fulfilling wagering requirements.
Game contributions - Beating the system
In the past, some players realised that if they played games with a low house edge such as Blackjack (0.5%) or Roulette (2.7%) then they could fulfil the wagering requirements without losing very much. Furthermore, they realised they could place £10 bets on both red and black on Roulette, spin the wheel, and as long as zero didn't come up then they would come out even money, but would still have wagered £20 towards their wagering requirement.
Casinos soon caught on to this tactic and introduced further wagering conditions which stipulated that not all games contribute the same towards wagering requirements. The result is even more confusing terms and conditions associated with bonuses, which most players find baffling, or worst still, are completely unaware of.
Playing standard online slot games will see the player contribute 100% towards the wagering requirements, whilst table games and live casino contribute a much lower percentage ranging from around 50% to 10% and even 0% on certain games.
Free spin wagering requirements
Free spins in most cases also have wagering requirements attached to them. But as there is no monetary bonus, the wagering requirement is applied to any winnings won from the free spins. For example, if we have some free spins with a 50X wagering requirement, then any winnings would have to be wagered 50 times over before they could be withdrawn. That would be quite a shock to any player who's just landed a big winner!
For this reason, free spin wagering requirements are arguably the harshest, and in most cases, the most barbaric of wagering requirements, especially when they are upwards of 30x or 40x. They effectively make the free spins worthless, and certainly nothing more than "demo credits" to try out one or more games.
Fair wagering requirements
So, what does this mean for the player? Well, bonuses and free spins are a great way to try out new games or get a feel of a new online casino. Essentially though, when the wagering requirements are so harsh it makes it virtually impossible to win anything, then the bonuses should probably only be treated as demo credit.
Wagering requirements in their own right are justified, but they also need to be fair, and in any case, made clear and transparent to the player. Otherwise, bonuses are nothing more than an attractive, and sometimes deceptive offer, to tempt players into signing up. A 50x wagering requirement makes it virtually impossible for a player to win anything, whereas a 10x, 20x or even 30x wagering requirement is more fair and feasible to fulfil.
Understanding wagering requirements
Naturally, we're all about the no wagering casinos bonus here at No Wagering (the clue's in the name)! We pride ourselves on finding the fairest wager-free deals that let you keep what you win without any hassle. That being said, many no wagering bonuses, especially free spins, are offered alongside a secondary bonus with wagering requirements, so it's still helpful to understand wagering requirements so you know what to do when you do encounter them.
How to calculate wagering requirements on a bonus
Imagine you've been offered £100 bonus cash upon making your first deposit and this bonus has a 40x wagering requirement. This means you're going to have to place a total of £4,000 worth of bets before any winnings can be withdrawn.
Put simply, the £100 you receive has to be multiplied by whatever the wagering requirement is, so in this example, £100 x 40 = £4,000. It really is that simple, you just need to continue playing the site's eligible games until you've placed a total £4,000 in wagers without your bonus cash running out.
Sometimes it might be the case that the casino requires you to factor in your initial deposit on top of the bonus cash you receive, so if you had to deposit £20 to receive the £100 bonus then you'd need to wager £120 x 40, which would mean wagering a total of £4,800.
Realistically, fulfilling wagering requirements without losing all your winnings is a tricky uphill task. However, with a bit of luck, it is possible to achieve, especially if you trigger a lucrative bonus feature on one of the eligible games, massively boosting your bankroll.
The exact moment that £4,000 target has been reached you can make a withdrawal. However, up until that point your winnings remain strictly under lock and key. You could end up with much less than your initial winnings, but on the other hand, you could have gained a lot more. It's all about luck, but there are some best practices to follow to maximise your chances of ending up with at least something. Keep reading for tips.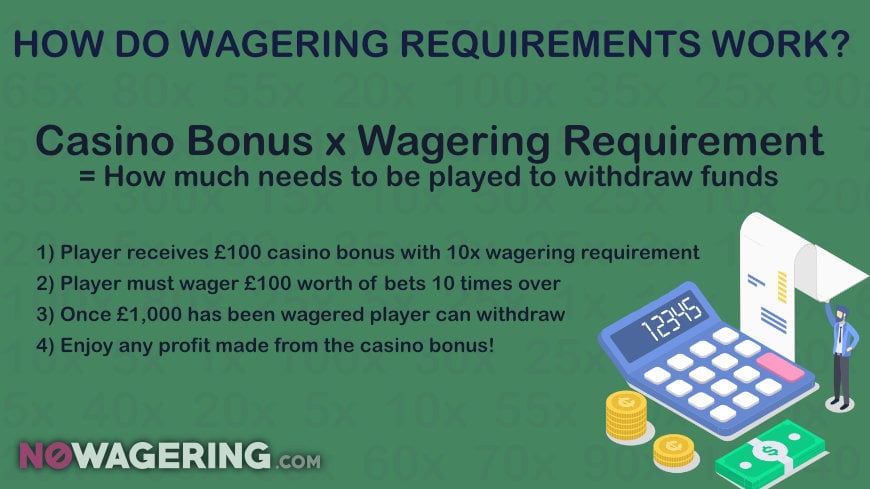 Can online casinos hide wagering requirements from players?
It used to be the case that online casinos would hide the fact their seemingly generous online casino bonuses were restricted by wagering requirements. They did this by not clearly displaying information related to wagering anywhere on the offer, only deep within the terms and conditions, which nobody realistically took the time to read.
As complaints piled up from angry players who felt they'd been conned by these casinos for offering less than what they'd perceived, regulators were left with little choice but to step in and create a new set of rules that forced the operators to be more transparent and clear about the wagering requirements attached to an offer or promotion.
Nowadays, every casino bonus is accompanied by wording that makes it clear what's required of players before they sign up, deposit and claim the offer. Now you'll know exactly how much bonus cash you're getting, and how much needs to be wagered before any winnings can be withdrawn.
How can players beat wagering requirements?
There are a couple of ways players can try to complete the wagering requirements on a casino bonus. Firstly, it's important that players pick the right type of game, as different games have different weightings.
Weighting refers to the percentage of a bet that goes towards clearing the overall wagering requirements. Weighting exists because players found they were able to quickly clear wagering requirements by playing games with a low house edge such as blackjack and roulette.
Blackjack was a particular favourite because it has the lowest house edge of all casino games at 0.5% and so wagering requirements could be easily cleared with relatively low risk.
Due to differing game contributions explain above, you'll want to choose a game that contributes 100% towards the wagering requirement such as online slots. Some table games only contribute 50%, video poker games contribute around 30%, roulette usually 10%, and others including blackjack don't contribute at all.
Knowing you have to play slots, then you'll want to play an online slot with high RTP. High RTP slots return the most to players and so offer you the best chance of completing the wagering requirement with some winnings left over. Additionally an online slot with free spin bonus rounds can be a good idea if you're feeling lucky, as these give players the opportunity to pick up sizeable wins that can top up whatever you've lost in your attempt to clear the wagering requirements.
Also try to play slots with low volatility. Low volatility slots pay out smaller amounts but more often. High volatility slots, on the other hand, pay our larger sums but less often. Therefore, a high volatility slot can swallow up all your balance before you've even hit a winning combination. A low volatility slot will land winning combinations regularly keeping your bankroll more consistent while you work through that wagering requirement.
Once you're spinning the reels it really is down to luck. But, choosing one of the aforementioned types of slot will certainly put you in the best position towards working through those requirements and ending up with winnings that you can successfully withdraw.
Is there an alternative to casino bonuses with wagering requirements?
Yes, there's an alternative to casino bonuses with wagering requirements! If you don't like the idea of working your way through wagering requirements you can always opt for a no wagering casino bonus. These bonuses see players keep what they win without having to worry about working through wagering requirements.
No wagering bonuses offers tend not to be as generous as traditional bonuses, but they still promise players a decent number of free spins on highly-rated and popular slots. Many of these casino offers have very little to differentiate between them, so it can be much more difficult to pick a site, that's why we've taken the time to review some of the best no wagering casinos on the market and bring you some fantastic no wagering free spins offers that you can take advantage of right now.
Finding the best wager-free bonuses
Bonuses free from wagering requirements do exist (we're dedicated to them!). Check out our comprehensive list of casino bonuses without wagering requirements. We've searched the web high and low to bring you the best no wagering bonuses and free spins so you can play in confidence that anything you win off the bonus or free spins is yours to keep.
Be mindful that all bonuses have terms and conditions associated with them, and so you should still pay particular attention to any significant terms or exclusions. The most common ones to look out for are maximum win amounts, minimum withdrawal amounts, and eligible games - as some wager-free bonuses are only valid on specific games.
Casino bonuses without wagering requirements:-
Wager-free spins
Wagering requirements on free spins are perhaps the most difficult to come to terms with. As they usually apply to winnings. The total amount a player would have to wager to fulfil the requirements can be many more times the value of the free spins, and would depend on how much was won. Thankfully there are plenty of casinos offering wager free spins, both as part of their welcome offers and ongoing promotions or loyalty rewards.
Low wagering bonuses
Bonuses with low wagering requirements sometimes offer better value than wager-free bonuses as the casino can afford to give away a larger bonus or more free spins. We accept that wagering requirements are often necessary to prevent abuse and so we also recommend a number of low wagering casinos which we feel offer good value whilst acting fairly to players.
Bonuses with low wagering requirements:-
Frequently Asked Questions
What is a wagering requirement?

A wagering requirement is a condition that online casinos and bingo sites put on their bonuses including free spins, and sometimes loyalty rewards, to prevent players abusing the bonus. In short, it means you have to wager the bonus, prize or free spin winnings a number of times over before you can withdraw any winnings won from using it. Learn more.

What does a 10x, 30x or 50x wagering requirement mean?

A 10x wagering requirement means that you'll have to wager a bonus 10 times over before you can withdraw any winnings won from it. For example, if you receive a $100 bonus with a 10x wagering requirement, you'll have to wager a total of $1,000 ($100 x 10) before you can withdraw your winnings. Similarly, if your bonus has a 30x or 50x wagering requirement, you'll have to wager a total of $3,000 ($100 x 30) or $5,000 ($100 x 50) respectively, before you can withdraw any winnings won from the bonus.

What does "no wagering" mean?

No wagering means that the bonus or free spins don't have any wagering requirements attached to them, and so anything you win off the bonus or free spins is yours to keep and winnings are added to your withdrawable balance.

What is a playthrough or rollover requirement?

A playthrough or rollover requirement is another term for wagering requirement. They're conditions attached to bonuses and free spins to prevent the bonus being abused.

Are free spins worth it?

Yes, free spins are worth it, but they often come with terms and conditions that prevent players profiting from them, even if they win a significant amount. Most of the time this is due to wagering requirements, which is why no wagering free spins are a better alternative. Also, some free spins bonuses have max withdrawal limits, meaning if you do win from them you can only withdraw a maximum of say $500, or maybe even $20. Even with the strictest of conditions though, free spins are often just a good excuse to play for free or try out a new game.

What does RTP mean in online slots?

RTP stands for Return To Player. RTP is a statistical value shown as a percentage of how much money is given back to players over thousands or even millions of spins. For example, a slot with 95% RTP would theoretically pay back 95% of the total amount wagered on it. Most online slot games have an RTP ranging between 85% and 95%.