2 x £1,000 jackpots waiting to be won every day in September at Buzz Bingo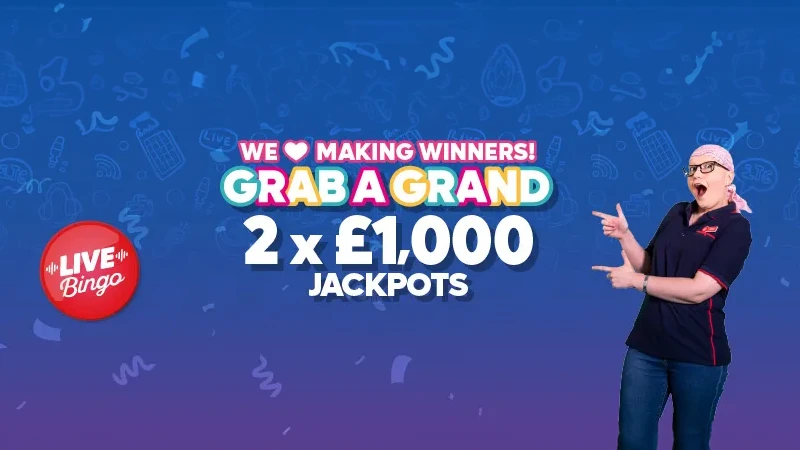 Summer is now officially drawing to a close. And as we move into the autumn and leave those hazy days behind for another year, there's still plenty going on at Buzz Bingo to help you ease those post-summer blues.
You could be in line to grab a grand every day in September, with two jackpot prizes worth £1,000 every night, just waiting to be won. Win big and celebrate September in style with this new promo—exclusively for Buzz Bingo players.
From 1st September, running every day this month, there are two separate chances to scoop a £1,000 prize. You'll find them within the Live Bingo Room each day from 8pm. The first £1,000 must be won between 8pm and 9pm, with a second round giving away a further £1,000 from 9pm-10pm.
How to win the £1,000
All you have to do to win the prize is be the fastest player to complete a full house. Keep your eyes on the leaderboard as you play—it shows in real time who is leading the pack, for added excitement when you're getting down to the last few numbers. Beat the rest, and you'll walk away £1,000 richer.
A further prize-giving spree awaits on Sunday 1st October, where no fewer than 10 x £1,000 jackpots are waiting to be won. These run every hour from 12pm-10pm throughout the day, crowning one winner per hour from the fastest full house in each Live Bingo Room round.
Tickets cost 10p each, and you can play up to 30 tickets per round, for a maximum stake of £3.00. And as long as you're in the game, you're standing with an equal chance of landing that fastest full house, and really making it a night to remember.
Across the promotion, that's a total of £70,000 waiting to be won in instant cash prizes, simply for being the first player to win a full house in any given hour. When you factor in the fun to be had in the Live Bingo Room anyway, even without the added jackpot, it's an even sweeter deal. Just make sure you're signed up for your Buzz Bingo account to take advantage of this promotion while it lasts.
The Small Print
Winners are announced during the game by the live presenter, so you'll not leave wondering whether you're a grand better off, or who was lucky enough to finish ahead of the pack.
Crucially, there are no wagering requirements here on anything you win—scoop the £1k, and it's yours to keep and withdraw as you see fit.
To qualify for the offer, you need to be a UK-based Buzz Bingo customer, having created an account after 27/9/2018. If you're just registering for the first time to take part in the September promotion, you'll be eligible to do so provided you buy a ticket. Just like everyone else, you'll need to be in the Live Bingo Room at the relevant time.
In the event of a draw, the prize may be split between multiple players. In these cases, the terms and conditions say the money will be allocated according to the number of tickets purchased.
As is generally the case with Buzz Bingo, a £5 minimum withdrawal threshold is in place, but otherwise, your winnings are your own money to withdraw, as and when you fancy it.
Make sure you're also watching and listening along—you may need to respond to the presenter when your name is called as a winner. Otherwise, the terms and conditions attached to this promotion are reasonable, delivering almost exactly what you'd expect from a straightforward good deal of a promotion.
Grab a grand this September
The Grab a Grand promotion was brought in to replace the Must Bin-GO! jackpots which had run previously. While the ending of this promotion might otherwise have been a blow to loyal players, Grab a Grand comes along to offer a new exciting challenge.
The promotion ends after the bumper day on Sunday 1st October is complete, and when all 10 prizes have been awarded by no later than 10pm on the day.
Buzz Bingo have been doing some incredible work on promotions lately, and the Grab a Grand promo certainly doesn't disappoint. With 2 separate chances to win every day, no wagering requirements, and the bumper finale on the 1st October, there's plenty to buzz about at Buzz Bingo this autumn.