Gambling Commission updates guidance on fair terms and practices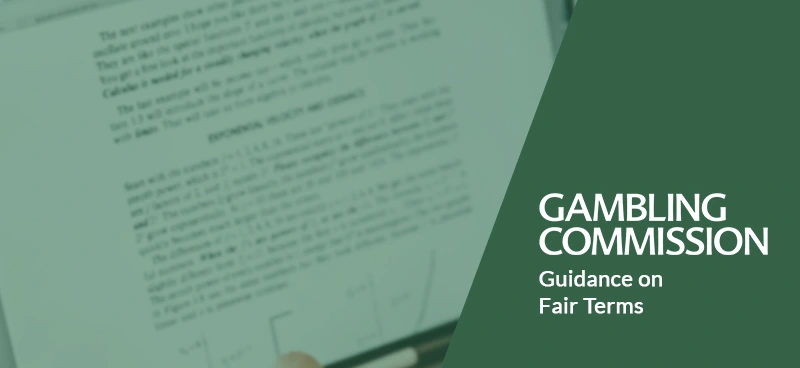 The Gambling Commission amends guidance on fair terms
On the 16th February 2022, the Gambling Commission (GC) updated its guidance for all operators on fair and transparent terms and practices.
This comes as a result of the GC finding licensees using terms that are potentially unfair and giving them undue discretion to decide how the terms are applied.
Examples include
Ultimately, the GC found that terms and conditions are difficult to understand. Some of the unfair examples include:
Terms that allow licensees to confiscate customers' un-staked deposits
Terms regarding the treatment of customers' funds where a licensee believes there has been illegal, irregular or fraudulent play
Promotions for online games that have terms entitling a licensee to void real money winnings if a customer inadvertently breaks staking rules
Terms that unfairly permit licensees to reduce potential winnings on open bets.
The GC noted that welcome bonus offers and wagering requirements can encourage excessive play if not done responsibly.
What licensees should do now
Following on from the previous findings from GC, they had a few guidelines for licensees to follow. Firstly, they must "review their terms and conditions to make sure they comply with relevant consumer protection laws, the LCCP and take into account the Commission's updated guidance."
Lincensees must be able to show evidence of how their terms are fair and transparent. In addition to these, licensees should review their offers and make sure they are constructed in a way that is socially responsible.
In conclusion to the statement, GC stated: "If a consumer is not satisfied with a licensee's response to their complaint, they can refer it to an alternative dispute resolution (ADR) provider."
"We expect ADR providers to adjudicate on contractual and transactional disputes between consumers and licensees. Our guidance to ADR providers is clear: they must consider consumer protection legislation when looking at disputes. This includes, for example, considering whether a contract term is fair."