Win a share of £3K each night with Tombola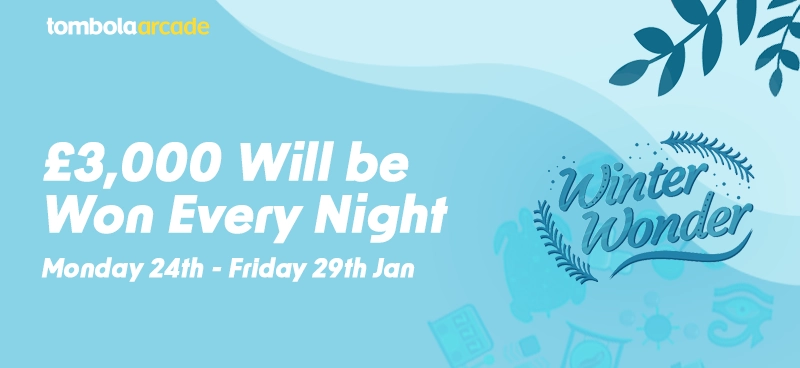 The no wagering bingo site and arcade is giving away £3,000 each night!
From 24th January until 28th January 2022, our friends at Tombola Bingo is giving players the chance to win a share of £3,000 each night in their Winter Wonder Prize Draw.
The no wagering bingo site is giving away prizes each night from 8pm until 10pm and all you need to do is stake £1 of real money on any Tobola Arcade game.
How do this work?
To enter this wonderful promotion, players need to be verified Tombola Bingo or Tombola Arcade players. Once this is confirmed, opt-in to the promotion and then a stake of £1 real money needs to played on any Tombola Arcade game.
This must be done 2 hours preceding the draw so that prizes will be credited on the spot with 201 prizes to be won each evening.
What prizes are available?
There's a share of £3,000 to be won but the number 1 prize is a mighty £2,000. Of course, the fun doesn't stop there as 200 other players will win £5.
There will be a tick mark for each draw that players enter so they can keep track of this. All the winners will get a shoutout on the desktop homepage and it's as simple as that!
Terms and Conditions
This promotion runs from 24th January until 28th January 2022 from 8pm until 10pm each night.
Only games played on Arcade count towards the promotion this could include Scratch, Chinese New Year, Pick, Flip, Spin, Drop, Go, Glow, Emoji, Cards or Bubble.
To enter this promotion, players must have a verified Tombola account and be aged 18 or over.
All wins will be credited automatically to the winners' balance at the time of each draw.