Football Glory Features
As the slot opens, you'll notice four different players at the bottom with a meter. When you land a win, you'll build up glory points and if you fill the bar you'll win free spins. This free spins round is awarded with that specific player in Superstar Mode. Now, Superstar Mode will transform the specific player into sticky wilds for more wins.
Free Spins can also be triggered by naturally landing at least 3 free spin symbols. If you land 3, 4 or 5 free spin symbols, then you'll win 7, 14 or 21 free spins respectively. As Free Spins starts, you'll be able to gain at least one of five different bonuses. These bonuses include:
All Stars Free Spins - all the football players start in Superstar Mode.
Starting Wild - 1 sticky wild is added.
Wild Reel - the reel becomes sticky wilds.
Free Spins - gain 1 to 3 extra free spins.
Extra Cups - 5 extra silver and gold cups are added.
The next feature includes the Gold & Silver Cup which can be triggered by landing them on reel 5 and 4 respectively. They award one of five different prizes. The Silver Cup prizes include:
7 to 21 free spins (base game).
2 to 40x bet (base game and free spins).
2 to 4 extra free spins (free spins).
Wild Reel (free spins).
1 to 2 extra wilds (free spins).
Similarly, there are prizes for landing the Gold Cup. These prizes include:
10 to 400x bet (base game).
7 to 21 free spins (base game).
All Stars Free Spins (base game).
Glory Boost (base game).
2 to 4 extra free spins (free spins).
Wild Reel (free spins).
2 extra wilds (free spins).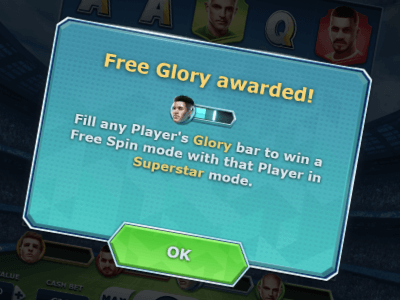 Glory
At the bottom of the screen, you'll notice 4 different players will a meter bar. Each time you win, you'll collect glory points and fill up the bar. Ultimately, this leads to 7 free spins with that specific player in Superstar Mode.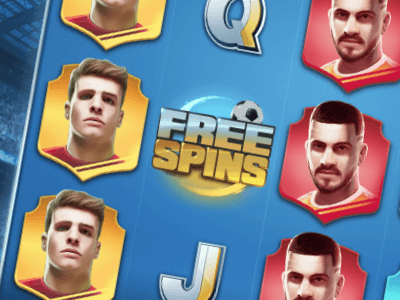 Free Spins
You can win free spins by landing 3 or more free spin symbols with up to 21 free spins to be won. There are also 5 different bonuses that can be won at the start of the free spins round.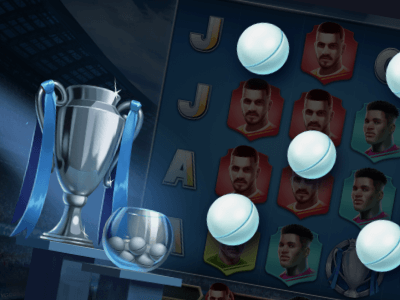 Gold and Silver Cup
Land the Silver Cup on the 4th reel and the Gold Cup on the 5th reel to win 1 of 5 prizes. However, the cup awards different prizes in the base game and free spins.
Football Glory Review
Everyone loves football and wants to achieve the glory of winning for themselves. With Yggdrasil's Football Glory, you now have the chance to score the winning goal yourself and win some mighty cash prizes whilst doing so.
Playing on 5-reels with 25 paylines, Football Glory is a sport slot that gives players the chance to win up to 4,000x their stake through the multiple bonus rounds.
Design
Like most football slots, the reels are set on the pitch. In the background, you'll notice crowds of people with flags and an advertisement on the banners promoting Yggdrasil.
Of course, most of the setting includes a football pitch with the crowds and stadium in view. On the reels, there are 4 different football players along with symbols associated with football such as trophies.
The background sounds include cheering and general ambient noises. As you spin, you'll notice victorious music if you land wins. Apart from that, there's not much audio but it fits in well with the slot.
Gameplay
There's nothing complicated or unusual about the gameplay of this slot as anyone can pick up and play it. You set your bet, spin and hope to win during your playthrough.
All the gameplay buttons can be found at the bottom with the spin and autospin button in the middle. Other menus such as sound settings and payline, can be found to the left of the screen.
Win Potential
Football Glory has an RTP of 96.1% which is brilliant for an online slot. With a medium to high volatility level, you'd expect higher wins but the maximum is 4,000x your stake.
The maximum win for this slot is 4,000x stake which can be won throughout the Golden Cup feature and winning the 400x bet prize 10 times.
Our Verdict
Like most Yggdrasil slots, Football Glory is engaging and entertaining enough that football fans will love it. The glory bar and other features add to make this a unique slot that will fun and hopefully some wins for players.
Of course, the biggest downside comes from the maximum win of 4,000x your stake but it's one of the better football slot payouts that we've seen. If you love football and delightful slots, then give Football Glory a spin.