The best free daily spinners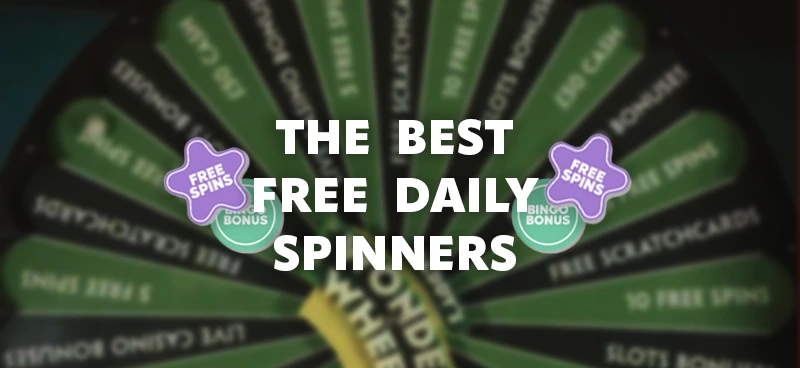 Here are the best daily free spinners available right now
Everyone loves a good bargain and there is nothing better than being able to win something for free. Here at No Wagering, we've searched our favourite no wagering casinos and no wagering bingo sites to find the best free spinners (or equivalent) that are available right now.
Some of these spinners are available for a specified period of time, whilst there are others that continue throughout the year. Not only can players make the most of these amazing spinners, but be sure to also grab yourself some wager-free spins on some excellent no wagering slots as well!
Paddy's Wonder Wheel
There are many reasons to love Paddy Power, but one of the biggest reasons to love Paddy Power is simply due to Paddy's Wonder Wheel. Each day, players get the chance to spin the wheel for free to gain prizes.
These prizes vary from free scratchcards, free spins, live casino bonuses, game bonuses and even cash prizes worth up to £1,000 on special occasions. There is even a bingo version of this wheel available at Paddy Power Bingo to win cash prizes called Paddy's Cash Reel - but this one is earned through buying bingo tickets.
Mecca's Winner Spinner
After the success of the Summer Spinner and Celebrity Lingo Spinner at Mecca Bingo, the bingo site decided it was time for a new free promotion to get players in the mood for the new year. Each day, players spin on the Winner Spinner to win cash, bingo games or free spins.
Mecca's Winner Spinner is a free promotion available every day. The best thing about this free daily game is that there are guaranteed prizes each day! Do not hesitate to give this promotion a go before it ends on the 2nd of April 2023.
Betfair's Prize Pinball
This technically is a pinball machine rather than a spinner - but it's free and will send you spinning (in a good way). Betfair Casino is similar to Paddy Power as it has a daily free game where there's a chance to win a variety of prizes on the Prize Pinball.
With the Prize Pinball, players can activate this once per day to win cash prizes of up to £100, free spins and even casino bonuses. There is currently no deadline for this spinner - so keep an eye out for this.
Betfred's Mystery Free Spins
Each day, players have the chance to win up to 50 free spins without depositing anything at Betfred Casino. All players need to do is opt into the promotion and then select one of the eligible games.
Once this game is loaded, it will then let the player know if they have won free spins. The Mystery Free Spins promotion can award between 5 to 50 free spins daily without paying anything. There is also an Upgraded Mystery Free Spins that is awarded by staking £10 to win up to 100 free spins instead.
Buzz Bingo's Spinner
Every single season, you can count on Buzz Bingo to deliver a wonderful free daily spinner that gives players the chance to enter a daily free spinner to unlock prizes!
There are no guaranteed prizes with this promotion but you can always try again the day after for free! If you love bingo and free spins, then be sure to check out Buzz Bingo's latest spinner.
Honourable mentions
It should be said that the low wagering casino, William Hill, has a fantastic daily promotion with the Bonus Drop that offers free spins, bonuses on table games or a random cash prize.
When the promotion opens up, players will be given one free disco to use in the bonus drop and this will decide which prize will be offered. Sadly, there is a chance that they'll be no win - but there is nothing to lose as the promotion is free.