Safer Gambling Week 2021 - Safer gambling tools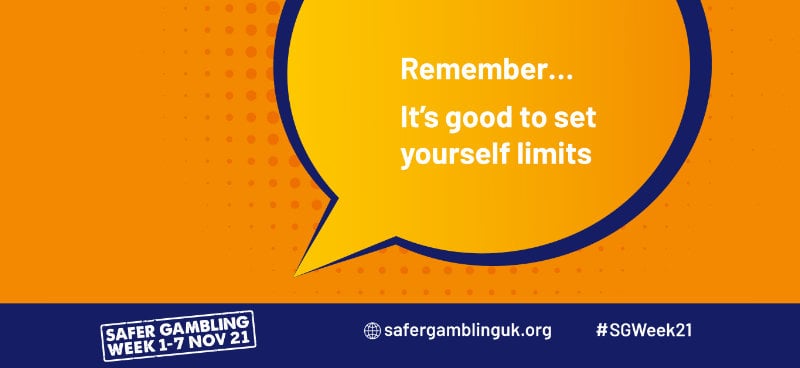 A list of helpful tools available to ensure that you are gambling safely
There's a reason why so many people love gambling as it's thrilling and exciting - but only when done safely and responsibly. Most people will be able to manage themselves when it comes to gambling, but there are helpful tools online to make it even easier to manage your gambling.
Safer Gambling Week 2021 is focusing on the tools available to help people gamble safely wherever they are, all year round - not just for one week. All licensed operators will be adhering to strict rules ensuring that they offer a range of tools helping players remain in control.
Self-Assessment
Many operators will have a self-assessment tool or 'Reality Check' feature that reminds players how long they've been playing for, how much they've wagered, and how much they've lost and won over a specific time period. Knowing this information can help players make better decisions about whether they should continue playing, or call it a night. The stats are sometimes quite suprising, as we all know time flies when we're having fun.
Deposit Limit
With this tool, you can control the amount of money that you deposit into your account and decide beforehand how much you are willing to spend (or can afford to spend). Deposit limits can be set daily, weekly or monthly as required.
Setting a deposit limit will help prevent you from depositing more than you can justify or afford, and you can adjust your deposit limit whenever you want - but there's usually a delay of at least 24 hours before you can increase a deposit limit, giving you time to think about whether it's a good idea or not.
Loss Limit
Similar to the deposit limit, this tool gives you the chance to control the amount of money that you're willing to lose. Ultimately, this means that once you have lost a set amount of money, then your gambling activity will stop until the loss limit resets.
It's easy to lose track of your spending when gambling and you can get caught up in the excitement - but this tool gives you a better chance to take better control.
Cooling Off
Often known as 'take a break', this tool gives you the chance to take a short break from your account to give you time away. This can be between 24 hours to 6 weeks depending on what sort of break you are wanting.
The Cooling Off tool is a brilliant one that allows you to step away from gambling if you are needing some distance or even just want some time to reflect on your gambling to determine if continuing to play is a good idea.
Self Exclusion
This is arguably the most powerful tool available online and will exclude you from any UK licensed online casino for longer periods of usually between 6 months and 5 years. You essentially self-exclude yourself from that chosen casino or a specific product (such as online slots) and you can't instantly reverse it should you feel compelled to gamble when it would be unwise to do so.
GAMSTOP is also an effective tool in excluding yourself from all UK licensed operators in one go. It will automatically freeze any active accounts you have with operators, as well as prevent you from creating new accounts with other operators.
Gambling Blocking Software
You should consider this option if you have tried all of the tools listed above and need something a little stronger. The Gambling Blocking software can come at a cost, but it can put a blanket ban on all online casinos meaning that you won't be able to access any UK licensed casinos as long as the software is active.
Independent blockers include GAMSTOP, GAMBLOCK, Betfilter and Betblocker. Most casinos should have the GAMSTOP option as it's a free service that enables you to block all websites and apps run by licensed operators.
Blocking bank transactions
There are various banks and financial institutions that give you the opportunity to limit your gambling spend and will allow you to block transations to gambling firms. Banks that are currently offering this service include Bank of Scotland, Barclays, Halifax, HSBC, Lloyds Bank, Monzo, Natwest, Santander, Starling and Royal Bank of Scotland. This is another quick and easy way to essentially self-exclude from gambling across multiple operators, not just one.
GT App
Gambling Therapy, the leading prover of gambling therapy in the UK, actually has its own app that offers a collection of tools and information that will help you identify and overcome any issues you may have with gambling. The Gambling Therapy app is free and available on Google Play or the App Store and provides a variety of support options.
These include self-assessments, live support, self-help exercises, crisis support, daily motivational quotes, links to blocking software, organisations that can help and access to the online support forums.
24/7 Support
If you can't find any tools to help you, then you can always ring the free helpline from GamCare which is available 24 hours every day. You can contact them via their phone number 0808 8020 133, or their live chat.
GamCare is always available and will listen to you no matter what your concern.