Spin on Buzz Bingo's free spinner Winter Whirligig to win daily prizes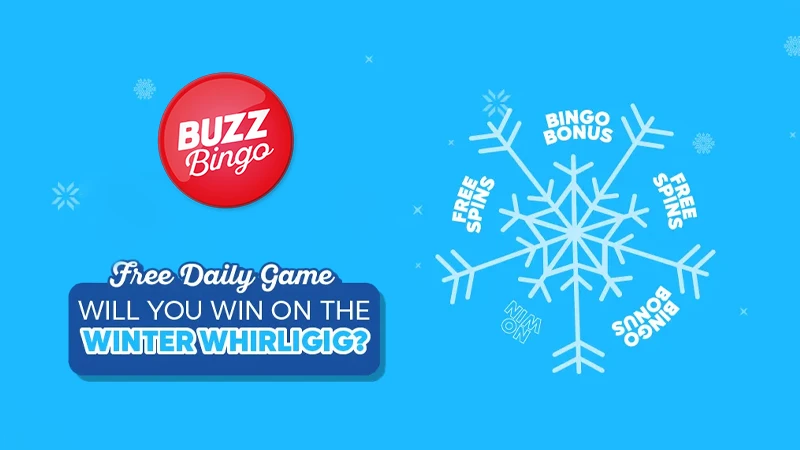 Win free spins and more with Buzz Bingo
The festive season may be fading into the distance, but winter is still making its presence felt. January is said to be the most depressing month of the year, as dark days and cold weather remind us that summer is still a long way off.
But Buzz Bingo's Winter Whirligig has blown in giving payers the chance to win free bonuses. This is the fun new promotion from Buzz Bingo, which can always be relied upon to deliver some tempting seasonal promotions. This time there are free spins and bingo bonuses on offer, so why wouldn't you take a spin?
How to take part in the Winter Whirligig promotion
All you have to do to take your free daily spin of the Winter Whirligig is log in every day. All registered members are offered a free spin between 6am and midnight from now until 31st January. That's apart from Monday, when the feature isn't available until 11.59am.
There are free spins to be won, as well as Bingo bonus tickets. But some points of the Winter Whirligig result in no prize at all – luckily there's always the chance for another spin tomorrow!
Here's what you could win
Every player with a registered account at Buzz Bingo will automatically receive one daily free spin of the Winter Whirligig. And just as the name suggests, these prizes could put you in a real spin! Here's a list of the prizes on offer.
2 x 10p free spins on 9 Coins.
3 x 10p free spins on 9 Coins.
20p Bingo bonus.
30p Bingo bonus.
No prize.
You'll need to be quick, as this promotion only runs until the end of January. But don't worry – we're sure Buzz Bingo are busy right now, planning its next promotional offer!
Terms and Conditions
From 6am until midnight every day from Tuesday 3rd to Tuesday 31st January 2023.
There are no Winter Whirligig spins on Mondays until 11.59am.
Players must be 18 or over and registered customers of Buzz Bingo.
All prizes expire if not used within 30 days of being issued.
No wagering requirements at all with this promotion.