Over £1million to be won in tombola's "I'm A Celeb" promotion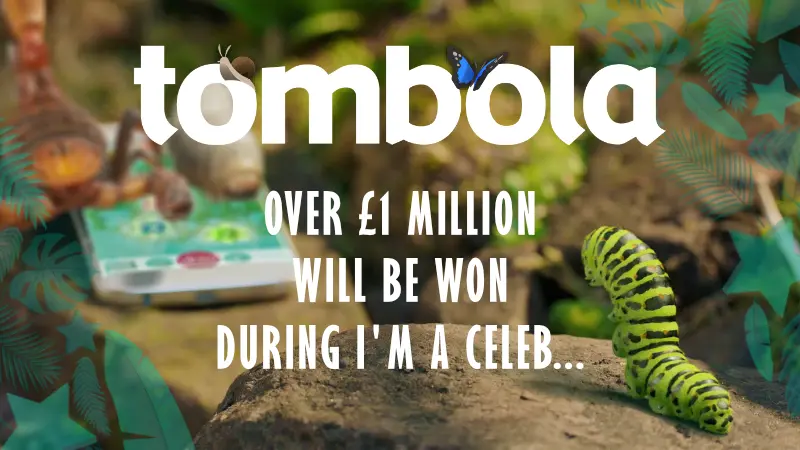 Enter tombola's I'm A Celeb promotion where there's prizes to be won every day
Are you feeling the I'm A Celeb fever that is building up? You should be as tombola has loads of promotions and competitions ready for eager fans wanting to get in on the action.
Every year, millions gather together to watch I'm A Celebrity...Get Me Out Of Here (also known as I'm A Celeb). Millions of people watch in the hopes of seeing celebrities suffer and overcome the most gruesome challenges.
Last year, tombola sponsored the event and delighted fans with incredible promotions with over £850,000 to be won. This year, they have gone even bigger with over 1 million pounds to be won throughout I'm A Celeb with free daily games, quizzes and even special bingo games!
What's on offer in the I'm A Celeb promotion?
In the lead-up to the airing of I'm A Celeb, there is a daily promotion where you can answer specific questions in order to win prizes. However, the real fun begins from the 6th of November until the 27th of November.
£30K A Day

There are not just one but two chances to win massive bingo prizes of £15,000 each with this bingo promotion. Every night during this year's I'm A Celeb, you have the chance to play two different bingo games.
Join tombola bingo in the bingo90 room for the 9pm and 9:30pm £30K A Day bingo games. If you happen to love massive bingo prizes, then £30K A Day is the promotion for you.
Critter Cash Draw

Tombola bingo is not just hogging all of the fun as there is the chance to win over at tombola arcade. During this year's run of I'm A Celeb, there is a prize draw every night with Critter Cash Draw. Each night, tombola arcade is giving players the chance to walk away with a top prize of £1,000.
If this wasn't good enough, there are hundreds of cash prizes available worth £5 each as well as thousands of free spins up for grabs. In order to enter, all you have to do is opt-in to the promotion and stake a total of £1 in real money on arcade games from 8pm to 10pm. It's as simple as that!

Bug Match
This was a fan-favourite amongst players last year and tombola is bringing it back! Bug Match is entirely free to play and there is no deposit required at all. You will have two different chances to win by playing on both bingo and arcade every day until the show ends.
Amazingly, there are over 400,000 prizes to be won with a grand prize of up to £10,000 available. There is literally nothing to lose with this slot, so be sure to play on both tombola arcade and tombola bingo every day!
Tombola Bugs on TV
You do not even have to enter on the tombola website as you can play through Facebook as well. During the advertisements of I'm A Celeb, there will be hidden bugs throughout. When you spot these, head on over to Facebook and comment on the corresponding image of the advert.
In order to enter the competition, you'll have to comment #tombolabugsontv and your username within 2 mins before the post closes. There is over £8,000 to be won in this promotion with £100 awarded to each winner.
Live Quizzes
Tombola is gifting players with not one, but two different types of quizzes throughout this promotion. On Wednesday the 9th, 16th and 23rd of November, head on over to tombola at 8:30pm to get involved with on-site live quizzes awarding a total of £600 to be won with 20 bonus money prizes up for grabs each week.
Do not fret if you end up missing these quizzes, as tombola is hosting a couple on Facebook as well. On Saturday the 12th, 19th and 26th of November at 8:30pm, click on Tombola's Facebook page to find live quizzes that will test your knowledge and award prizes!
The Big Bug Ballot
If winning £500 in Love2Shop vouchers sounds good to you, then The Big Bug Ballot is one promotion not to miss. This competition is hosted through tombola's Instagram page every Tuesday and Thursday from 10am.
To be in with a chance of winning these vouchers, all you have to do is answer the Chat Moderator's question about bugs. There are even runner-up prizes available with £5 bonus money available.
Tombola has gone above and beyond for this year's I'm A Celeb promotion. This will be the biggest promotion yet so be sure to get involved to see what mighty prizes you can win!