Over £100,000 will be won with Britain's Biggest Bingo, only at tombola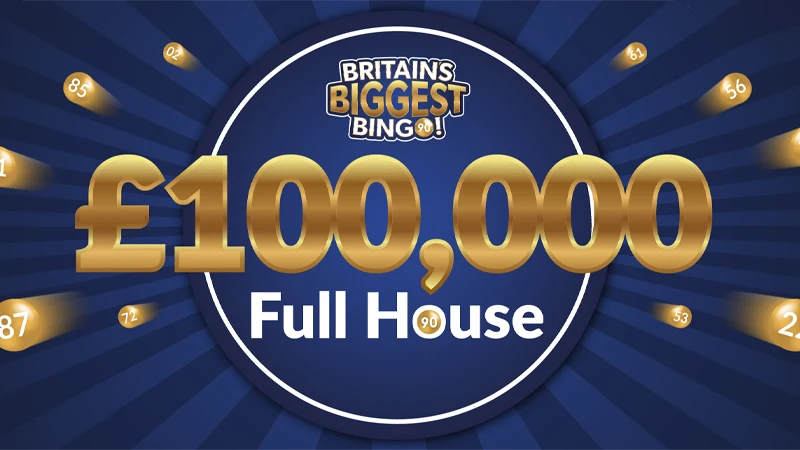 Buy your tickets now to be in with the chance of winning a guaranteed £100,000 prize!
Something huge is on the way from Tombola Bingo, and you could be a part of it! For the first time ever, Tombola Bingo is giving you the chance to buy advance tickets for the hottest game online. And a Full House on a 50p ticket is going to win someone £100,000 – that's guaranteed!
This is no ordinary online bingo game we're talking about. Britain's Biggest Bingo is going to be the biggest online game that Tombola Bingo has ever hosted. And it all starts on Tuesday 1st November – make a note in your diary to log in ready for the 9pm start.
Buy your tickets today!
Tombola Bingo has already gained a reputation as one of the biggest and best no wagering bingo sites around, so we anticipate plenty of interest in this exciting new game. But you don't have to wait until November 1st to buy your tickets – Tombola is making pre-buy strips available for the very first time, so you can buy them right now!
Ticket prices start from as little as 50p, and you can buy up to 4 strips per game. That's a top price of £2 – and it could win you a life-changing sum of money!
The £100,000 prize is absolutely guaranteed. It's the only prize on offer, so it's going to be in hot demand. And if more than one player wins, they'll share it. But £100,000 is only the starting point! Tombola Bingo has opted to make the prize progressive, so the more tickets that are sold, the bigger it gets. Be sure to tell your friends and family to join in the fun too – it all helps to boost the final payout.
Have fun, make friends and you could win £100,000
Britain's Biggest Bingo is a 90-ball game that kicks off at 9pm on the first of the month, every month, starting from November 2022. And don't worry if you've never played before – Tombola Bingo provides you with all the information you need to get started, including an explanation of the rules.
Choose from the game's menu whether you prefer to mark your tickets manually or automatically. You won't miss out on any wins, whichever method you choose, so you can relax and enjoy chatting with other players.
We'll see you there!
Just make sure that you're logged into your Tombola Bingo account in plenty of time on the first of the month, so you're ready to play at 9pm sharp. And be sure to buy your tickets for next month's game just as soon as this one's finished, so you never miss out on the chance to be a winner.
If you haven't already checked it out, head on over to our Tombola Bingo review to find out what you've been missing. And don't forget to claim your No Wagering bonus if you're signing up to Tombola for the first time - we've got an incredible promotional offer that we think you're going to love!
Terms and Conditions
Players must be registered at Tombola and aged 18 or older.
Tombola Bingo is a no-wagering bingo, so there are no wagering requirements attached.
Tickets start from 50p with up to 4 strips available.
The games kick off at 9pm sharp with a guaranteed prize of £100,000 available.