Celebrate 5 Days of Freebies with Buzz Bingo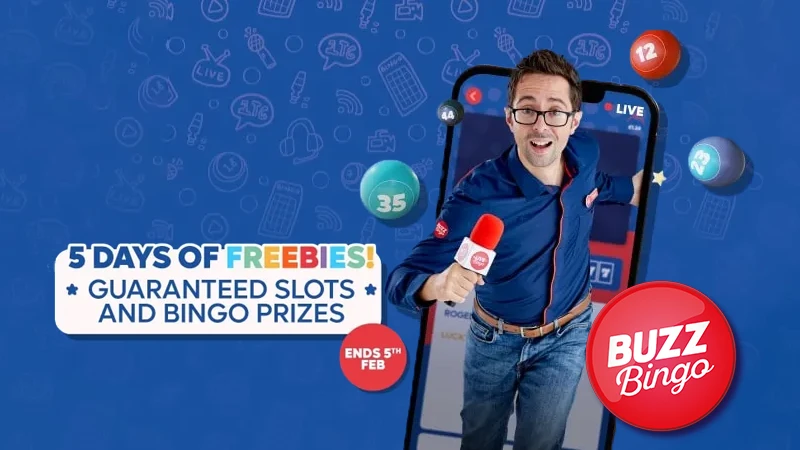 Kick-off February with a bang!
From the 1st to the 5th of February, Buzz Bingo is giving away a multitude of freebies! Take advantage of this amazing promotion by heading on over to Buzz Bingo to spin their free daily spinner and to play free live bingo games.
What better way to start February than with a free promotion? You can gain free spins, bingo bonuses and cash prizes with Buzz Bingo's 5 Days of Freebies - be sure to enter!
5 Days of Freebies Spinner
Every day until the 5th of February, you can spin the spinner for free to gain free spins on Pigeons in Space or a free bingo bonus. Amazingly, you are guaranteed to win - so you'll be able to win something!
With the free spins, you can win up to 5 free spins on Pigeons in Space. As for the bingo bonus, you can gain up to 50p which can be spent on any bingo game! Just be sure to spin from 12pm to gain your prizes.
Free Live Bingo
Since being introduced at Buzz Bingo last year, bingo players cannot get enough of live bingo. Everyone loves Roger, Devin and Charles and Buzz Bingo is giving players the chance to play live bingo for free.
There are 6 free games of live bingo from the 1st to the 5th of February. The free games begin at 7pm and then again at 9.45pm. You'll win a free fiver for every line, 2 lines and full house you get.
You can even upgrade the free bingo sessions for 5p each to win £50 instead of £5. Whichever live bingo game you choose, you'll be certain to have an amazing time with Roger, Devin and Charles. Be sure to enjoy 5 Days of Freebies with Buzz Bingo!
Terms and Conditions
The promotions start on the 1st of February and end on the 5th.
The spinner is available daily from 12pm and guarantees prizes of spins or bingo tickets.
This promotion is open to 18+ year olds and those located in the UK.
There is a £5 withdrawal limit that applies as per the general terms and conditions.