Win festive free spins and more with Buzz Bingo's WINter Spinner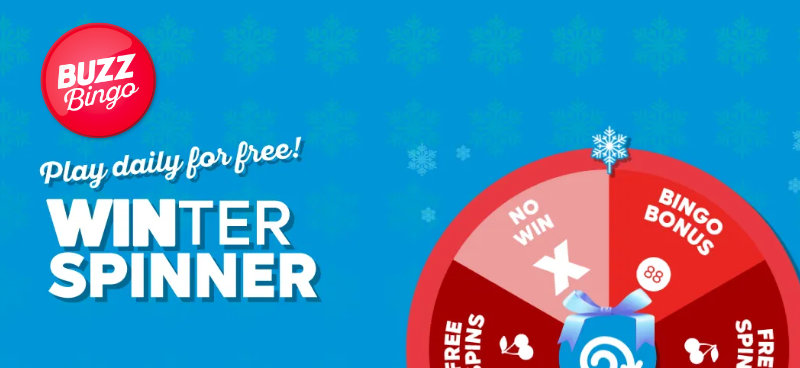 Have yourself a merry November with Buzz Bingo
'Twas the month before Christmas and players were in need of bonuses to get them through the month. Thankfully, our lovely friends at Buzz Bingo have decided to give away a select amount of gifts on the WINter Spinner!
All throughout November, you have the chance to spin and win prizes on Buzz Bingo's latest spinner. It's 100% free to spin and there are two possible prizes to be won - so what are you waiting for?
Spin WINter Spinner here:-
How can I enter?
All you need to do is be a verified Buzz Bingo player registered and opt into the 'Win Your Christmas' spinner. You can spin the wheel for free, or you can deposit £10 for a guaranteed prize win which is snow joke.
Each day, you must be logged in between 12:00 and 23:59 (GMT) to receive one spin on the WINter Spinner with the promotion running from Monday 1st November until Tuesday 30th November 2021.
What can I win?
If you play on the spinner without depositing £10 the day before, then you have five possible outcomes with the spin. The outcomes include:
2x10p free spins on Blazing Bells: Power Play
3x10p free spins on Blazing Bells: Power Play
20p Bingo bonus for Bingo tickets
30p Bingo bonus for Bingo tickets
No win
However, if you deposit £10, then you are guaranteed to win at least one of the prizes and gain the chance to win £1,000 in gift vouchers. It should be noted that there are only 5 gift vouchers available worth £1,000 each.
Spin WINter Spinner here:-
WINter Spinner Terms and Conditions
The promotion runs from 1st November until 30th November, with players needing to log in between 12:00 until 23:59 to be eligible.
There's a £5 minimum withdrawal limit, but all the bonuses have no wagering requirements attached.
You can only spin the wheel once per day.
All the prizes are awarded through a bonus generator supplied by Thunderbite.
The Bingo bonus tickets do not include Bingo Millions and the free spins are only available on Blazing Bells: Power Play.
All the bonuses have a 30-day expiry limit from the date that they are given out.