Race your way to awesome tech prizes with PlayOJO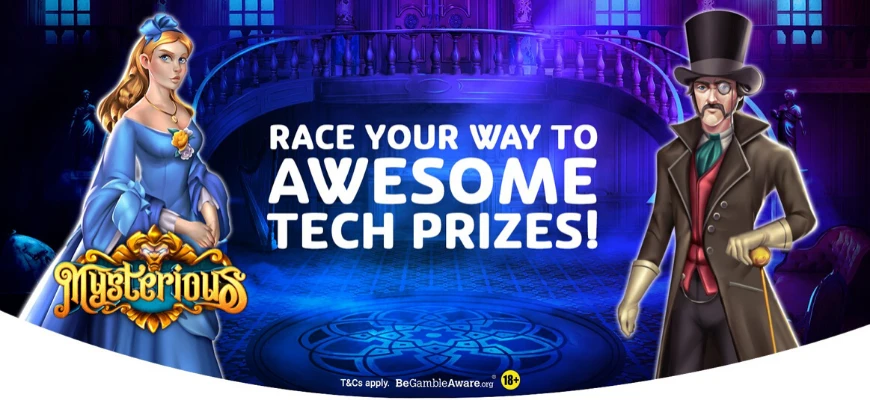 As it to be expected a number of our favourite no wagering casino such as PlayOJO aren't able to give away luxury free holidays during these uncertain times, however, what they can do is put smiles on faces by giving players the chance to get their hands on a whole host of tech goodies.
To celebrate the release of Pragmatic Play's spooky slot 'Mysterious' the generous folk at PlayOJO are giving away a MacBook Pro 13" to the overall winner of their latest Reel Spinoff tournament as well as many other great prizes as part of their Hot to Trot Prizes tournament.
Win a double whopper first prize and thousands of free spins
We mentioned that PlayOJO are giving away a MacBrook Pro to the first prize winner... Well, that's not all! The player that comes out top in their latest Reel Spinoff competition will also receive an iPad Pro to go along with it! Not bad huh?
Don't worry if you don't finish top in this competition as there are a number of other fantastic tech prizes ready to be won if you finish in one of the top five places, these are:
1st Place: MacBook Pro 13'' & iPad Pro
2nd Place: Samsung Galaxy S20
3rd Place: Dell 2-in-1 Laptop
4th Place: Sony System Home Cinema
5th Place: Apple Watch Series 4
Not everyone can finish amongst the front-runners, and that's okay... Because if you do happen to come anywhere between 6th place and 50th place you'll receive a share of over 1000 lovely free spins worth £0.10 each that can be played on Mysterious. The prize breakdown is as follows:
6th Prize: 450 free spins
7th Prize: 400 free spins
8th Prize: 350 free spins
9th Prize: 300 free spins
10th Prize: 250 free spins
11th Prize: 200 free spins
12th Prize: 150 free spins
13th Prize: 100 free spins
14th Prize: 90 free spins
15th Prize: 80 free spins
16th Prize: 70 free spins
17th - 20th Prize: 60 free spins
21st - 29th Prize: 50 free spins
30th - 35th Prize: 40 free spins
36th - 40th Prize: 30 free spins
41st - 50th Prize: 20 free spins
How do I win these tech goodies and free spins?
You'll need to get to grips with Pragmatic Play's newest spooky slot game Mysterious, as you'll be making 100 real-money spins on this popular online slot in order to get your hands on a reel-spinoff ticket.
These tickets guarantee players the opportunity to take part in PlayOJO's Reel Spinoff slots tournament which will determine where you finish on the overall leaderboard. If you don't fancy playing through your 100 spins and want to give yourself a head start you can instead buy unlimited tickets for £1 each.
Before you do any of the above, you'll of course need to sign up to play at PlayOJO if you're not already registered by using the link below. Once you're signed up you'll need to visit the Kickers page where you can opt into the Hot to Trot Prizes Tournament.
Terms and Conditions
One free ticket can be claimed per day for each customer that plays 100 real money spins on Pragmatic Play slot Mysterious.
Free tickets can only be claimed the following day from the kickers section of PlayOJO.
There are no limitations on how many reel spinoff tickets players can buy
Free tickets cannot be earned on the very last day of the tournament.
Absolutely no winnings can be won from playing tournament spins.
Players that have any limitations placed on their account such as a cooling off period are automatically disqualified from entering this promotion.
All free spins awarded to players will be worth £0.10 and can be used on the game Mysterious.
The tournament ends on 29th March 2019 at 23:59 GMT.