Play The New And Exclusive Slot The Dark Knight At Casino.com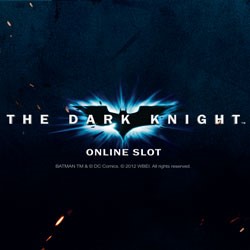 Everyone remembers back in 2008 when The Dark Knight first hit theatres. It was a film that had a lot of anticipation and expectations around it as it was another film to tackle one of the most famous rivalries in popular culture, Batman Vs. The Joker.
But this was to be a different film, one which took the classic formula of these bitter enemies and made it a tale of realism, and reflection on human nature as a whole. It was ambitious and reached further than most films would've tried, yet it was one of the few to succeed tremendously.
Nearly ten years later, we still look back on this film with joy, with a lot of people still calling it one of the best films of the past 50 years. It's an undisputed fact that this is a film that's going down in the history books as one of the greats, much in part to Heath Ledger's scene-stealing performance as The Joker.
It's clear to see just how beloved this film has become, as we're now seeing its own adaptation into the slots world. The Dark Knight is a game made by Microgaming so you know that it's of the highest quality in terms of playability and design.
Its a game that ties in with the film tremendously, with characters, animations and sounds being included that are lifted right from the film, so it invites an impressively immersive experience for all of its players.
Let's Put A Smile On That Face
There are no paylines for this slot, but it provides the standard called '243 ways to win' slot which means it not only promises some big wins but also some features that make it stand out amongst the crowd like it's multiplier feature that comes when the Joker appears, doubling or even tripling your current win. Batman can glide over the game to award stacked wilds and reels full of wilds.
Free Spins
There's also a free spin bonus feature which is triggered when you get 3 or more scatters on the reels. You start off with 15 free spins and a 2x multiplier which has the opportunity to increase during the free spins round thanks to the Joker.
Wild Symbols
The wild symbol is represented by the Dark Knight logo and like other wild symbols, it can be used as a replacement for another missing symbol to form winning combinations. Aside from this, it also has another function which is that is can work as a megawild or stacked symbol randomly over the gameplay. This indicates the slot pays regularly for winning combinations.
Progressive Jackpots
It should also be noted that this is another progressive jackpots game, so the wins you can earn yourself are going to be mighty fine. The game provides four separate levels of progressive jackpot pools like Mini Progressive, Minor Progressive, Major Progressive and Mega Progressive. The Mini Progressive Jackpot starts from £10.00 while the Mega Progressive Jackpot has a minimum payout close to £1 million.
There's a variety of different symbols, each bringing their own monetary prize to the player so there are all sorts you could walk away with!
You're not required to land a certain combination in order to win a jackpot. They are chosen randomly and are offered the chance to use the bonus wheel feature.
Bonus Wheel
The bonus wheel feature is the big feature of this game and invites players to choose between the film's two main characters, Batman and The Joker. Once you make this choice, you'll find how much luck is on your side as this will determine what level of the progressive jackpot has been hit.
The Slot Gamers Need
This is an incredibly rewarding game, not only in terms of the prizes you can win but in every sense. It's a lot of fun to play, with other players saying that they've been hooked playing for hours on end, the design is incredibly in depth and it's nice to see much of the familiarity of the film included too. We even get Hanz Zimmer's mesmerising score to help immerse yourself fully. So, what are you waiting for? Head over to Casino.com now and see what you could win!
It's on their site exclusively until the 23rd May 2018, so the quicker you start playing, the more likely you are to win big.