A share of £1m is up for grabs with PokerStars' Million Epic Draw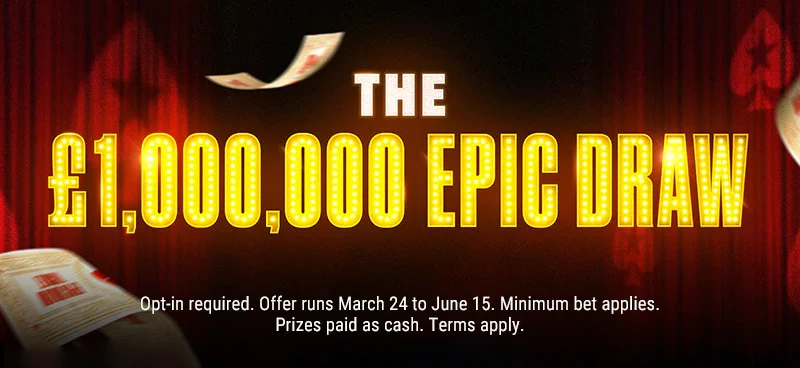 Grab a share of £1 million with PokerStars
When people think of PokerStars Casino, they often just think of tables but there's so much more going on at the no wagering casino. Alongside the amazing online slots on offer, the casino has wonderful promotions to reward players.
There is a share of £1 million to be won at PokerStars Casino from the 24th of March until the 15th of June 2022. To enter the promotion, all players need to do is bet on any casino game to be in with a chance of winning!
Enter PokerStars' Million Epic Draw Here:-
How to enter?
First and foremost, players must be registered PokerStars players and then opt-in to the promotion through the Challenges Window.
After all this is confirmed, then players need to place any bet on any casino game from March 24th until June 15th to gain a ticket to the daily prize draw. There is the chance to gain an extra ticket by betting £20 or more each day.
What prizes are available?
Each day, there is the chance to win a share of £10,000 or £20,000! Every week is different throughout this promotion with varying amounts. From March 24th until April 10th, the breakdown of prizes is:
| | |
| --- | --- |
| Cash Offers | Number of Prizes |
| £100 | 1 |
| £20 | 10 |
| £10 | 20 |
| £5 | 600 |
| £2 | 2,300 |
| £1 | 2,069 |
The table above also shows the prizes from April 18th to May 8th and from May 16th to June 5th 2022. For the second week of April (11th to 17th), each of the prizes mentioned above doubles in value. From May 9th to May 15th, the prizes change again to:
| | |
| --- | --- |
| Cash Offers | Number of Prizes |
| £100 | 2 |
| £20 | 20 |
| £10 | 40 |
| £5 | 1,200 |
| £2 | 4,600 |
| £1 | 4,138 |
By the last week of the promotion, the prizes are the same as the first week but the top prize is £1,000 instead of £100.
As mentioned earlier, the promotion runs daily from March 24th until June 15th with prizes announced at 8pm each night and resetting at this time as well. Be sure not to miss out on this incredible promotion!
Enter Cash Machine Here:-
Terms and Conditions
This promotion is open to PokerStars players with a verified account and those aged 18 and over.
The promotion runs from March 24th until June 15th daily with prize draws taking place at 8pm.
Prizes will be credited as cash inside a chest and will expire after 48 hours if not opened.
There is a limit of two entries per day and there is no minimum bet for the initial entry.
All winnings will be awarded in cash with no withdrawal restrictions or wagering requirements.