Win a £5K garden makeover with Buzz Bingo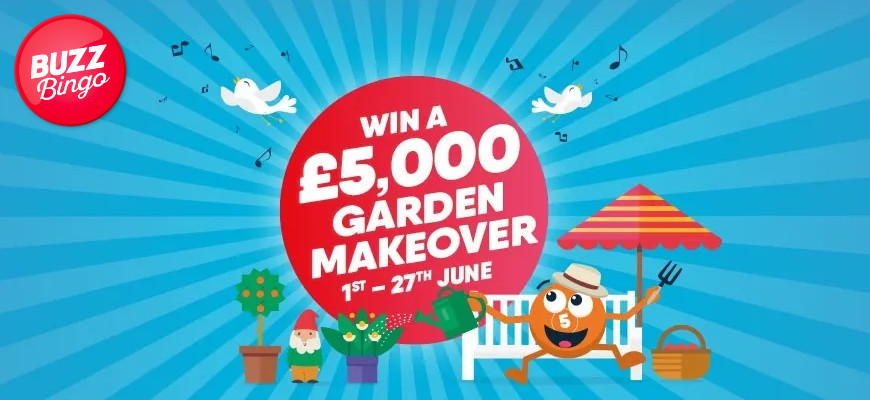 Get your house 'summer ready' with Buzz Bingo's £5,000 garden makeover promotion!
What's could possibly be better in summer than a garden makeover of £5K courtesy of our friends at Buzz Bingo? The well-known bingo site is giving away £5,000 to spend at Argos, Wilkos, John Lewis and loads of other stores!
The prize draw runs every week throughout June and you have 4 different chances to win this mighty prize. You could finally transform your garden into the space you've always wanted.
How do you enter the £5,000 garden makeover with Buzz Bingo?
Now, you must be thinking what is the catch? All you need to do is "opt in" to the draw, deposit at least £10 and spend it on any slot or bingo game (except Bingo Millions) before the Sunday draw.
You'll get one entry for each £10 you spent and you can enter as many times as you like! You literally get to play on your favourite slots or bingo games, all whilst gaining the potential to win £5,000 for your perfect garden makeover.
Prize Draw One - Entries in from Tuesday 1st to 11.59pm on Sunday 6th June.
Prize Draw Two - Entries in from Monday 7th to 11.59pm on Sunday 13th June.
Prize Draw Three - Entries in from Monday 14th to 11.59pm on Sunday 20th June.
Final Prize Draw - Entries in from Monday 22nd to 11.59pm on Sunday 27th June.
Each of the weeks' prizes will be drawn on Monday, with the final one being drawn Monday 28th June.
Buzz Bingo's £5,000 garden makeover Terms and Conditions
Players must be 18+, opt in, deposit a minimum of £10 in cumulative cash on Buzz Bingo and stake on any bingo game or slot (except Bingo Millions) to qualify for the prize draw.
The promotion will run from Tuesday 1st June 2021 until Sunday 27th June 2021 at 23:59 (UK Time).
Winners will receive a garden furniture gift card used in select stores which include (but are not limited by) B&Q, Argos, Wilkos and John Lewis.
The winners will be selected by a random number generated at midday on the Wednesday of the chosen week (Wednesday 9th June, Wednesday 16th June, Wednesday 23rd June and Wednesday June 30th).
All players must be contactable by telephone and update their contact information before entering.
Winning players can select a cash alternative prize of £4,000 which will be added to their account within 72 hours of confirmation.
The gift cards will be sent to the winner's registered home via Royal Mail within 28 days of the 27th June 2021 and must confirm their details within 7 days of the prize being won.