Win daily prizes with Buzz Bingo's Game Show Spinner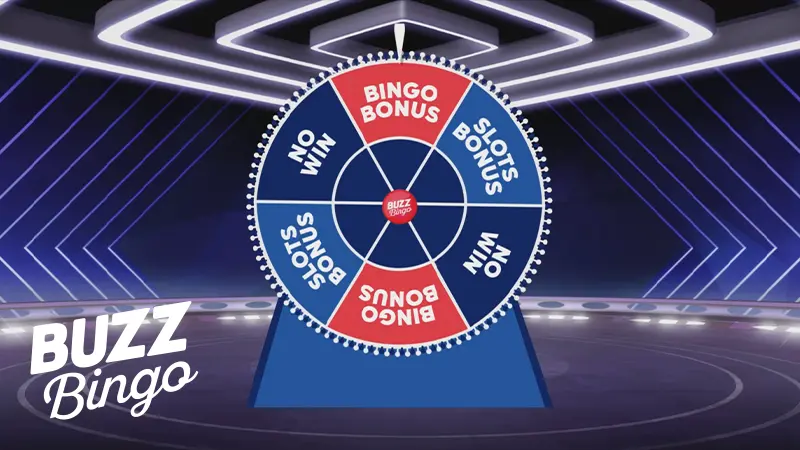 Will you bag a bonus on Buzz Bingo's spinner?
There's nothing more enticing than a free and exciting game that allows players to spin on a wheel to win prizes such as slot bonuses and bingo bonuses. Buzz Bingo returns with a brand-new spinner called Game Show Spinner starting from the 5th of September until the 2nd of October 2022.
From 6:00 until 23:59 each day, players have the chance to spin on the wheel for free to try to secure free spins or bingo bonuses. If a player fails to guarantee a prize, then they can try again the next day for free!
Spin Buzz Bingo's Game Show Spinner Here:-
How to enter the promotion
First and foremost, players who want to enter the promotion must be located in the UK and have a GBP currency account. Anyone under the age of 18 cannot enter this promotion.
After all this has been confirmed, players must then log into Buzz Bingo from 6:00 until 23:59 to spin the wheel found in promotions. Players are given a single spin a day with the option to come back each day until the deadline of the 2nd of October.
What prizes are available?
As for the winning prizes, players can win free spins on Jokers Rush with 2 to 3 free spins worth 10p each. There are also bingo bonuses available worth 20 and 30p that can be used in any bingo room.
Sadly, there is the chance that a player can win nothing on this spinner but is a lower percentage compared to the odds of winning. Plus there is the fact that players can spin again the day after to try again for a win!
Spin Buzz Bingo's Game Show Spinner Here:-
Terms and Conditions
The promotion is open from 6am until 11:59pm from the 5th of September until the 2nd of October 2022.
Only players aged 18 with a verified account can enter this promotion at Buzz Bingo.
There is a £5 minimum withdrawal that applies per the general terms and conditions at Buzz Bingo.
The odds of a player losing are 8:10 and all the prizes will be supplied by Thunderbite.
All the bonuses are for staking purposes only with no wagering requirements attached.