Win free spins, free bonuses and cash prizes on William Hill's Bonus Drop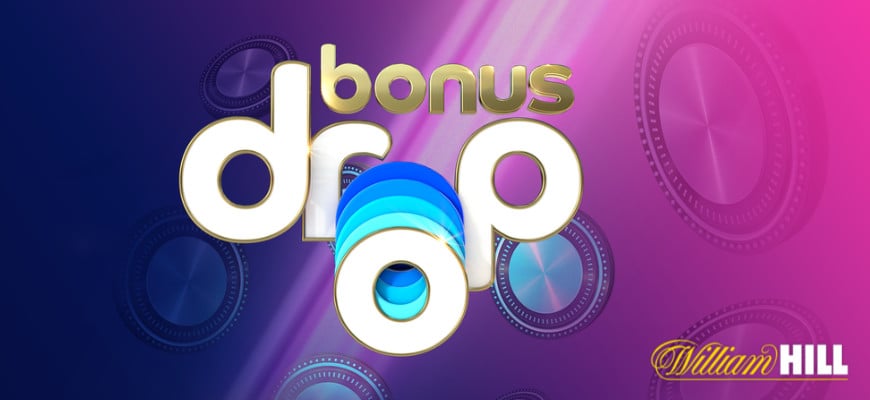 How does winning free prizes each day sound?
Our friends over at William Hill are being extremely generous and giving players the chance to win prizes for free every day with their Bonus Drop. After you've opted into the promotion, all you have to do is take part in the game and drop a disc to see where it'll land.
Each day, players are given the chance to qualify for a bonus and hope to win one of three prizes. Ultimately, these prizes are randomly generated - so you'll never know what you are going to get.
Enter William Hill's Bonus Drop here:-
How do you enter William Hill's Bonus Drop?
Firstly, you'll have to click through the promotion on their site to 'opt in' and that's about it. Once you have opted in, each day you'll be given one free disc to use in the Bonus Drop. You take part in the game and decide where to drop your disc.
It can land on a win, no-win or even a retry symbol to give you another chance. This promotion doesn't cost you anything extra - so there's nothing to lose.
What can you win?
As previously mentioned, there are three different prizes that can be won. These prizes include free spins to use on one or more specific slot games, a free bonus to use on one or more specific online slot or table games, or a random cash prize that'll be added to your main account. So, what are you waiting for?
Enter William Hill's Bonus Drop here:-
William Hill's Bonus Drop Terms and Conditions
The Bonus Drop promotion runs from the 1st December 2020 until otherwise cancelled by William Hill.
Players are given one chance per day to play the Bonus Drop and must be a William Hill customer that has opted into the promotion.
If players take part in any play that is considered unfair, then William Hill reserves the right to cancel any bonuses or promotions applied to your account.
William Hill can change or cancel this promotion at any time without giving any notice.
William Hill is not responsible for any technical or software issues which may result in incorrect information being displayed on the screen. Any dispute will be decided and resolved by William Hill.