Win free spins and bingo bonuses with Buzz Bingo's Beach Pinwheel Spinner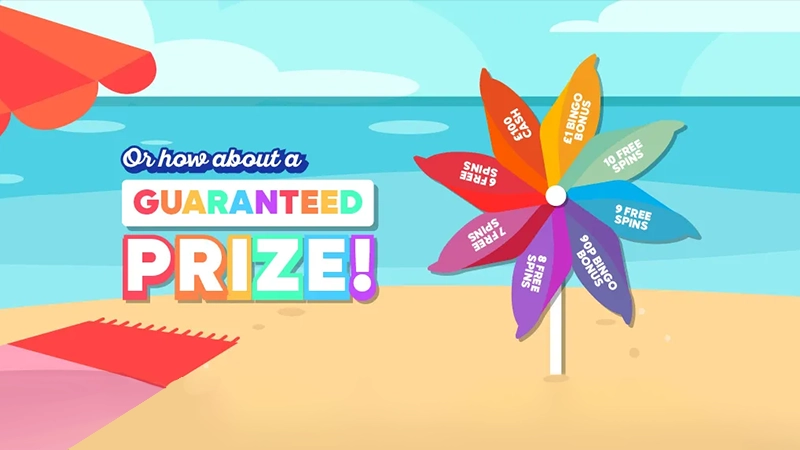 How do free bingo bonuses and spins sound?
Everyone loves to be at the seaside but it's no good if there aren't any bonuses. Thankfully, Buzz Bingo is showcasing its latest spinner with Beach Pinwheel and offering players the chance to spin each day for a spin to win prizes.
Each day from 12pm until Wednesday 29th June 2022, players have the chance to win free spins or bingo bonuses on this new wheel. If that sounds like something for you, then be sure not to miss out on Buzz Bingo's latest promotion.
Enter Buzz Bingo's Beach Pinwheel Spinner Here:-
How to enter
Literally, all players need to do is ensure that they have a verified Buzz Bingo account. Once this is confirmed, players can then go to the promotions section on the page and enter the Beach Pinwheel Spinner.
From 12pm each day, players get the chance to spin the wheel to see if they will win free spins, bingo bonuses or sadly nothing at all. The best part about this all is that each spin is free!
What prizes are up for grabs?
As previously mentioned, there are free spins and bingo bonuses up for grabs in this promotion. Players can win 2x10p or 3x10p free spins on Fishin Bonanza.
Alternatively, players can win 20p to 30p in bingo bonuses that can be used on bingo tickets. There is a chance that players will win nothing - but they can spin again the day after for free to try again.
Guaranteed Prize Spinner
Additionally, players can deposit and spend £10 at Buzz Bingo to unlock the Super Beach Pinwheel to deliver a guaranteed prize to winners.
Naturally, there are up to 10 free spins up to grabs, 90p in bingo bonuses as well as £100 in cash on offer in this promotion. If you want to make sure that you gain guaranteed wins, then look no further than Super Beach Pinwheel.
Enter Buzz Bingo's Beach Pinwheel Spinner Here:-
Terms and Conditions
This promotion runs from 13th June until 29th June 2022.
Players get one spin per day on the Beach Pinwheel Spinner and each spin is free.
There are no wagering requirements attached to the bonuses but there is a £5 minimum withdrawal limit.
All players must be located in the UK to enter this promotion.