American Dream: Ultimate US Road Trip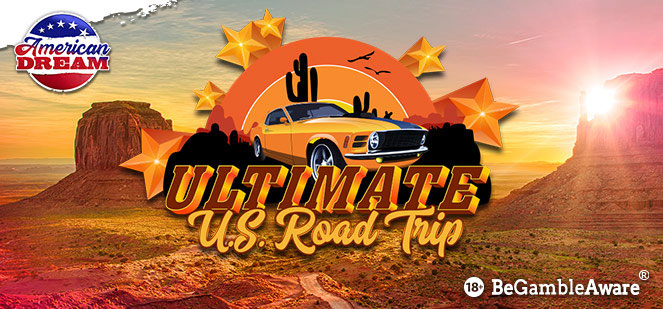 Drive From LA To Vegas In Style This Summer
Many people dream of going on a road trip through the West Coast of America, but few ever get around to it. Would you like to see Downtown LA? Or would you rather visit Las Vegas? With the first instalment of the American Dream promo series at some of the best casinos with no wagering requirements, you can do both – with a trip to San Diego in between!
The Ultimate US Road Trip promo is one of the best new promos out there right now and you can get involved at BGO Casino, Chilli Casino, Power Spins and Vegas Luck! This promo has some huge prizes including the road trip so make sure to get involved before it is too late!
What Is The Ultimate US Road Trip Promo?
The Ultimate US Road Trip promotion is a fantastic prize draw promotion available to players at some of the popular wager-free casinos. This promotion gives players the chance to win a 5-night road trip from LA to Vegas – and they can even bring a friend along for the ride.
The Ultimate US Road Trip promo runs at these sites between Monday 24th June and Sunday 7th July. The prize draw will take place on Monday 8th July when one lucky player will have their next vacation revealed!
This promotion also comes with an American Dream Slot Tournament for those not lucky enough to be one of 100 to win a prize. The prizes for this include some no wager free spins so it is worth having a try.
How Do You Get Involved?
The great thing about this promotion and the other promotions in the American Dream series is that it is really easy to get involved in. Players must opt-in to the promo on the promo page and read over the terms and conditions carefully to make sure that they are eligible to get involved.
Once past the opt-in stage, players simply need to collect some prize draw tickets by playing a wager of £25 or more on the site. For every £25, you'll get one ticket for the big prize draw and you can keep collecting them until the promo is over. These casinos have also decided that those who earn prize draw tickets on three or more separate days in one week will have their tickets doubled!
There are plenty of terms and conditions on this promo that are worth having a read over. You should know that you must opt-in and that you must be aged 18 or over. There are some other terms and conditions regarding the prize so don't skip over these.
When the prize draw takes place on Monday 8th July, the player in first place will win the Ultimate US Road Trip For 2 prize. Of course, there are some other amazing prizes in this promo including a MacBook Pro, an Apple HomePod, cash and much more.
The Ultimate US Road Trip promo is far too good to miss out on and by winning you could have an incredible summer. Make sure to get involved and stay up to date with the other promotions in the American Dream series at BGO Casino, Vegas Luck, Chilli Casino and Power Spins!