Have your dream holiday with Betfred's £200K Holiday Giveaway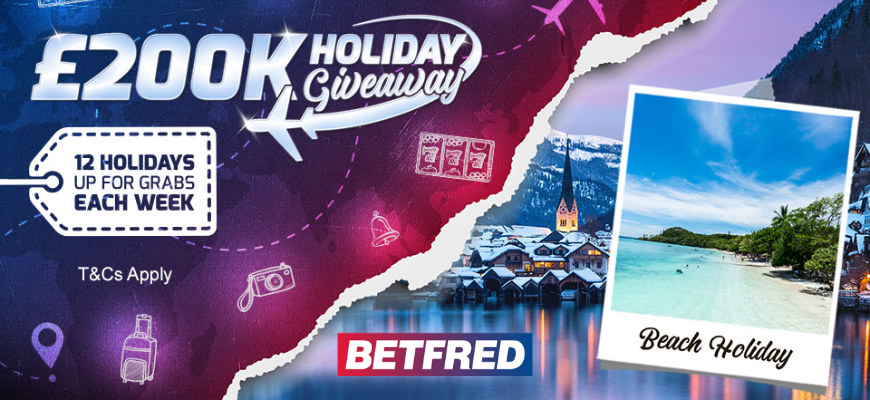 Win holiday vouchers by simply betting and playing on your favourite slots!
This summer you can get the holiday of your dreams or a much-needed break courtesy of our friends over at Betfred. There is a share of up to £200K in holiday vouchers up for grabs starting from 5th July 2021 until the 29th August 2021.
Each week until the end of August, 12 lucky Betfred customers will be jetted off to a destination of their choice with all you needing to do is 'opt in' to the promotion and staking at least £10 on a slot at Betfred.
How do you enter Betfred's £200K Holiday Giveaway?
Firstly, all you need to do is 'opt in' via the promotion page and then you have to stake at least £10 each week on a slot of your choice at Betfred games. Each £10 spent, will class towards one ticket for the prize draw each week, but you can only win 1 prize each week.
At the end of the promotional period, each of the entries will be totalled up and entered into the final week draw which can see players win £10,000 for a trip of a lifetime. There are also certain days in which you can get double entries to increase your chances of winning, these periods are:
13th July until 15th July at 23:59
27th July until 29th July at 23:59
10th August until 12th August at 23:59
24th August until 26th August at 23:59
What can you win?
As previously mentioned, Betfred's £200K Holiday Giveaway runs until the end of August for 9 weeks, with players winning holiday vouchers each week. For the first 7 weeks, from the 12th of July until the 23rd of August, there are 12 different vouchers to be won each week worth £2,000.
However, during the 8th week, from the 23rd August until the 29th August, there are only 11 vouchers available to be won. For the ultimate prize, one lucky player can win the mighty prize of £10,000 to plan the trip they've always wanted. All the entries throughout the weeks will be totalled up and a final winner will be selected for the £10,000 voucher giveaway.
Betfred's £200K Holiday Giveaway Terms and Conditions
This promotion runs from the 5th of July at 00:00 until 29th August at 23:59 - any entries after this will not count.
To enter the draw you must have a verified Betfred account and at least 18.
Only 1 voucher can be won each week, with the final grand prize of £10K awarded on the final week.
Prize draws take place before 18:30 on the designated days with winners being contacted within 72 hours on how to collect their prizes. Prizes that are unclaimed will not be redrawn.
The vouchers can be used throughout 2021 and 2021 but must be claimed and booked via the third party by the 31st of October 2021.
Winners will be able to use their holiday vouchers on trips and getaways across the world and in the UK as well.
Additional funds can not be added to the holiday and therefore the holiday must not exceed the value of the voucher.
Players who take part in this promotion agree to share their contact details via the third-party supplies TMA for the purpose of fulfilling the prize if they are selected as a winner.