UKGC: "Wants fairer and safer gambling for everyone in Great Britain"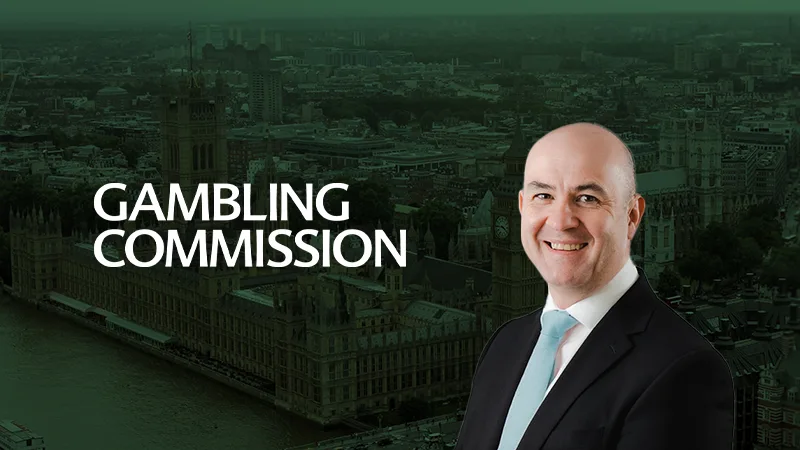 Mr Rhodes spoke at the Westminister Media Forum on Monday
Andrew Rhodes, CEO of the UK Gambling Commission (UKGC), spoke at the Westminster Media Forum Gambling Regulation Conference on Monday 13 June 2022.
He opened up by praising the members of The Gambling Related Harm All-Party Parliamentary Group - especially MP Ronnie Cowan - and thanking them for highlighting the damaging impact of gambling harms.
Need to reduce gambling-related harms
"As the regulator, it is not always in our gift to do what Ronnie and other members of the APPG for Gambling Related Harms want, and at times, we might not always agree on the best way forward," said Rhodes.
He added: "That said, we absolutely do agree on the need to reduce gambling-related harms and we respect his commitment to this issue."
The White Paper is coming
Mr Rhodes goes on further to state that the Gambling Act Review White Paper is not too far away and that "now is a useful moment in time to step back and look at the shape of gambling in Great Britain today."
"On behalf of the Gambling Commission, without waiting for what the White Paper may bring, I can give you an overview on what we think needs to happen to make gambling in Great Britain as fair and safe as it can be, and what our next steps are to achieving that."
The largest regulated online market in the world
Rhodes said: "Gambling is increasingly a global industry. Many gambling operators more closely resemble global tech firms than they do traditional bookmakers of yesteryear. And the British market is the largest regulated online market in the world."
He further adds that this means the pace of mergers and acquisitions has continued to accelerate with the four biggest operator groups in Great Britain having international footprints as well as making up for more than half of the British market by Gross Gambling Yield.
The gambling industry is trying to recover post-Covid
Mr Rhodes mentions that many industries are trying to move beyond the pandemic and the UKGC is "starting to see a picture of recovery in land-based gambling and online."
"Against the slow but steady recovery seen across land-based gambling, online gambling, as a result, has seen a correction as well, with slots session length decreasing from averaging at 21 minutes in 2020/21 to 18 minutes in recent months."
He did add that it's too early to tell if this is due to a change in behaviour from existing players, new consumers or whether customers are spreading their money across different operators.
Gambling participation is down by just under 50%
The latest statistics from the UKGC, conducted by phone surveys, showcase "that overall gambling participation was 43% for year to March 2022. This was 3% up on the year to March 2021 but still 4% down on the year to March 2020."
He further mentions that entertainment is becoming more seamless, across devices and channels, so gambling operators are looking to take advantage of this trend "by moving towards more entertainment-focused business models, reducing the friction between gambling and non-gambling products."
Loot Boxes, NFTs and synthetic shares are becoming a concern
Rhodes then went on to talk about non-gambling brands and how they are looking to enter the gambling space. The UKGC has been warned against the risks that come from the amplification of products that aren't covered by the current Gambling Act.
Loot Boxes, NFTs and cryptocurrencies "are becoming increasingly widespread and the boundaries between products which can be defined and regulated as gambling are becoming increasingly blurred."
Improvement in data collection
The UKGC wants the gold standard data of the Health Survey and will use the next year to analyse the new methodology further to correct any issues they have had in the past and scaling this up.
He added: "We need better data so that we can make better progress. And that's as true for the Commission as it is for operators."
Operators failing the UKGC standards
Mr Rhodes went on to talk about many examples of operators making mistakes and failing the UKGC standards and failing customers. There are many recent examples of players losing thousands of pounds with no real checks done beforehand to make sure that they could afford this.
"Those examples are all recent. All since we published our last Compliance and Enforcement report last year. And we see more in many assessments. That's not good enough. And it's not sustainable either."
The UKGC are open to working amongst gambling companies to make quicker progress on fairer and safer gambling. The previous industry challenges led to better standards on VIPs, game design and Ad-tech available online.
The UKGC will not be complacent
Despite the previous success of this approach, the UKGC will not be complacent and will set out high standards for the gambling industry with Rhodes stating: "We will escalate the penalties for failings if we don't see the industry start to consistently live up to our standards."
Marcus Boyle, the Chair of the UKGC, "has outlined in the press how we intend to ramp up our enforcement work and the penalties that come with it." Operators that aren't compliant will not just be letting down customers but their own business.
"They are letting down the entire sector. Which should be frustrating for operators as much as it is for us. Because we do also see good practice and improvements being adopted by some operators," said Rhodes.
"But that will be for nothing if those operators who are making the changes we expect and demand continue to be drowned out by poor practice elsewhere."
The Black Market is a daily concern for the UKGC
"We are all waiting for the Gambling Act Review White Paper, but that won't stop us at the Commission taking action...We are of course also taking action against illegal online gambling otherwise known as the 'Black Market'."
This is a concern for the UKGC on a daily basis and they are deploying more resources to combat illegal online gambling as it's "a dangerous and unfair place to gamble."
Industry evolving rapidly
Rhodes added: "The Gambling Commission wants fairer and safer gambling for everyone in Great Britain. We will always strive for that but it is in the interests of everyone involved in the sector to strive with us."
"We often face pressure to adopt standards and approaches more commonly seen in the Financial Services sector, which has a very different regulatory framework, when gambling is still legally a leisure activity not intended as a destination for your life savings, or your pension," said Rhodes.
"At the same time, we see an industry that evolves exceptionally rapidly, where products can take off quickly and gather tremendous momentum."
The UKGC will not wait for the White Paper
"There is a temptation for some in the gambling sector to just hold their breath and wait for the White Paper. At the Commission, we also look forward to the White Paper and we understand it's getting closer."
He added: "But no one in the gambling sector should believe that the Gambling Commission will accept waiting for the White Paper as an excuse not to tackle problems now."
"I have to believe it is possible to have a successful and innovative gambling industry that provides something its consumers want but can do so in a responsible way, eradicating the inexcusable excesses we still see today, and expanding the good practice we also see."