PokerStars player wins $6.2M on Blueprint Gaming's Jackpot King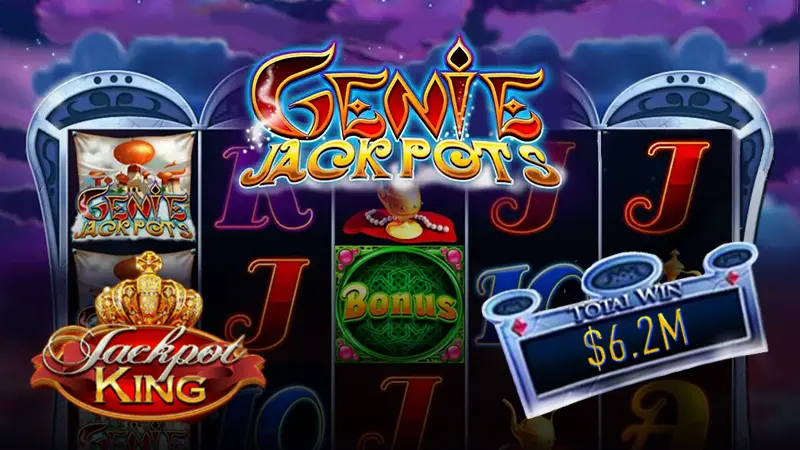 Another millionaire has been made on the Jackpot King
It's not every day that a player can say they have won over $6.2 million on an online slot, but one lucky player at PokerStars Casino has done just that. Amazingly, this news comes just two weeks after another player within the UK won a whopping £1,865,412.42 on the Jackpot King with The Goonies Return.
Little is known about this colossal win, as the winner wished to remain anonymous, but it's assumed that this jackpot was won by a player in the USA as the win was announced in US dollars. The Jackpot King was awarded through the hit Blueprint Gaming slot Genie Jackpots.
Play Blueprint Gaming's Genie Jackpots Here:-
What is Genie Jackpots?
Created in 2015, Genie Jackpots was introduced to the iGaming world with a bang. As the name suggests, this slot is inspired by One Thousand and One Nights folk tales and features an Arabian theme with a genie ready to grant wishes.
Players are able to grant their own wishes in this slot due to magical features such as Power Spins, Magic Carpet Bonus and Mystery Win Bonus. Not soon after the release, Blueprint Gaming added in the Jackpot King to enhance the gameplay even more.
With the Jackpot King, there are three networked progressive jackpots that are available to be won at any time including the Royal Pot, Regal Pot and Jackpot King. The first two are small to medium jackpots, whilst the Jackpot King is the biggest one that can reach into the millions.
One of the biggest jackpots out there
It's known across the iGaming industry that Jackpot King is easily one of the largest and most recognisable jackpots out there as no other jackpot can rival it at the moment. Relax Gaming's Dream Drop Jackpot is certainly trying to compete with Jackpot King but has not reached multi-millions yet.
The latest winner of the Jackpot King won $6,256,183.70 which is absolutely life-changing. With two millionaires made within the past two weeks at Jackpot King, there's no telling when the next winner will drop.
Play Blueprint Gaming's Genie Jackpots Here:-