PlayOJO wins at the UK Social Media Awards with Safe Bets Campaign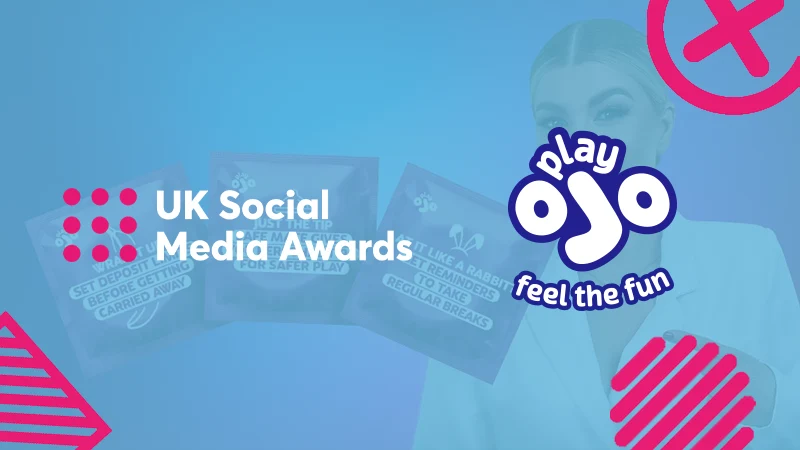 PlayOJO has won again at the UK Social Media Awards
Last year, PlayOJO stood victorious at the UK Social Media Awards with two awards of Best Use of Instagram and Best Use of Social Media through the Compulsion campaign with Gemma Collins. It seems that PlayOJO has hit gold again with the Safe Bets campaign with Olivia Bowen.
This campaign has led to the casino site with no wagering requirements winning another award at the UK Social Media Awards for 2022. There are over 30 categories at the awards ceremony and PlayOJO beat out Netflix to win the Best Use of Social Media for Entertainment.
Coming out on top
Netflix came in a close second with a silver award for the #Nestflix but did not manage to beat PlayOJO. The campaign follows Olivia Bowen in a spoofy sex education commercial that promotes safer gambling in comparison with safer sex.
The campaign was even aided by social media agency Cubaka which allowed this campaign to deliver a quiz testing the knowledge of the viewer and awarding branded PlayOJO condoms to those who guess it correctly.
"Proud to have been able to continue our great work," says PlayOJO
"It is an absolute privilege to once again be recognised by the UK Social Media awards," stated Peter Bennett, CMO at PlayOJO.
"Having picked up two awards at last year's event, we are proud to have been able to continue our great work in engaging our audience via social media."
"Player safety is at the forefront," says PlayOJO
He added: "In a continuing theme, this year's campaign was also focused on responsible and safer gaming, something we, as one of the UK's top online casino and bingo operators, are striving to lead the pack on."
"Player safety is at the forefront of everything we do as a business and is an important part of our advertising and social media strategy."
Bennett concluded: "I'd also like to take this opportunity to thank not just the amazing team and agency Cubaka, but also the judges for recognising what we set out to achieve with our Safe Bets campaign."