GambleAware: 92% who complete treatment improve gambling behaviour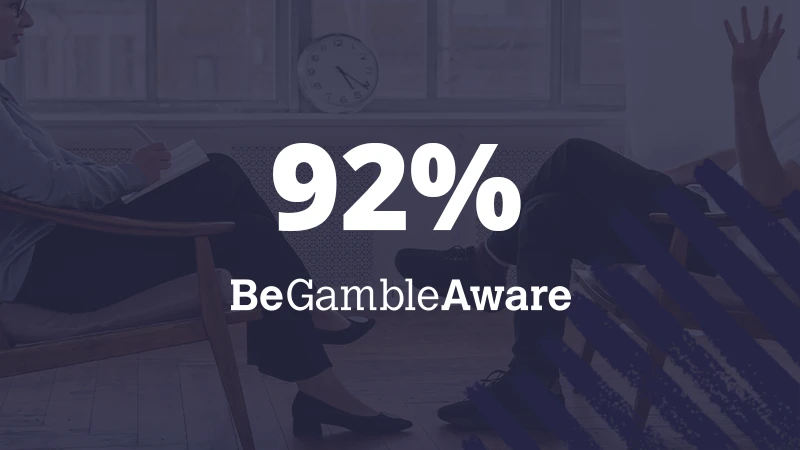 GambleAware has published the annual statistics for the National Gambling Treatment Service
The 2021/22 statistics for the National Gambling Treatment Service (NGTS) have just been released, and they're extremely encouraging. For anyone who doubts how effective a gambling support programme could be, the results speak for themselves, with 92% of those who completed treatment reporting that they have improved their gambling behaviour.
The NGTS was created as a way of connecting organisations offering free-to-access confidential support and treatment to anyone affected by gambling-related harm. Available across England, Scotland and Wales, the NGTS allows service providers to deliver appropriate advice, treatment and care exactly when and where it's needed.
Offering support and treatment for those in need
These are the main findings of the 2021/22 Annual Statistics:
63% of clients went on to complete their scheduled treatment.
50% of people received their first appointment within five days of reaching out to the NGTS.
75% of people received their first appointment within 12 days of contacting the NGTS.
92% of those who completed their treatment improved their gambling behaviour.
86% of those who completed their treatment improved their psychological well-being with regard to gambling.
Between April 2021 and March 2022 7,072 people received treatment. Over half of referrals came from the National Gambling Helpline, although around a quarter of people self-referred themselves. Average treatment times lasted around ten weeks.
Progress was tracked using the Problem Gambling Severity Index (PGSI) and the Clinical Outcomes in Routine Evaluation (Core-10) measurement systems. Only around 30% of people failed to complete their scheduled treatment.
"A highly effective treatment option," says Zoe Osmond, GambleAware CEO
As one of the organisations responsible for commissioning the NGTS, GambleAware is delighted by the report's findings. As CEO Zoe Osmond points out, anyone can be affected by gambling harms, so the earlier they can source support and treatment, the better. The focus going forwards will be on raising awareness about treatment services and improving access to make it available for everyone in need of it.
The report also looks into the ways in which gambling harms continue to evolve. Most people seeking support and treatment are involved in online gambling, with a noticeably higher uptake among younger age groups. Women have also been contacting the NGTS, with the majority of them reporting that they have been adversely affected by someone else's gambling, a group which accounts for 14% of service users.
With the publication of its annual report, it's clear that the NGTS is doing exactly what it was set up to do. Thanks to widely publicised responsible gambling initiatives, treatment and support are being made available to those most in need of it. Gambling should be a safe and entertaining pastime, and here at No Wagering, we're determined to help it stay that way!