Concluding A Landmark Year, The Gambling Commission Releases Latest Report And Accounts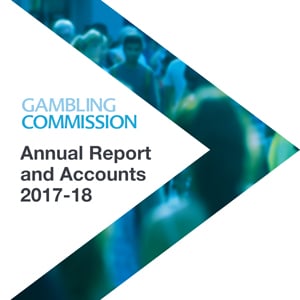 It has been something of a momentous year for the Gambling Commission (GC). Not only has 2017-18 seen the body launch a 3 year strategy aiming to make gambling both safer and fairer for its users, it also saw the landmark implementation of a new enforcement strategy which introduced larger financial penalty packages for operators who fail to protect consumers.
With the above, the GC has laid out an ambitious task for itself, one that will have repercussions not just for the industry it regulates, but also for wider society more generally. The scale of their objective is matched by their ordinary regulatory activity, and it is this which is detailed in their Annual Report and Accounts 2017-18.
Given its total gross gambling yield of £13.9 billion and 106,306 employees, being responsible for the gambling industry requires a steady hand. The GC reports that approximately 23 million adults gambled in 2017-18, a figure which represents 45% of the population. It is to the benefit of all operators and affiliates that this proportion remain high, for the promotion of a safe and fair environment for gamers will ensure a lively gambling community going forward.
In partnership with government, the GC has achieved a reduced stake cut for fixed odds betting terminals, with the maximum available now being £2. GC data shows that there were 20 billion plays on machines installed in betting shops, with the total gross gambling yield from gaming machines throughout Great Britain being £2.8 billion. Clearly this ever expanding and popular niche of gaming contributes significantly to operator and industry profits, making it essential that the GC monitor it closely and in conjunction with all relevant parties.
To empower and protect consumers, the GC has improved how online gambling firms provide information which allows its users to make informed gambling choices, and the findings of their consumer interest assessment have informed further work in consumer research. They have pledged to improve how they engage with stakeholders, and are keen to promote alternative dispute resolution tools to consumers. This has led to an improved section on the GC site advising them of how to, should the need arise, go about making an official complaint.
In order to bring about the cultural change that raises standards across all gambling sectors, the GC has carried out investigations into 22 operators, and ensured that all are aware of their duties and obligations to users. This has been achieved through a mix of reports and conferences, all aimed at building partnerships and understanding between all industry partners and sectors, while recognising the GC is itself but one part of an effective regulatory framework that includes both central and local government. To this end, the GC will continue to work closely with the Competition and Markets Authority, the Advertising Standards Authority and the Information Commissioner's Office.
A clear success story, the National Lottery has, since its launch in 1994, raised over £38 billion for good causes. As such, its position as a valued national asset must be maintained, so the GC is committed to ensuring fair play and that the public trust in how it is run and regulated is maintained. Essential to its smooth functioning is ensuring the motivation of the current licensee, Camelot, whose own performance will continue to be robustly monitored. The GC will also evaluate its own performance with respect to licensing, compliance and enforcement, in order to improve regulation across the board. With respect to operators, the GC has made it easier for them to submit accurate and timely data, and has improved its own compliance processes.
The regulator reports a total income from fees and other sources of £19.93 million for 2017-18, a raise on the £19.65 million for 2016-17, with the majority sectors of casinos, betting and B2B supply contributing 31%, 30% and 24% of this total respectively. Including depreciation, total expenditure on operating costs across the year amounted to £23.19 million, with expenditure on gambling regulation totalling £19.53 million. National Lottery functions accounted for £3.62 million, with employee costs reaching £15.70 million. As of 31 March 2018, the book value of non-current assets stood at £1.74 million, while assets less liabilities amounted to £6.4 million. At the year-end of 2017-18, the GC's closing cash balance was £17.5 million, an increase of £7,000 over the previous year.
A full version of the Annual Report and Accounts 2017-18 can be found here.