Win free spins and bingo tickets in Heart Bingo's Summer Sizzler Wheel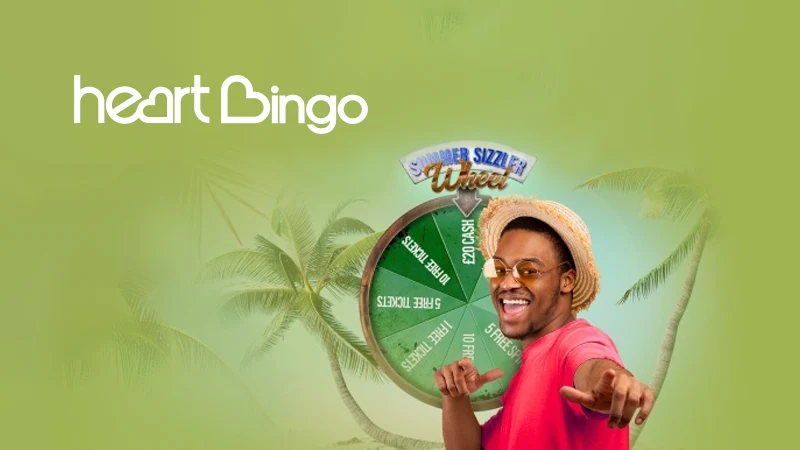 It's time for a sizzling spinner at Heart Bingo
Throughout August, players are given the chance to win prizes on Heart Bingo's Summer Sizzle Wheel. The best thing about this promotion is that is available every single day from the 1st of August until the 31st of August!
All players need to sign up to Heart Bingo and opt-in to the promotion each day. From free spins to bingo tickets, there is so much up for grabs at no extra cost to players! This is just one of the many free spinners available throughout this month.
Spin Heart Bingo's Summer Sizzler Wheel Here:-
How to enter
Each day between 10:00am and 11:59pm, the wheel is available to spin once players have opt-in through the promo section. There are no requirements to spin the wheel and players do not have to spend a single penny to enter.
Once the spinner is open, all players need to do is spin to land either free spins, bingo tickets or a no-win. The best part is that if a player fails to secure free spins or bingo tickets, they can try again the day after for free!
What prizes are on offer
As previously mentioned, the main prizes in this promotion include free spins and bingo tickets. Up to 10 free spins can be awarded on the online slot Gold Train with a value of 3p.
The bingo tickets that are available can be valued between 1p to 10p and can only be used in the Heart Bonanza Bingo Room. All the prizes in this promotion will expire after 7 days and there is sadly the chance of not winning anything on a spin. However, players can literally try the day after to win at no extra cost.
Spin Heart Bingo's Summer Sizzler Wheel Here:-
Terms and Conditions
This promotion is only available from the 1st of August until the 31st of August 2022.
The wheel can only be spun once per day and only one offer can be claimed.
This is only available for verified Heart Bingo players aged 18 or over.
The promotion does not state any wagering requirements in the terms and conditions.