£1m to be won in Tombola Bingo's March Millions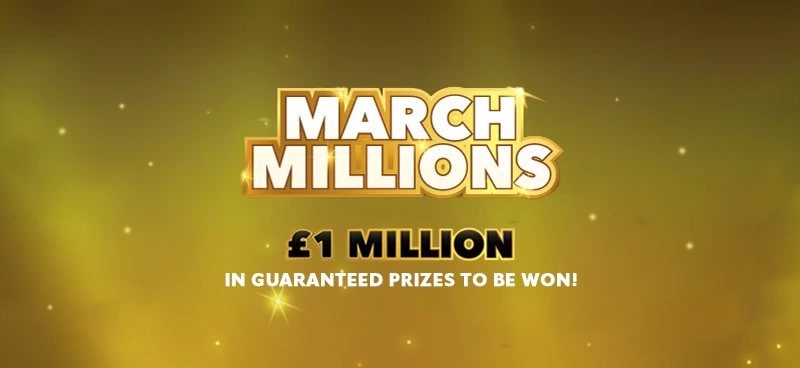 Calling all bingo heads!
Throughout March, Tombola Bingo is giving players the chance to win a share of £1,000,000 in guaranteed prizes to be won in bingo promotions.
All players need to do is enter specific games at the no wagering bingo site to be in with a chance to win amazing prizes - do not miss out on this incredible promotion.
The First week of March Millions
The first half of the schedule for March Millions details specific days and games in which players can which lucrative cash prizes. It starts on Tuesday 1st March at 9pm with Link Game in Bingo 90 Link leading to a guaranteed FH prize of £30,000.
After this, there are guaranteed cash prizes on Bingo 75 Lines High 5 on Saturday 5th March between 8pm to 10pm. On Monday 7th March, there are 11 consecutive link games with a total of £60,000 to be won from 9pm until 10pm in Bingo 90.
Recurring Weekly prizes
Alongside the set schedule, there are prizes to be won almost every day throughout March. Every Monday in March at 10pm, 10:30pm and 11pm, there are Bingolite link games with guaranteed prizes of 1L, 2L and FH.
Each Tuesday offers £1,000 to be won in Bingolite link games at 7pm, 7:30pm and 8pm. If that wasn't enough, there is a guaranteed prize of £25,000 to be won every Friday in the 9pm Bingo90 link game. Alongside this, there are guaranteed prizes in every room on Fridays from 9:15pm until 10pm.
Additional games
The fun most certainly doesn't stop there as there are loads of other bingo games available starting with Hex Week on Saturday 12th and Sunday 13th March between 9pm to 10pm offering guaranteed prizes in every game.
From Monday 14th March until Friday 18th, there are prizes available in every game between 7am to 9am and 12pm to 2pm. Similarly, there is a guaranteed prize of £250 in every game on Sunday 20th March between 8pm and 10pm.
Tuesday 8th, 15th, 22nd and 29th March from 8:30pm until 10pm offer prizes in each room. Alongside this, there is an extra prize on offer in win on American shape on Sunday 20th March from 8am until 10am and 8pm until 10pm.
Monday 14th and 21st March offer £10,000 guaranteed in FH prizes in link games at 9pm, 9:30pm and 10pm. Finally, on Monday 28th March at 8pm, 8:30pm, 9pm, 9:30pm and 10pm, there is a massive £70,000 to be won in the full house!
Be sure to take advantage of March Millions at Tombola Bingo and see if you can win a part of the £1,000,000 on offer.
Terms and Conditions
Players must be aged 18 and over with a verified Tombola Bingo account.
Tombola Arcade players can access Tombola Bingo without creating a new account.
There are no wagering requirements attached to wins at Tombola Bingo.
The promotion runs throughout March ending on the 29th March 10:30pm.