Christmas Live Bingo arrives at Buzz Bingo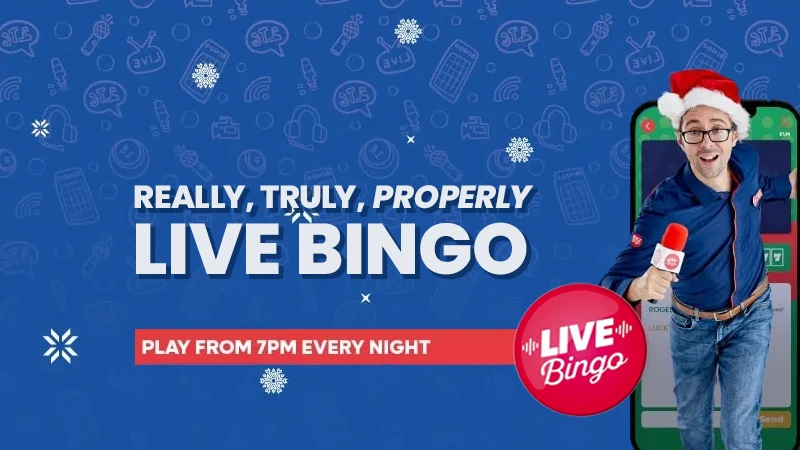 Really, truly, properly Christmas Live Bingo!
Since arriving at Buzz Bingo in September 2022, Live Bingo has become a fan favourite amongst bingo players. It's no surprise that it's become huge as there is nothing else like this out there at bingo sites.
Live Bingo features visual hosts (in the form of the lovely Roger and Devin) that run the entire bingo game just like an actual bingo hall. The live presenter interacts in every show and reacts to live events.
With Live Bingo, bingo is literally the star of the show and wins are celebrated as soon as they happen! The best thing about this type of bingo is that it's entirely live meaning that anything can crop up during a game - you'll never know what to expect.
Throughout December, Live Bingo is bigger and better than ever with tons of Christmas and World Cup games available to play. Fans of Live Bingo should definitely keep reading to find out what the schedule is throughout December.
Christmas Club Room
From the 30th of November, there is a new Christmas Club Room that involves a special 'Christmas Comes Early' Live Bingo show from 7pm. This replaces the Buzz Club Room until the 3rd of January 2023. Whilst this room does have Live Bingo, there are also normal bingo games with 90, 75 and 80 ball bingo games.
As Christmas Club Room is replacing Buzz Club Room, there is a change to the schedule. The full schedule includes:
8am to 9am: Bargain Baubles (buy 6 tickets, get 1 free).
9am to 10am: Ho Ho 1 To Go (1TG feature on all games).
10am to 11am: Jingle Balls BOGOF (buy-one-get-one-free on all tickets).
11am to 1pm: Xmas Dinner 1TG (1TG feature on all games).
1pm to 2pm: Jingle Balls BOGOF (buy-one-get-one-free on all tickets).
2pm to 3pm: Tinsel Twins (twin & win feature on all games).
3pm to 4pm: Rudolph's Roll On (roll-on feature on all games).
4pm to 5pm: Ho Ho 1 To Go (1TG feature on all games).
5pm to 7pm: Xmas Mega Mix (variety of features, games named after Christmas songs).
7pm to 10pm: LIVE BINGO.
10pm to 10:30pm: Chat Stars Xmas Party (chat games).
10:30pm to midnight: Twilight Xmas (£50 Full House on all games).
Live Bingo Specials
Throughout December, Live Bingo is shaking it up and changing the normal format. The games will still be available from 7pm to 10pm but there are special themes throughout the month.
Live Bingo Pick A Present
All of the Live Bingo shows in the Christmas Club Room will have a Christmas theme plus a new 'Pick A Present' feature. If the number 2 happens to appear during any game, the next 1L, 2L or FH winner will get to pick a special present to win a prize worth up to £100. The only time this does not happen is when the World Cup Specials are on.
Live Bingo World Cup Specials
On any knock-out match day that England plays, the Live Bingo show will use a football theme. The 'Pick A Present' is replaced by the 'Pick A Football' feature. In addition to this, each show will have a 'Goals Galore' game where Buzz Bingo adds an extra £10 to the 1L, 2L and FH prizes for every goal scored in those England games.
Live Bingo Xmas Jackpots
On Christmas Eve, Christmas Day and Boxing Day, there will be Live Bingo games to play! This includes £1K Big Bang prizes. Ultimately, these are escalator wins with 2 different £1K Jackpot guaranteed. An escalator in bingo essentially is a progressive jackpot that gets easier to win as time passes!
New Years Free Bingo Party
There will be a normal Live Bingo show from 7pm to 10pm - but there is also a special one available from 11:45pm to 12:15am with completely free bingo! That means you do not have to spend a single penny and can win up to £23 in prizes on each game.
What else is going on at Buzz Bingo in December?
In addition to Live Bingo, there are huge prizes to be won every day with the Advent Calendar which can be opened for free until the 24th of December. There are also daily free games available at 8pm with a £1,000 prize pot.
The Christmas Big Prize Avalanche also runs on every Friday in December. This includes £200K of prizes across 5 games of bingo as well as a Big Prize Money at 9pm and the 'Everyone Wins feature' available on every game.
To celebrate the World Cup, there is a special jackpot hosted on the 19th of December in the 5 Line Bingo Room with 75-ball games. The Jackpot Escalator runs from 5pm until midnight with a community jackpot that gives 50% to other players within the room.
Finally, from the 25th of December until the 1st of January, there are Christmas Escalators in the DOND90 (Deal or No Deal 90) Bingo Room with Jackpot Escalators from 6pm until midnight. The jackpot increases by £5K every day and there is a community jackpot with this bingo game as well.
If you are looking for a superb bingo experience throughout December, then look no further than Buzz Bingo. Whether it's Live Bingo or Jackpots, you'll find it at Buzz Bingo.
Buzz Bingo General Terms & Conditions
This promotion is only open to registered players aged 18 and over.
The special Christmas promotions run from the 30th of November until the 3rd of January 2023.
This promotion is only available to customers in the UK.
In order to take part in Live Bingo, players will have to enter the Buzz Club or Christmas Club Room and purchase at least one bingo ticket to have the Live Bingo feature activated.
Live Bingo runs from 7pm to 10pm every night in the Christmas Club Room.