Win up to £500 for free each day with Mecca's Festive Free Spinner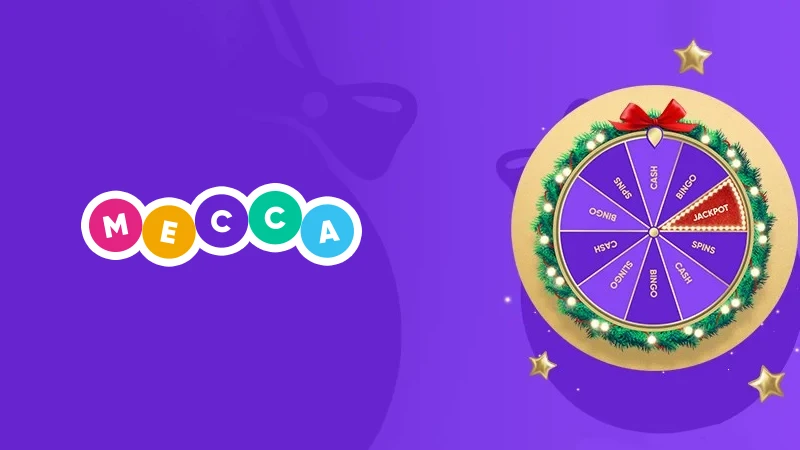 'Tis the season to be merry with Mecca Bingo!
There is nothing better than a sure win and that's exactly what you get with Mecca Bingo's Festive Free Spinner. Every single day from the 28th of November until the 22nd of December, you can spin a free spinner to win guaranteed prizes.
What's the catch? Absolutely nothing! All you need to do is be a player at Mecca Bingo and that's it. With the spinner, you can win cash prizes or free bingo sessions with absolutely no wagering requirements attached. What could be better than that?
Win up to £500 each day
There are five types of prizes available to be won every day at Mecca Bingo. As previously mentioned, you are always guaranteed to win a prize which could include bingo sessions, Slingo spins, free spins, cash prizes or the jackpot.
The cash prizes are valued between 10p to £500 with the jackpot spin awarding the maximum £500. Amazingly, the free bingo sessions have full house prizes of between £400 to £600 meaning that you could potentially win even more!
How to enter the promotion
The only thing that you have to do is sign up for Mecca Bingo and then go to the promo section to spin. There is no need to deposit or spend cash on anything as this promotion is entirely free!
From 8am to 12am, you have the chance to spin for free. After this point, the spinner resets and you can spin again the following day! It's worth mentioning that there is a 'premium' spinner available at Mecca Bingo where you can win up to £1,000 each day but you must deposit and spend £10 to qualify for this.
Whether it's the premium or the base spinner, you are in for a treat this holiday season with Mecca Bingo. So do not delay and head over to Mecca Bingo right away!
Terms and Conditions
There are absolutely no wagering requirements attached to any of the prizes in this promotion. All winnings will be credited to the cash balance.
This promotion is only open to Mecca players from the 28th of November until the 22nd of December 2022. The promotion runs from 8am until 12am every day.
100% of the plays on the wheel will guarantee a prize.
The winners from this promotion (except for cash) will expire within 7 days of being credited.