Win £2,023 every month with Heart Bingo's 2023 Giveaway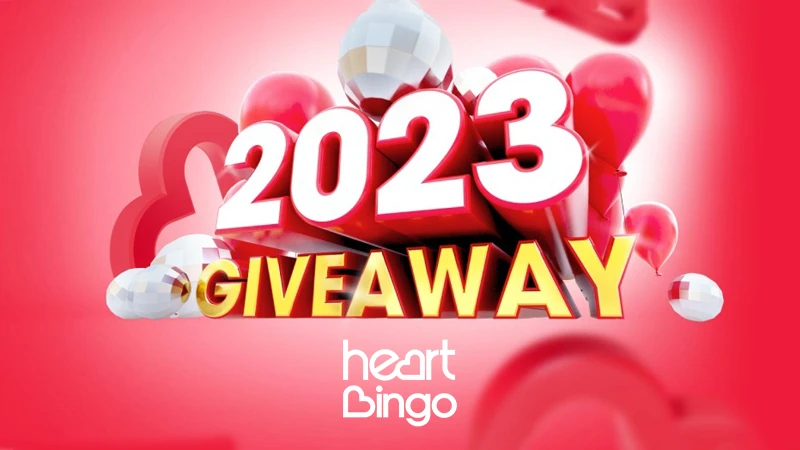 Calling all Hearties - there's £24,275 to be won in Heart Bingo's latest promotion
Kicking off the new year in style, Heart Bingo is offering players the chance to win a whopping £24,275 through the free promotion called 2023 Free Giveaway! That's right, it's free to enter this promotion for the first time and then you can improve your odds by gaining additional entries by spending £5 on specific games.
You'll be awarded £2,023 every month throughout the year which should help you beat the winter blues. You'll also be automatically entered into a special 2023 Wheel gaining the chance to win free bingo tickets, free spins and up to £500! What could be better than that?
Details on how to enter the promotion
This promotion is open to all Heart Bingo players so be sure that you have signed up to the bingo site beforehand. Once this is confirmed, you then need to log in and head over to the promos section of the site.
From here, you can then opt-in to the promotion to gain your first free entry into the prize draw. Following this, every £5 spent in the Heart Bonanza Bingo Room or on the Make Me a Millionaire Slot counts towards an extra entry with no limit as to how many you can receive.
Further details on the grand prize
The lucky winner of this promotion will be given £2,023 every month for the rest of the year gaining a total of £24,275! The cash prize will be paid into the Heart Bingo account on the last working day of each month.
Everyone that opted into the promotion and did not win will gain entry into the special 2023 Wheel where they can win free spins, free bingo tickets or up to £500 in cash. So if you do not win the grand prize, you still have a chance at winning something else.
It's not every day that you can enter a free promotion to win thousands of pounds so do not miss out on Heart Bingo's 2023 Giveaway. Be sure to enter before the draw ends on the 30th of January 2023.
Terms and Conditions
The first entry is free and more entries can be gained by spending £5 on Heart Bonanza Bingo Room or Make Me A Millionaire Slot.
This promotion ends on the 30th of January 2023 with the draw taking place the following day.
Players that do not win will be entered in the 2023 Wheel. Heart Bingo has yet to release more details about the 2023 Wheel but we'll update you when we know more.
If the winner self-excludes during the year, then the funds will be withdrawn directly to the customer's payment method the day after being credited to the bingo account.
Customers betting in euros will have the win converted at current exchange rates.
There is no mention of wagering requirements throughout the promotion.