How to play Monopoly Live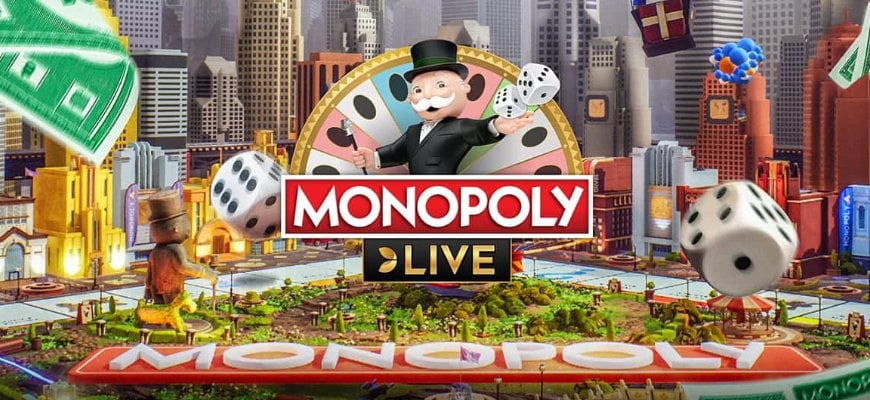 Learn how to play Monopoly live casino game show
Evolution Gaming's popular Live Casino title MONOPOLY Live has been named 2019's Game of the Year at the annual EGR Operator Awards at a star studded ceremony attended by the best online casinos and as a result interest in this entertaining game has never been higher!
This unique and highly popular online game show is a special edition spin-off of its predecessor Dream Catcher and is based on one of the world's most popular board games, Monopoly!
It's fair to say that this Hasbro licensed live game show has changed the landscape of Live Casinos forever and stands out amongst every other available game thanks to its unique mechanics, exciting bonus round and charismatic hosts.
How do you play MONOPOLY Live?
It's a surprisingly simple concept! Players are tasked with predicting which segment the wheel is going to land on, that's really is all you have to do.
The wheel has 54 equal segments and are separated by pins. 48 of the segments are numbered 1, 2, 5 and 10... If you've placed a bet on one of those numbers and the wheel stops on one then you'll win the corresponding amount back, for example landing on 2 wins you 2/1 your stake, landing on 5 wins you 5/1 etc.
Initiating the bonus game
Despite it's simplicity, there is SO much more to MONOPOLY Live than just spinning the wheel if you're lucky enough to have a spin land on a bonus segment! If you've placed a bet on the 2 ROLL or 4 ROLL segment and the wheel lands on either of these then you're certainly going to enjoy some potentially huge wins.
The bonus game begins upon hitting these segments and the iconic Mr. Monopoly sets off along the Monopoly board, walking an equal number of steps to whatever the dice roll has landed on.
Your initial stake is multiplied depending on what property Mr. Monopoly lands on, each property pays out a different amount, land on houses and hotels and the multipliers can climb into the hundreds, growing your original bet into a impressive sum of money.
However, if you didn't bet on the 2 ROLL or 4 ROLL segment before the wheel was spun, then you we're afraid you won't enjoy any of the benefits of this lucrative bonus game.
Landing on a chance card
If the wheel lands on a chance then Mr. Monopoly will present you with a chance card which will either be a random cash prize or a random multiplier bonus.
If you receive the multiplier bonus then a multiplier is added to the winnings on a repeated spin, so you don't have to re-place any bets! If the wheel stops on another multiplier than the multiplier is multiplied!
What's even better is if the multiplier is followed by 2 ROLL or 4 ROLL every single one of the properties on the Monopoly board are multiplied meaning mammoth winnings.
MONOPOLY Live - What else should you know?
Regardless of what online casino you choose to play MONOPOLY Live at, you'll be delighted to know that Mr. Monopoly's wheel is open 24/7, no matter the time of day there'll always be a friendly face at the wheel ready and waiting to transport you to the world's most recognisable board game.
The minimum bet on Monopoly Live is £0.10 and the maximum bet is £2,500... So you rest assured if you're playing on a modest bankroll you can make this game last for some time, so if you're just looking to be entertained for an hour or two and you're happy to bet small then this game is perfect. For the higher staking players, this game has the potential to pay out big and fast, with a RTP (return to player) of 96.23% we're comfortable in suggesting that you give this a go.
Can you play MONOPOLY Live on a mobile device?
Yes, MONOPOLY Live can be played on a desktop computer, tablet or mobile device seamlessly.
Can you interact with the MONOPOLY Live hosts?
MONOPOLY Live is a very social game, the charismatic hosts actively encourage conversation with the players and you'll often find yourself engrossed in lengthy conversations with both the hosts and other players.
You won't find many trolls in the chat either, thankfully moderators ensure that the chat is kept clean and enjoyable.
A Fantastic alternative to playing online slots
If you've had enough of playing online slots for a while and fancy something different from your casino experience then we'd highly recommend giving this game a go. Don't worry... We'll have all of your wager-free spins ready and waiting for you once you've finished playing this fantastic live casino game show!
Play MONOPOLY Live at these casinos:-
Up to €500 Bonus + 120 Free Spins on Starburst

Get bonus

11 Wager-free Spins +100% Bonus up to €200

Get bonus