Best superhero themed slots at no wagering casinos 2022
Experience the thrill of superheroes mixed with the chance to win big
Superheroes are literally the coolest thing out there. The stories are often focused on good versus evil with epic fights and supernatural powers. Now how amazing would this sound mixed with online slots?
Thankfully, many developers have had the same idea and created some incredible superhero themed slots to save the day. Here are just a few of the best superhero themed slots at no wagering casinos in 2022.
DC Wonder Woman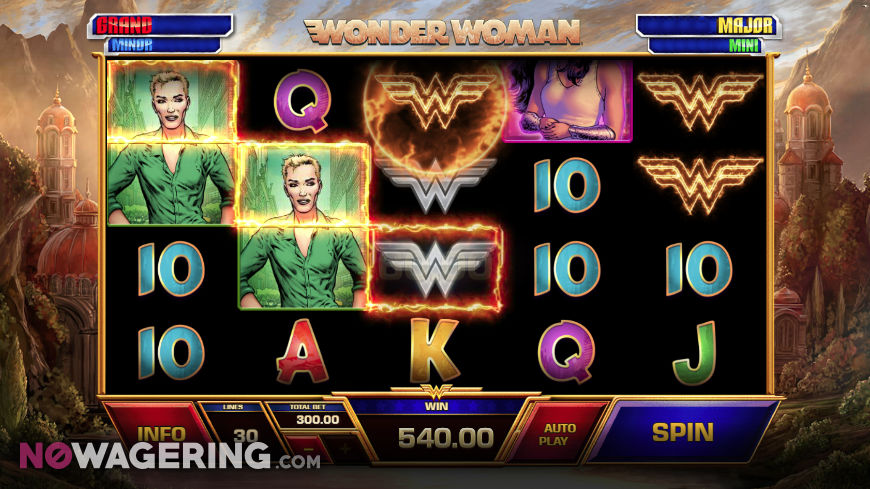 Name: DC Wonder Woman
Developer: Playtech
Reels: 5
Win lines: 30
RTP: 95.34%
Theme: Superhero
Volatility: Medium
Released: April 2019
Based on the legendary DC comic of the same name, Playtech's Wonder Woman slot takes place in the Amazons' home of Themyscira. The artwork of the characters looks modelled after the The New 52 revamp in 2011. All of Wonder Woman's biggest characters are here with Wonder Woman herself, Diana Prince, Steve Trevor, Cheetah and the biggest bad of them all Ares.
Not only does it look straight out of a comic book, but plays like a phenomenal slot with Wonder Woman Respins and Cheetah Free Games. Plus there are an abundance of wilds to assist you as well at the mighty DC Super Heroes Progressive Jackpot! Take on Ares and Cheetah in the DC Wonder Woman slot and be rewarded with all the treasures available in Themyscira.
The Dark Knight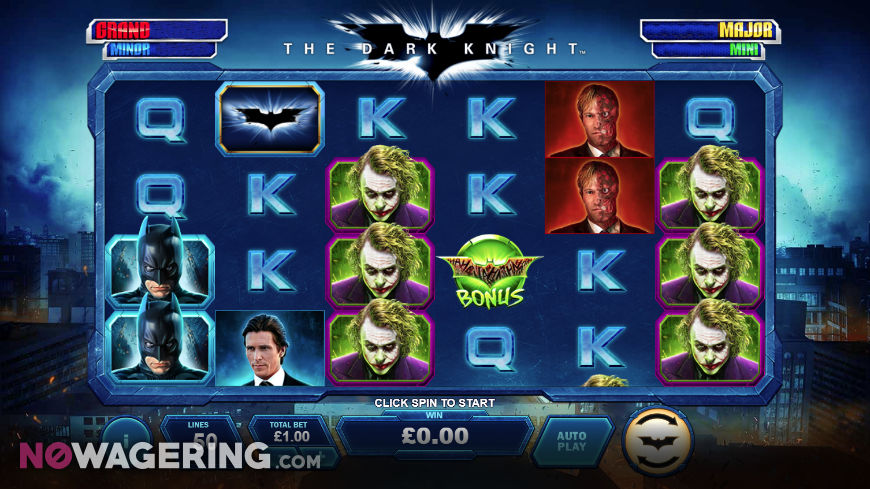 Name: The Dark Knight
Developer: Playtech
Reels: 5
Win lines: 50
RTP: 95.96%
Theme: Superhero, TV/Movies
Volatility: Low-Medium
Released: May 2018
Everyone absolutely loves Christopher Nolan's film, The Dark Knight, that is inspired by DC's The Killing Joke and The Long Halloween Batman series. Fans now have the chance to experience the thrill and suspense of this story with the opportunity to win big in Playtech's The Dark Knight. Set amongst the dark and shady nights of Gotham, it's up to the player to help Batman and Commissioner Gordon stop the Joker once and for all.
All the notable characters are involved such as Rachel Dawes, Harvey Dent, Bruce Wayne, Jim Gordon and the Joker. There are so many features to help you win big with The Joker Respins, The Dark Knight Free Games and The Agent of Chaos Free Games just to name a few. Similar to the DC Wonder Woman slot, you have the chance to win on DC Super Heroes Progressive Jackpot during your playthrough. Seeing the Joker and Batman face off again with the potential to win all the riches of Gotham? Yes, please!
Super Heroes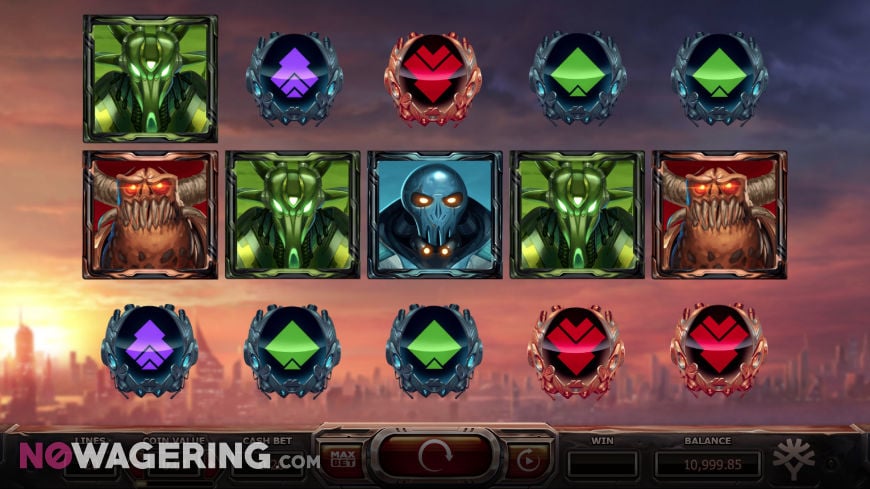 Name: Super Heroes
Developer: Yggdrasil
Reels: 5
Win lines: 20
RTP: 96.10%
Theme: Superhero
Volatility: Medium-High
Released: October 2016
Want a completely original story about a ridiculously cool group of superheroes taking on the alien bad guys? Yggdrasil's Super Heroes gives players the chance to take control of one of six different superheroes as they take on the alien overlords. It's thoroughly exciting and looks remarkable - as expected from renowned developers Yggdrasil.
During your game, you'll see Raven, Mirage, Tesla, Hopper, Trance and Knox all with individual powers to send those aliens packing. Thankfully, they are willing to share their treasures and winnings from the battle with you. With wilds, replacing symbols, free spins and multipliers - what else could you need in a slot? This is definitely a slot for both superhero and slot fans.
Suicide Squad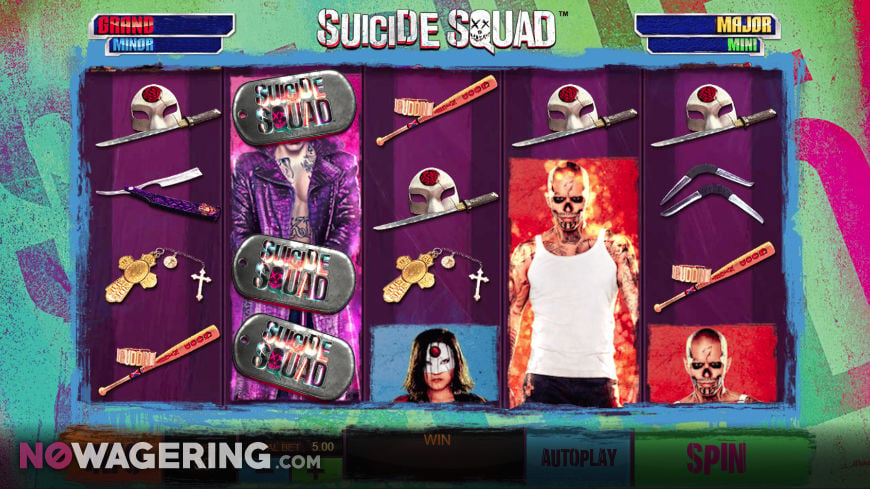 Name: Suicide Squad
Developer: Playtech
Reels: 5
Win lines: 50
RTP: 94.14%
Theme: Superhero, TV/Movies
Volatility: Medium
Released: August 2018
Okay, so goodie-goodie superheroes aren't for everyone, but what about a group of anti-heroes? Based on the DC supervillain team of the same name, Playtech's Suicide Squad features everyone's favourites including Harley Quinn, Deadshot and Katana. This slot takes inspiration from David Ayer's 2016 film and the comics to create something entirely unique.
Suicide Squad is all about the wild characters with their own individual abilities. Deadshot wilds, Joker wilds, Harley Quinn wilds, El Diablo wilds and Katana wilds are all the ones available. The Enchantress Mode can add multipliers and lock in symbols in place for an even greater chance of winning. In Suicide Squad, you can become part of the vigilante gang to enact your own justice and win on DC Super Heroes Progressive Jackpot! It's so much more fun to be the bad guys, and this slot will finally give you the chance to be a villain.
DC Justice League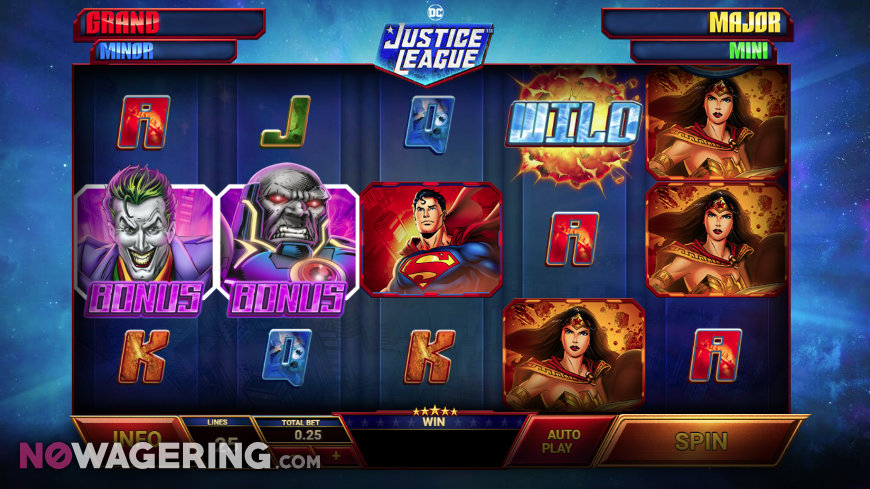 Name: DC Justice League
Developer: Playtech
Reels: 5
Win lines: 40
RTP: 96.27%
Theme: Superhero
Volatility: Medium
Released: November 2019
Go completely old school and get the whole of the Justice League in this slot developed by Playtech. The DC Justice League slot features traditional comic artwork of all your favourite superheroes and villains! Spin and see Batman, Superman, Wonderwoman, The Joker, Darkseid and even Cheetah. It's perfect for superhero fans who want to see an ultimate showdown.
Naturally, the slot is connected to the DC Super Heroes Progressive Jackpot - so there's already a huge amount that can be won even through that. You can even unlock up to 20 free spins with a multiplier and the potential to add additional free spins. For an experience that shows you how astonishing and spectacular the world of superheroes can be, this is the slot for you.