Thousands of pounds up for grabs at PlayOJO Bingo in August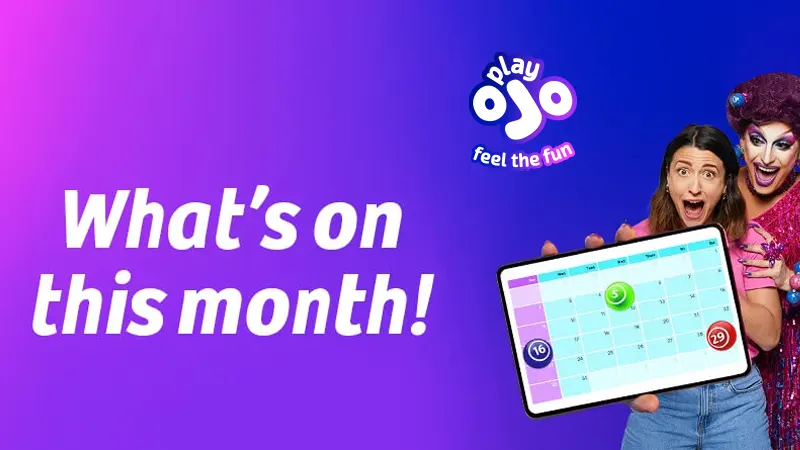 It's all kicking off at PlayOJO Bingo
Now that summer is in full swing, things are certainly heating up in the world of Bingo and PlayOJO Bingo is no exception. Throughout August, there is so much on offer for players that they will be spoilt for choice.
From Nifty Fifty to Reels Room, PlayOJO Bingo has players covered in terms of Bingo. If you love Bingo and great bargains, then look no further than PlayOJO Bingo this month.
Nifty Fifty
Every day, players have the chance to enter the Nifty Fifty room and there are more than £15,000 up for grabs throughout August. The best part is that it's all available in penny bingo.
From 8pm until 9pm each day, players can strap in for some quickfire 50-ball bingo action with a 1L and Full House prize to be won in every game!
Drop Pots
If rapid penny bingo wasn't enough, then how about the Drop Pots Room with three different jackpots that could drop on any day? These include the Mini, Midi and Maxi pots which can drop at any moment.
The Maxi one is the biggest with the prize money starting at £700 and there's even a guaranteed daily prize pot of more than £7,000! Who could refuse these amazing drop pots?
Ton Up Bingo
There are also a bucket load of prizes available to be won in the Equaliser 75 Room with every player being guaranteed a win! There are 10 games worth £100 each, but the Ton Up Bingo offers a £1,000 community jackpot that can be shared amongst players during every game.
All the players in Ton Up Bingo have the same number of tickets so nobody will start with an unfair advantage. Be sure to join in the fun every Tuesday and Friday throughout August at 9:30pm.
Free & Fab
It's been said that the best things in life are free and we have to agree! If you haven't already, then we implore you to look at the best free daily spinners. PlayOJO Bingo is offering free bingo every Wednesday with a 90-ball game every 10 minutes.
There are £1,000 in prizes available with a mixture of free and paid games as well as 1TG from 9am until midnight every single day!
Reels Room
Sometimes all you want to do is combine online slots with bingo and that is exactly what PlayOJO Bingo does with the unique Reels Room. This month players will be treated to an Egyptian theme with John Hunter and the Book of Tut.
This starts daily from 6pm until 10pm with tickets starting at as little as 5p. There is literally no other bingo site out there with the unique Reels Room - so be sure to check it out.
And Much-More!
That's not all that PlayOJO has to offer during August as there are Mojo Nights with £1,000 up for grabs in every session and there are also penny bingo games, 1TG and roll-on prizes. Players can enjoy this amazing variety from 6pm until 10pm every Monday and Thursday.
The bingo fun continues with the Rodeo Room with 75-ball bingo that starts every 5 minutes and there are also jackpot games guaranteed to deliver life-changing wins.
Of course, if that isn't enough, then how about 80-ball bingo in the Disco Room with a playlist full of pattern games with the dancefloor open daily from 3pm until 7pm with tickets from just 1p.
Terms and Conditions
The bingo events at PlayOJO Bingo are available throughout the entirety of August 2022.
All of the tickets start from 0p to 25p each and these can be pre-bought or obtained on the day of play.
The free bingo rooms in Mojo and Free & Fab are available for players who have made a real money wager.
If there is more than one winning ticket, then the amount will be equally shared.
There are no bingo wagering requirements at PlayOJO Bingo.