£12,000 to be won with Buzz Bingo's Free Live Bingo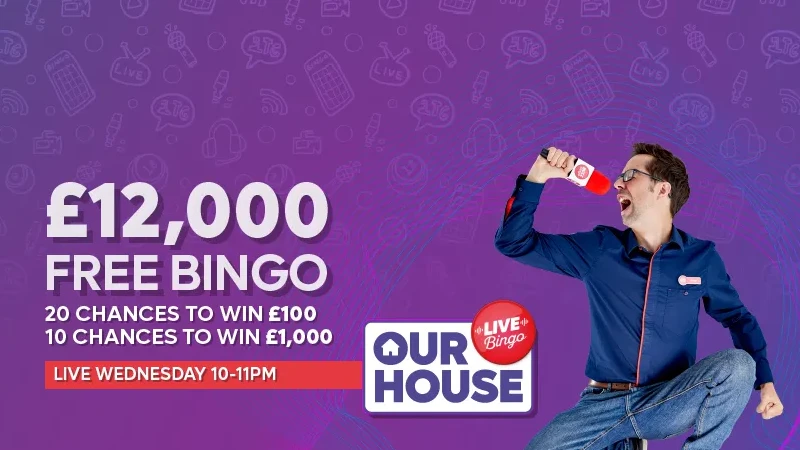 Try Buzz Bingo's Live Bingo for free!
Buzz Bingo introduced Live Bingo after high demand in September of 2022. Since then, it's been a massive hit with players, even extending even further than the original run.
As the generous bingo site that they are, Buzz Bingo is giving players the chance to play Free Live Bingon on Wednesday the 15th of March and there is even a share of £12,000 to be won. If you've been wanting to try Live Bingo, this is the best time to.
How to enter
This bingo promotion has appeared as one lucky player won £12,000 at Buzz Bingo Metro Centre and Buzz Bingo wanted to celebrate by throwing the biggest free bingo party!
From 10pm to 11pm, the live presenters will be in the Buzz Club Room hosting 10 free games for the entire hour. All of the games are completely free to play as well.
Prizes on offer
As previously mentioned, there's a share of £12,000 to be won. This is split amongst each of the games with 1 line awarding £100 and 2 lines awarding £100.
Managing to get the full house will lead to a win of £1,000. That's not bad considering that games are entirely free to enter and play. Get involved with the live bingo fun only at Buzz Bingo on the 15th of March.
Terms and Conditions
This promotion runs on the 15th of March from 10pm to 11pm.
This is open to all UK residents aged 18 or over with a verified Buzz Bingo account.
There is a share of £12,000 available across the hour with prizes split amongst players.