Young people losing over £270m per year through loot box purchases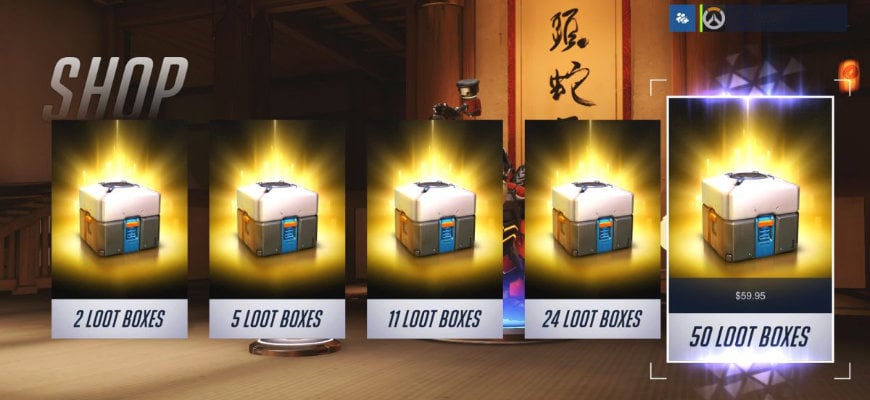 Loot boxes continue to be divisive as new survey yields shocking figures
A survey conducted by the Safer Online Gambling Group has found that young people in the United Kingdom are spending in excess of £270,000,000 on in-app purchases and video game add-ons known as loot boxes.
Loot boxes have been a talking point within the gambling industry for several years, with global gaming regulators teaming up to voice their concerns.
Last year fifteen gambling regulators from across Europe and America signed an agreement to work together to address the risks created by the blurring of lines between gaming and gambling.
What are loot boxes?
A loot box is a purchasable virtual container that when opened awards the player with random items and modifications based on luck, they could contain a rare sought after item, however on the other hand they could contain common items that are easily obtainable.
These are implemented to increase the profitability of the game, especially if the said game running on a free-to-play model such as Fortnite, which can be downloaded free-of-charge on any console or device.
Loot boxes are considered unpopular by the vast majority of gamers and are seen as an additional cash grab, especially considering many players find themselves hampered when coming up against players that have benefited from purchasing them, as they can dramatically shift the balance of play.
That said, more often than not, younger gamers and those with access to disposable income are easily drawn towards loot boxes due to their unpredictable and potentially lucrative nature.
To combat the negative press loot boxes have received in the past, many video game developers have turned towards offering cosmetic only rewards, meaning that there are no advantages to players purchasing them.
Average spend shockingly high
The survey found that 1 in 2 young people aged 11-18 had encountered loot boxes whilst gaming, it also shockingly found that the average spend on in-game content per person was estimated to be at £500-600 per year.
One in ten young people are also thought to have accidentally spent money on in-app purchases on mobile and tablet games.
What does the UK Gambling Commission say?
Earlier in the year Gambling Commission Chief Executive Neil McArthur said: "While there are significant concerns about children playing games that offer loot boxes, loot boxes themselves do not qualify as a form of gambling under current laws.
"There are other examples of things that look and feel like gambling that legislation tells you are not - such as some prize competitions, but because they have free play or free entry they are not gambling... But they are a lot like a lottery."
This isn't the first time the Gambling Commission have stated loot boxes cannot be classed as gambling, due to the fact that there are no official channels for monetising loot box rewards.
Responsible gambling
NoWagering supports responsible gambling and are keen to create a dialogue and lead the conversation on gambling responsibly, the tools that are available to players to help them gamble safely all year round and sources of advice and support for those that require them.
In the lead up to Responsible Gambling Week 2019 and beyond we will continue to promote responsible gambling and the best online casinos that actively look to make gambling safe and enjoyable for all players.
Recently we were keen to highlight Videoslots Casino in an article on our news page for introducing mandatory loss limits for all United Kingdom players, ensuring that they can gamble without it getting out of hand, remaining enjoyable for the player.
If you wish to bet a responsible casino we'd highly recommend Videoslots, you can find their latest deal below.