Online Gambling Reform 2017: A Year in Review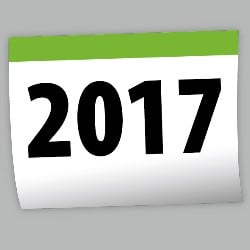 Over the past few years, there has been great headway in the scrapping of wagering requirements. 2016 saw the UK Gambling Commission and the Competition and Markets Authority launch an investigation into online casinos nationwide, eager to find out whether operators were treating their customers fairly. This included looking into companies' compliance with social responsibility, the way they interact with their customers through advertising, and of course, how fair they were being with their wagering requirements.
In some ways, we understand that wagering requirements are a necessary evil; after all, these casinos are businesses and there's an ocean full of competition out there, so the only way companies might drive-in new customers would be with generous welcome offers. But they can't just give away a large sum of cash for free, so they attach wagering requirements. Some are reasonable, offering a decent bonus which comes with low wagering like 5x or 10x, others go the other way and players can find themselves looking at a free £100 which can't be cashed out until its wagered 80x over.
It's the same with free spins, they sound like a great offer, giving players extra chances to get the win they hoped for without having to part with their own cash, yet they came at a hefty price, often requiring that players wager any winnings won from the free spins up to 50x over. Doesn't really sound free, does it? So it's no wonder why this investigation was called.
Q1 2017: The Revolution Begins
As a result, nearly two years later we're seeing an incredible decline in high wagering fees, with most big casinos flocking to join the low wagering camp, or even scrapping these requirements altogether! So how did we get from there to here? Well, 2017 bridged this gap nicely, a year which proved to promoters that working with their customers was much better than working against them.
At the start of the year, the chief executive of the Gambling Commission, Sarah Harrison, led the charge at the World Regulatory Briefing, stating that 2017 would be the year in which they would build consumer trust and confidence, as well as conducting a review of the online market. Working with the CMA, they stepped up their investigation from the previous year and decided it was time to come down hard on companies that were breaking consumer laws.
These laws protect consumers from misleading advertising and unfair terms, and promoters would soon learn exactly what that means, especially when it came to their wagering requirements. Although, as if predicting the future, February also saw the launch of PlayOJO, an online casino with absolutely no wagering requirements, and isn't it a coincidence that a year after their launch, PlayOJO have not only landed themselves some pretty prestigious awards, but they've also risen to be one of the best iGaming sites in the industry? We think not.
Q2 2017: The First Cannon Fires
It didn't take long for the CMA and the Gambling Commission to show the gambling industry that they meant serious business. The first significant fine of 2017 went to one of the biggest names in the business, Bgo, who were charged £300,000 for not adequately outlining the terms and conditions attached to their promotions. With the first domino to fall being such a big player, it showed the industry that this talk of taking action wasn't just hollow words and that these rules applied to everyone. While this hoped to send a clear cut message throughout the online gambling world, it was only a couple of months later in June when we saw it happen again when Lottoland were forced to pay £150,000 for similar advertising failings - sadly, this wouldn't be the last time we witnessed cases like this.
June also brought with it some headway into Sarah Harrison's promise to clean up the industry, as through a joint operation run by London Police's Intellectual Property Crime Unit meant the Gambling Commission helped vastly reduce the number of gambling adverts that were placed on illegal websites. This was great news, as it meant that it strengthened the commission's ideal to keep crime out of gambling, while also promoting online gambling's two main priorities: safety and fun.
The best news of 2017 came at the end of June when it was announced that the ante had been upped on the investigation that was launched the previous year. This scale-up saw the CMA open a new line of enquiry into unfair terms and practices that could restrict customers' rights to withdraw money - sounds familiar no? Yes, they began to look into withdrawal restrictions and other unfair "strings attached" including those ludicrous wagering requirements that come with those oh so 'generous' bonus offers! In her statement, Harrison said: "Whilst the CMA takes enforcement action on how consumer legislation is followed, the gambling industry should be under no illusion that if they don't comply with consumer law, we will see this as a breach of their operating licence, and take decisive action."
Q3 2017: The Wall Begins to Crumble
July kicked off with the Gambling Commission unveiling a new enforcement strategy which raised the stakes even higher for any company that was ready to breach consumer laws. The key change in their strategy was a financial one, meaning that any systematic and repeated failings in regards to these laws would land promoters with even bigger fines.
After what happened with Bgo, and with the commission promising even higher penalties, you'd think that this would be the end of any kind of breach. But alas, it was not meant to be, as a mere one month after this statement was given, 888 was handed a £7.8m fine!
It wasn't all doom and gloom though, as August and September saw two of the biggest names in the industry implement some excellent wager-free offers. Betfair Casino was the first, offering players "no wagering free spins" as part of their welcome offer, shortly followed by William Hill Vegas in September who welcomed new players to their platform with some free, no wagering spins with no deposit required. This was hoped by many to be the point where other companies would follow, and in the months to come, those hopes became realities.
September also saw newcomers PlayOJO nominated for 'The Rising Star of the Year' award at the prestigious EGR operator awards. Much of the praise they were given came down to the ways they put their customers first by being transparent, open, and honest; showing the industry that it really does pay to work with your players. As PlayOJO said themselves: "PlayOJO has taken a different and innovative approach to the online casino, and has put its players first by being open, honest and transparent. Despite launching less than a year ago, we are already setting the standard for others to follow."
Q4 2017: Bring it all Down!
The remainder of 2017 was quite the mixed bag. The trend of companies being fined for breaching consumer law still raged on; in October Stan James Online was fined £80K for social responsibility failures; in November, Gala Interactive had to hand over £2.3m for similar offences and finally, in December, Broadway Gaming was £100K poorer for misleading advertising.
However, these last three months also saw some significant victories for both the Gambling Commission and the no-wagering camps. Firstly, the GC laid out a roadmap to fairer and safer gambling; a three-year plan which will better regulate the British gambling market, shortly followed by a statement in which they announced they would take harsher action on companies that weren't clearly setting out significant terms and conditions on promotions, especially in terms of wagering requirements, withdrawal restrictions and caps on winnings. They advised consumers to armour themselves by checking the terms and conditions of any promotions thoroughly as they might not be sure what they're signing up for.
This was a message received loud and clear by many promoters as the last three months saw a sudden influx of low-wagering offers, as well as the scrapping of them entirely. Bgo, after licking their wounds and reviewing their policies, decided that for them, wagering requirements were a thing of the past - but they didn't make this decision quietly, in fact, it became their new, biggest selling point as their adverts made very clear. PlayOJO was also crowned 'Casino of the Year' at Malta's iGaming awards, showing that their way of doing things goes a long way into building a successful online gaming experience.
2018: A New Sun Rises
While there's still plenty of headway to be made before we can predict with confidence that the end of wagering requirements is nigh, with so much achieved in such short time, it gives us great hope. 2018 has already gotten off to a great start with another "wager-free spins" offer from Betfred Casino joining the fray, so it's clear that these kinds of offers are becoming the norm. There are now a growing number of no-wagering casinos, from small names new to the industry such as Rise Casino and All Cash Casino to the bigger players like Bgo and long-standing no wagering veterans mFortune and Mr Spin. It seems that it's only matter of time before wagering requirements are a thing of the past entirely, so all we can say is, keep your eyes on the horizon as there's plenty more ahead.