Safer Gambling Week 2022 - Get Support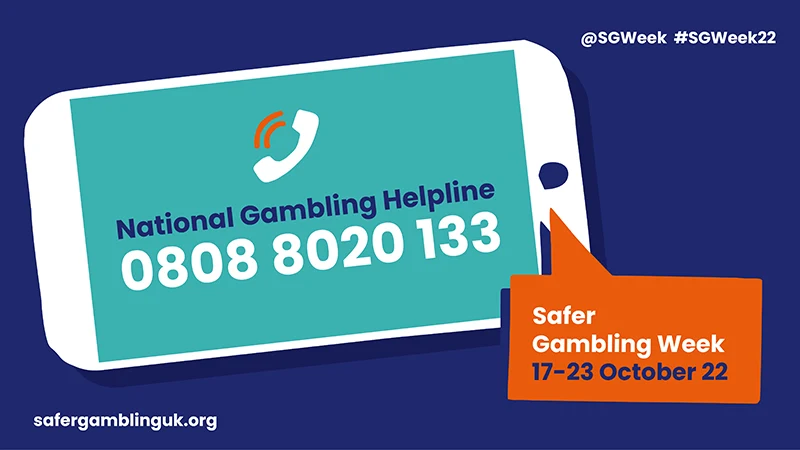 Find support through specific services and helplines
From the 17th to the 23rd of October 2022, Safer Gambling Week is in full swing. The week is all about promoting responsible gambling and highlighting all the services that are available to help.
As part of Safer Gambling Week 2022, there is a strong focus on communication and talking about any issues that you may have. If you are concerned about your own or someone else's gambling, there are loads of support and advice services out there to help you.
There are so many support options available including helplines, websites, online chats and even forums. All of these options are free, confidential and offer a non-judgemental service. As there are so many options, they can be tailored to your circumstances as well.
The National Gambling Treatment Service
As a network of organisations working together, The National Gambling Treatment Service provides confidential treatment and support for anyone experiencing gambling-related harm in England, Scotland and Wales.
This company offers support through telephone calls, online and face-to-face support for individuals and groups. The number is available 24 hours a day at 0808 8020 133.
GamCare
GamCare is actually part of The National Gambling Treatment Service. It is the leading UK provider of free advice and support for anyone harmed by gambling. The number is available 24 hours a day and is the same as the one stated above.
The service also offers a live chat feature, forums and a group chatroom to connect with others. There is also a GameChange course which is an online treatment course for those concerned with gambling and will receive regular contact with a GamCare therapist for free.
Northern Ireland National Helpline
As The National Gambling Treatment Service is only available to those in England, Scotland and Wales, those needing assistance in Northern Ireland can contact a specific helpline run by Dunlewey Substance Advice Centre.
This offers a free and confidential counselling programme for those who need it. The service can be contacted for free on 08000 886 725 from 9am to 11pm each day, or through email at [email protected].
Support for Young People
GamCare does offer gambling information and advice for young people through BigDeal, a service which is available 24 hours a day on 0808 8020 133.
Just like GamCare, there is a live chat feature but there is also a WhatsApp Chat available on 020 3031 8881 that is active 24 hours a day as well.
Gordon Moody
This service provides advice, counselling and structured treatment for those suffering from problems created by gambling. The company is a leading charity focused on helping those who may need it.
There is even Gambling Therapy which offers free online advice with over 250 languages supported. Gordon Moody can be contacted via telephone at 01384 241292 or live chat service.
Gamblers Anonymous
Gamblers Anonymous is an organisation that is joined together by men and women wanting to do something about their gambling problems and help others do the same. This service offers various aids for those who need it.
These include forums, chat rooms, literature and even meetings in person or through video chat. This is ideal if you are looking to speak to others and share your own experiences.
PayPlan
As the UK's largest provider of free debt advice, PayPlan works in partnership with GamCare offering long-term debt solutions and guidance on how to improve your financial situation.
They have been offering free debt advice for 25 years and have helped over 100,000 people. This can be done through an online tool or via telephone.