How to mathematically beat wagering requirements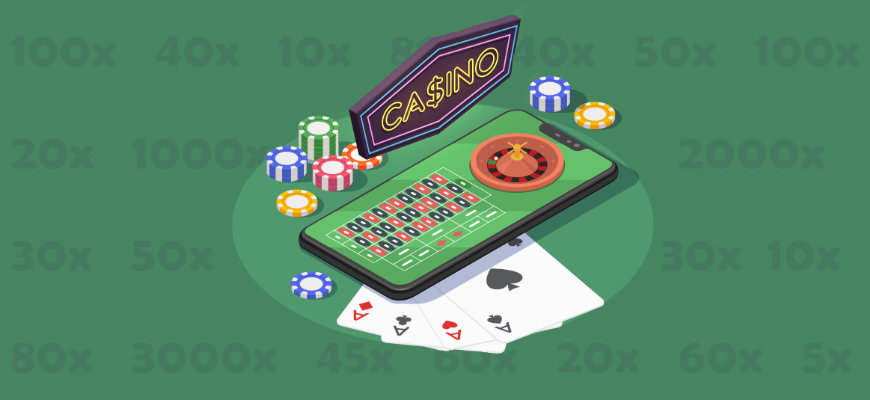 How to avoid the wagering requirement headache
Naturally, we're all about the no wagering casinos bonus here at No Wagering (the clue's in the name)! We pride ourselves on finding the fairest wager-free deals that let you keep what you win without any hassle. That being said, we love a good deal and still enjoy making the most of traditional bonuses, even if that does mean dealing with pesky wagering requirements.
The problem with these deals is that they can be straight-up confusing, there's nothing more frustrating than thinking you're getting something for nothing, only to find out that's not really the case.
Wagering requirements essentially mean that players have to put in additional work to earn their winnings.
We want to eliminate some of that confusion for you so that you can safely make the most of online casino bonuses without resorting to customer services to ask where your money is! With our simple advice, you'll always be on top of your bonus with a strong understanding of what you need to do in order to get that money withdrawn as quickly as possible!
How to calculate how to meet the wagering requirements on a bonus
Imagine you've been offered £100 bonus cash upon making your first deposit and this bonus has 40x wagering requirements. This means you're going to have to place a total of £4000 worth of bets before any winnings can be withdrawn.
So, in layman's terms, the £100 you receive has to be multiplied by whatever the wagering requirement is, so £100 x 40 = £4000, it really is that simple, you just need to continue playing the site's eligible games until you've spent a total £4000 without your bonus cash running out.
Sometimes it might be the case that the casino requires you to factor in your initial deposit on top of the bonus cash you receive, so if you had to deposit £20 to receive the £100 bonus then you'd need to wager £120 x 40, which would mean wagering a total of £4,800.
Realistically, reaching the threshold to withdraw funds is quite a tricky uphill task, however, with a bit of luck, it is possible to achieve, especially if you trigger a lucrative bonus feature on one of the eligible games, massively boosting your bankroll.
The exact moment that £4000 barrier has been reached you can make a withdrawal, however, up until that point it remains strictly under lock and key. You could end up with less than you started with when you began wagering the funds, on the other hand, you could have gained much more, it's all about luck! There are no real strategies players can follow.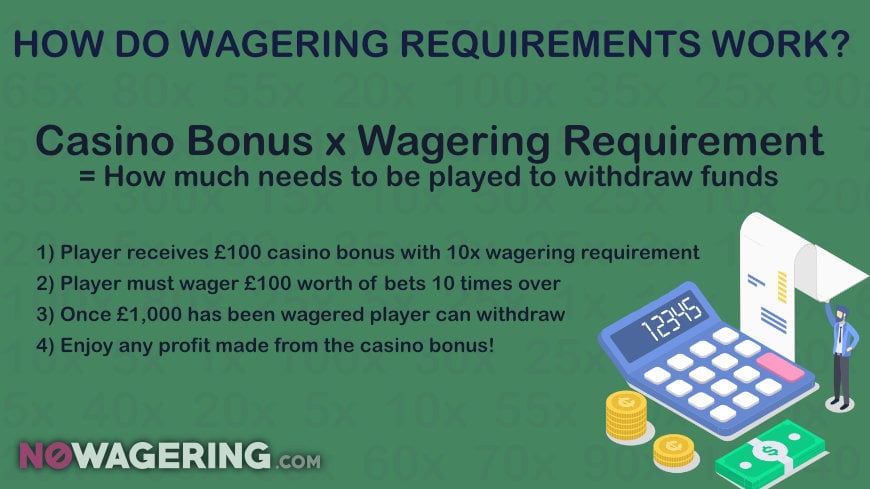 Can online casinos hide wagering requirements from players?
It used to be the case that online casinos would hide the fact their seemingly generous online casino bonuses were restricted by wagering requirements. They did this by not clearly displaying information related to wagering anywhere on the offer, only deep within the terms and conditions, which nobody realistically took the time to read.
As complaints piled up from angry players who felt they'd been conned by these casinos for offering less than what they'd perceived, regulators were left with little choice but to step in and create a new set of rules that forced the operators to make wagering requirements more visible to each and every player.
Nowadays every casino bonus has wording that makes it abundantly clear what's required of players before they sign up and deposit. Now you'll know exactly how much bonus cash you're getting, and how much needs to be wagered before any winnings can be withdrawn.
How can players beat wagering requirements?
There are a couple of ways players can try to complete the wagering requirements on a casino bonus. Firstly, it's important that players pick the right type of game, as different games have different weightings.
Weighting refers to the percentage of a bet that goes towards clearing the overall wagering requirements. Weighting exists because players found they were able to quickly clear wagering requirements by playing table games such as roulette.
Roulette was a particular favourite because the odds of winning were much higher, meaning it was possible to have a 50/50 chance of winning when betting on red or black, therefore clearing the requirements quickly and painlessly.
Nowadays, you'll want to choose a game that has 100% weighting such as online slots, as table games are usually capped at 10%, poker at 30%, while others don't contribute towards wagering at all.
Knowing you have to play slots and slots only, you'll then want to specifically identify an online slot with high RTP or an online slot with free spin bonus rounds as these give players the best opportunity to pick up sizeable wins that can clear wagering requirements quickly and efficiently.
Once you're spinning the reels it truly is down to good luck, but choosing one of the aforementioned types of slot will certainly put you in the driving seat towards working through those requirements and successfully making a withdrawal.
Is there an alternative to casino bonuses with wagering requirements?
Yes, there's an alternative to casino bonuses with wagering requirements! If you don't like the idea of working your way through wagering requirements you can always opt for a no wagering casino bonus, these bonuses see players keep what they win without having to worry about working through wagering requirements.
These offers tend not to be as generous as traditional bonuses, but they still promise players a decent number of free spins on specific highly-rated online slots. Many of these casino offers have very little to differentiate between them, so it can be much more difficult to pick a site, that's why we've taken the time to review some of the best no wagering casinos on the market and bring you some fantastic no wagering free spins offers that you can take advantage of right now.
Frequently asked questions
Was sind Umsatzbedingungen?

Eine Umsatzbedingung ist eine Voraussetzung, die Online-Casinos und Bingo-Sites mit ihren Boni, Freispielen und manchmal Treueprämien verknüpfen, um zu verhindern, dass Spieler den Bonus missbrauchen. Kurz gesagt bedeutet es, dass du den Bonus, den Preis oder Gewinne aus Freispielen mehrmals einsetzen musst, bevor du dir daraus entstandene Gewinne auszahlen lassen kannst. Hier kannst du mehr über Umsatzbedingungen lesen.

Was bedeutet eine Umsatzbedingung von 10x, 30x oder 50x?

Eine Umsatzbedingung von 10x bedeutet, dass du einen Bonus zehnmal einsetzen musst, bevor du dir damit erzielte Gewinne auszahlen lassen kannst. Falls du einen Bonus von 100 € mit einer Umsatzbedingung von 10x erhältst, musst du insgesamt 1.000 € (100 € x 10) einsetzen, bevor du dir deine Gewinne auszahlen lassen kannst. Analog musst du bei einem Bonus mit einer Umsatzbedingung von 30x bzw. 50x insgesamt 3.000 € (100 € x 30) bzw. 5.000 € (100 € x 50) einsetzen.

Was bedeutet "keine Umsatzbedingung"?

Der Begriff "keine Umsatzbedingung" bedeutet, dass ein Bonus oder Freispiele nicht mit einer Umsatzbedingung verknüpft sind. Alles, was du mit dem Bonus oder den Freispielen gewinnst, gehört dir und wird deinen auszahlbaren Mitteln gutgeschrieben.

Was ist eine Durchspiel- oder Einsatzumsatzbedingung?

Eine Durchspiel- oder Einsatzumsatzbedingung ist ein anderes Wort für Umsatzbedingung. Dies sind Voraussetzungen, mit denen Boni und Freispiele verknüpft sind, um zu verhindern, dass der Bonus missbraucht wird.

Lohnen sich Freispiele?

Ja, Freispiele lohnen sich, aber oft gelten dafür Bedingungen, die verhindern, dass Spieler von ihnen profitieren, selbst wenn sie mit ihnen eine bedeutende Summe gewinnen. Meist liegt das an einer Umsatzbedingung, deshalb sind Freispiele ohne Umsatzbedingung eine bessere Alternative. Zusätzlich gilt für manche Freispiel-Boni ein Auszahlungslimit. Das heißt, selbst wenn du bei den Freispielen Geld gewinnst, kannst du dir zum Beispiel nur 500 € auszahlen lassen, oder vielleicht auch nur 20 €. Aber selbst wenn sehr strenge Bedingungen gelten, sind Freispiele oft eine Gelegenheit, kostenlos zu spielen oder ein neues Spiel auszuprobieren.

Was bedeutet Ausschüttungsquote (RTP) bei Automatenspielen?

Die Ausschüttungsquote = RTP steht für "return to player" (prozentuale Rückzahlung an den Spieler). Die Ausschüttungsquote ist ein statistischer Wert, der als Prozentwert angezeigt wird und angibt, wie viel Geld Spieler von ihrem bei einem bestimmten Spiel eingesetzten Geld zurückzugewinnen erwarten können. Wenn du zum Beispiel 100 € an einem Spielautomaten mit einer Ausschüttungsquote von 98 % einsetzt, kannst du statistisch erwarten, 98 € zurückzuerhalten. Die meisten Online-Spielautomaten verfügen über eine Ausschüttungsquote im Bereich zwischen 95 und 98 %.