Win guaranteed daily prizes with Mecca Bingo's Winner Spinner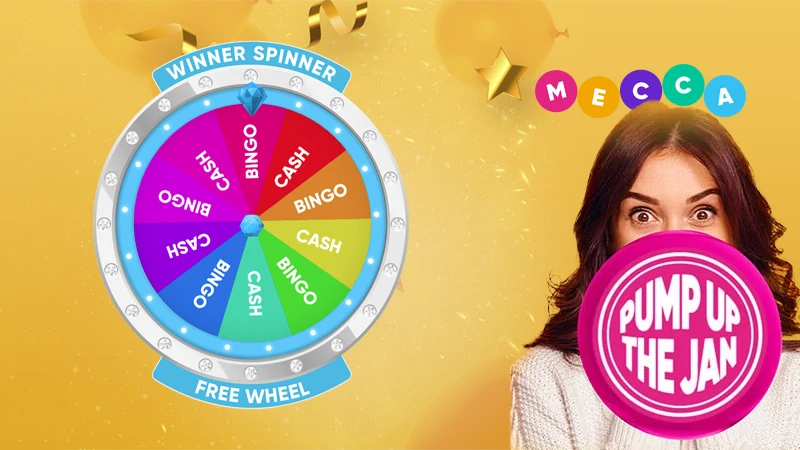 Spin daily for guaranteed prizes!
Our friends over at Mecca Bingo love nothing better than a free spin on a bonus wheel, so what better way to brighten up the dark days of winter? From now until April 2023 you'll be able to claim one free daily spin on the all-new Mecca Bingo Winner Spinner.
How to be a 'Winner Spinner'
The Winner Spinner promotion is only available for members of Mecca Bingo, so if you haven't already signed up, now would be a perfect time. Not only will you have immediate access to a world of fun bingo games, but there are slots to enjoy too, along with an active social scene.
It's completely free to take your spin on the Winner Spinner wheel. And you get to spin it once every day between 8am and 11.59pm from now until the 2nd of April. There's a guaranteed prize with every spin so be sure to log in and claim your free spin every day.
Fantastic prizes and guaranteed wins!
The top prize on the Winner Spinner daily prize wheel is £500, which is always going to be welcomed by any player lucky enough to spin it up. But every spin is guaranteed to result in a prize, and since it's free to take part, what have you got to lose?
There are two types of prizes available on the Winner Spinner wheel, so you'll win either an instant cash payout or a free bingo session.
Cash prizes come in a range of values from 15p all the way up to £500.
Free bingo sessions give you access to £400 and £500 free bingo sessions the following day after your win.
Use your bingo session winnings to play even more games, and your winning spin could turn out to be the gift that keeps on giving.
Oh, and best of all, there are no wagering requirements for any of the prizes on the Winner Spinner Wheel. Now that's an offer we simply can't refuse!
Terms and conditions
The Winner Spinner promotion runs from 4th January until 2nd April 2023.
You can claim one spin every day throughout the promotion between 8am – 11.59pm.
Players must be aged 18 or over.
All spins are random but are guaranteed to result in a winning outcome.