Live Bingo arrives at Buzz Bingo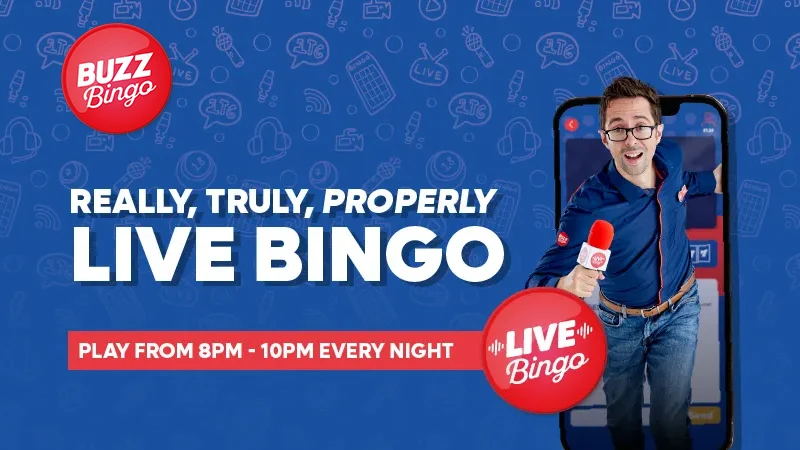 The time has come for Live Bingo!
It may be hard to believe but Buzz Bingo is turning four years old this weekend and what better way to celebrate than with Live Bingo? That's right - Live Bingo is arriving at one of our favourite low wagering bingo sites!
From the 29th of September, players can experience the joys of bingo but with a real-time presenter from 12pm to 2pm and 7pm until 10pm every night. They can enjoy bingo sessions with Roger, Devin and Charles! Ultimately, this means that you can have the full experience of bingo night without ever having to leave your house.
An event not to be missed
In order to kick off the event in style, Buzz Bingo is hosting four special nights starting on the 29th of September from 8pm until 10pm. On the first night, there are 3 massive full house prizes worth £1,000 each.
On the actual birthday date for Buzz Bingo (aka the 30th of September), there are 4 different full house prizes worth £444 each. The fun does not stop there, as the 1st of October has 21 different full house prizes worth £100 each.
The 2nd of October also has a special live bingo night with 80's Night featuring special prizes of £80 for calling bingo numbers in the 80s. Whilst the big spectacle weekend ends there, live bingo is here to stay at Buzz Bingo.
What's so special about Live Bingo?
Whilst all bingo games at Buzz Bingo have chat hosts, they can only communicate through text. Live Bingo actually has visual hosts that run the entire bingo game as you would find at an actual bingo hall.
The live presenter can interact in every show and talk about the experience. You can literally see what is going on in the studio and experience wins with the host as they occur.
Special Live Bingo features
There's no denying that Buzz Bingo is all about bingo - but the Live Bingo feature is unlike anything else ever seen on bingo sites. One of the greatest aspects of having a live presenter is that they have given players bigger and better prizes.
Some of the other extra game features that players can look forward to include:
Bonus Board - Calling a full house on any number on the bonus board awards extra cash prizes.
Prize Wheel - Spinning a wheel reveals a guaranteed prize added to the full house prize.
Magic Number - A random number is chosen between 1 to 9. Any full house prize claimed on this number awards an extra prize.
Double Bubble - When a full house is called on a double number (aka 77), the player wins double the money.
Multiplier Wheel - A special prize wheel with added multipliers (of up to x6) is added to increase the full house prize money.
Money Back - During the last game of the night, players have the chance to win back all the money they staked during the Live Bingo session.
Be sure to join Buzz Bingo for an experience unlike no other. Bingo is literally the star of the show, so do not miss Buzz Bingo's Live Bingo games starting on the 29th of September every day from 12pm to 2pm and again from 7pm until 10pm.
Terms and Conditions
The promotion runs from 12pm to 2pm and then again at 7pm until 10pm from the 29th of September until further notice.
This promotion is open to all UK residents aged 18 or over with a verified Buzz Bingo account.
All additional prizes awarded by enhanced features will be paid in cash funds within 2 hours.
The prizes awarded by each enhanced feature may vary so refer to the information from the Live Presentor during the individual bingo game.