Catch the Cash with Mecca Bingo to win cash prizes every day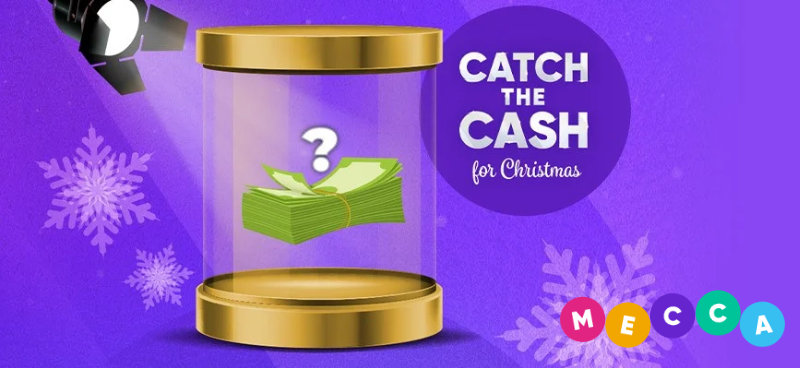 Free daily cash prizes courtesy of Mecca Bingo
The name of Mecca Bingo is known across the UK as one of the best no wagering bingo sites and our friends at Mecca Bingo have got a brand new promotion just in time for Christmas.
You can join in the fun and play for cash prizes and you don't even have to spend a penny! Make sure you don't miss out on this daily promotion giving out cash prizes for free until the 19th December 2021.
How do I enter?
All you need to do is log in between 12pm until 12am each day and click on the promotion - it's as simple as that! You can play daily and you don't even need to deposit anything.
What can I win?
In the Catch the Cash promotion, you can wish up to £100 in cash - all by simply playing the play and click game.
On top of the cash prize, you can win entries to Friday Night Catch in the Cash Prize Draw that takes place on Mecca TV every Friday where you can win up to £10,000.
Catch the Cash Premium
Alongside the free promotion, you can enter Catch the Cash Premium by depositing and staking £10 on your favourite bingo games or online games.
It takes place from 2pm until midnight giving you an even bigger prize of up to £1,000 in this prize draw. You can also gain entry to the Friday Night Catch here as well.
Terms and Conditions
This promotion runs from 22nd November until 19th November 2021 23:59 GMT.
You must be an active Mecca Bingo account holder with a verified account and be over 18.
All winnings will be credited in cash.
Mecca Bingo can cancel or amend this promotion at any time without any warning.