MrQ hosts Dreams Come True charity bingo night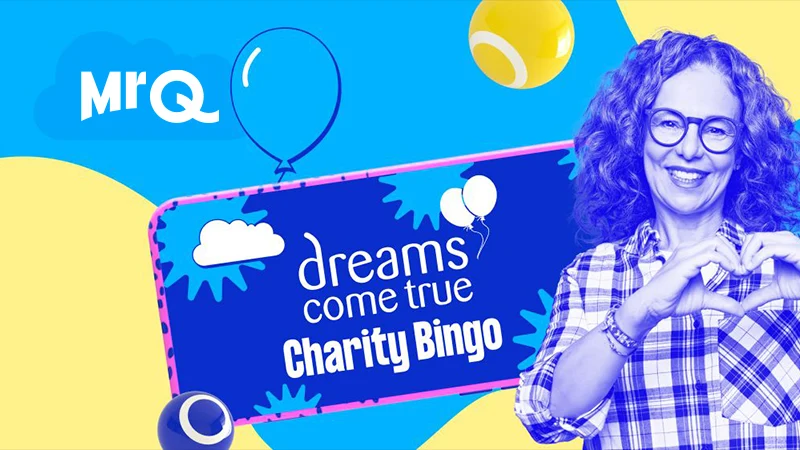 How would you like to engage in a fun evening of bingo, while helping to raise funds for a children's charity?
If you like the sound of that, then be sure to note 25th September in your diary, because that's when MrQ is joining forces with Dreams Come True.
You can enjoy all the thrills and spills of playing 90-ball bingo, with some incredibly tempting cash prizes to be won. But you'll also be helping to grant wishes for children in need of help and support.
Play bingo – help children to live their dreams!
When you help to generate funds for Dreams Come True, you'll be improving the lives of deprived, disabled and seriously ill children throughout the country. The Dreams Come True organisation has helped more than 6,300 vulnerable children since 1988, but there's still so much more work to be done.
Every child has their own dream or wish, and the charity aims to help make each one a reality. That could involve a complete bedroom makeover, specialised equipment, a longed-for holiday or even useful tech, such as computers and tablets. Whatever the child's specific dream, the charity aims to make it happen.
Make a difference
And you can help make a child's dream come true, just by signing in to MrQ and taking part in the charity bingo event on September 25th.
It's so easy – you're guaranteed an exciting and entertaining evening playing fun 90-ball bingo games, and you'll be making a positive difference in children's lives at the same time. Better still – there are no travel costs, and you don't even have to get dressed up!
Join in the fun on World Dream Day
There's a very good reason why MrQ and Dreams Come True have chosen September 25th for the charity bingo event. That date has been selected as World Dream Day 2022, with people in every country invited to participate.
The theme this year is The Higher Dream, with a goal to unleash potential, make the world a better place and transform lives. And you can help, just by playing a few fun MrQ Bingo games.
You'll be helping to put a smile on a child's face, and you might even win yourself one of the prizes on offer - what's not to love?
This is how you get involved
You'll need to sign up for the no wagering bingo site before you can purchase your tickets for this exciting charity event. As soon as your account has been created, and you've made your first deposit, you'll be eligible to join in the fun.
If you're already a member, then make sure you're logged in and ready to play at 8pm on 25th September. All game tickets are priced at just 20p each, and you'll need to purchase at least six tickets to join in.
There are six games to enjoy, with some fantastic cash prizes to look forward to, for some lucky players. Here's what you could win:
1 line = £20
2 lines = £30
Full House = £50
So there you have it! Entertaining 90-ball bingo games, real cash prizes and the chance to make a vulnerable child's dreams become reality. We know where we're going to be at 8pm on September 25th – why not come and join us?
More exciting promotions and offers to discover at MrQ
If you're not already familiar with this operator you could start by checking out our comprehensive MrQ review for the full details. Aside from offering 75 and 90-ball bingo games, the site also has a huge collection of over 800 slots, as well as numerous table games.
There's even a mobile casino if you prefer to play on your smartphone or tablet. MrQ also runs regular promotional offers – and needless to say, we always have the full details, right here at No Wagering. Be sure to check back regularly, so we can keep you up to speed on all the latest events you need to know about.