IGT awarded "Best Place to Work for LGBTQ+ Equality"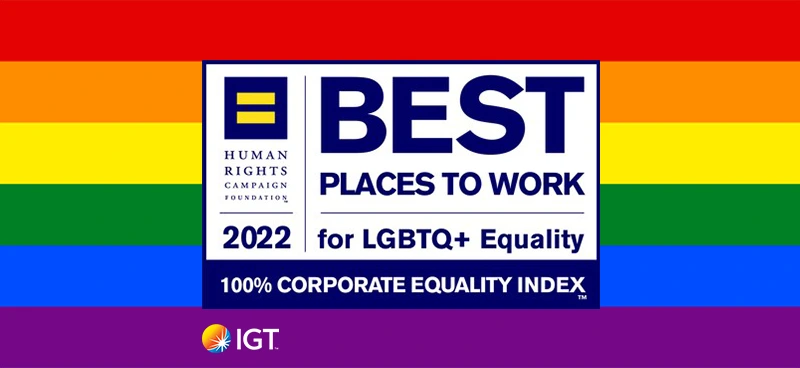 One of the largest iGaming brands in the world praised for LGBTQ+ equality
The online slot studio behind Cleopatra and Star Lantern Mega Jackpots is in the news for positive reasons this week as they have been awarded a perfect score of the 2022 Corporate Equality Index (CEI) for workplace equality.
IGT received the perfect score from CEI and joins a recording-breaking 842 U.S companies to receive the score on the Human Rights Campaign (HRC) Foundation's CEI evaluation.
Best Place to Work for LGBTQ+ Equality
The CEI is the nation's leading benchmarking survey for LGBTQ+ equality in the workplace and IGT have been awarded the "Best Place to Work for LGBTQ+ Equality" designation.
Ultimately, the CEI evaluates corporate policies and practices to measure an employer's commitment to workplace equality.
Based on four central pillars
There are four pillars that the HRC and CEI focus on which include:
Non-discrimination policies across business entities.
Equitable benefits for LGBTQ+ workers and their families.
Supporting an inclusive culture.
Corporate social responsibility.
Since 2018, the IGT has incorporated a range of policies to promote all dimensions of diversity including competitive benefits for same-sex partners, gender-neutral bathrooms, inclusive hiring processes, supporting training courses and much more.
"Welcoming, equitable and empowering," says IGT CEO
"IGT earning the HRC Foundation's 'Best Place to Work for LGBTQ+ Equality' designation is a reflection of our commitment to provide a workplace culture that is welcoming, equitable and empowering to LGBTQ+ employees across the globe," said Vincent Sadusky, IGT CEO.
"I wish to thank our approximately 11,000 employees worldwide, especially members of PRIDE with IGT, who together with the Office of Diversity and Inclusion embrace and activate IGT's core values and contributed to this milestone achievement."
"Reinforces IGT's commitment to diversity," says IGT VP
"This designation reinforces that IGT's commitment to diversity, equity and inclusion is focused on impact," added Melissa Pursley, IGT Vice President and COO IGT Indiana and Co-Executive Sponsor of PRIDE with IGT.
"Many in the LGBTQ+ community still struggle to thrive at work, and as a senior leader at IGT and a member of the LGBTQ+ community, I am proud that IGT has taken consistent steps to ensure that this is not the case for our colleagues."
"Still more to do," says HRC
"When the Human Rights Campaign Foundation created the Corporate Equality Index 20 years ago, we dreamed that LGBTQ+ workers could have access to the policies and benefits needed to thrive and live life authentically," said Jay Brown, Human Rights Campaign Senior Vice President of Programs, Research and Training.
Brown concluded: "There is still more to do, which is why we are raising the bar yet again to create more equitable workplaces and a better tomorrow for LGBTQ+ workers everywhere. Congratulations to IGT for achieving the title of Best Places to Work for LGBTQ+ Equality and working to advance inclusion in the workplace."