iGaming Terms and Conditions Report 2020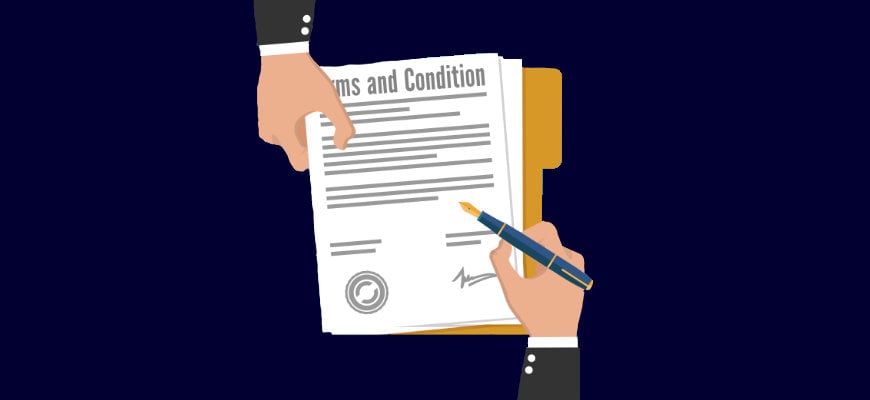 No Wagering study reveals players don't read terms and conditions - Are operators taking advantage?
There's no denying that those of us who take great interest in finding the fairest wager-free casino bonuses are sticklers when it comes to reading the terms and conditions, but it seems this just isn't true for the rest of our fellow gamblers.
Within the world of online slots there's a profound element of risk when choosing not to read the terms set out by the operator before accepting a bonus or welcome offer. Whilst not as much of a problem as it used to be, operators have been guilty of hiding the not so glamorous caveats to accepting a generous bonus deep within their terms and conditions.
As a result players have been continuously lumbered with unwelcome surprises such as unobtainable wagering requirements and unusually high withdrawal limits that stop them from ever taking any money from the casino.
Despite the obvious risk posed from not reading the terms and conditions it seems that players still don't seem to care enough to read them, according to research from the Gambling Commission of over 8,000 players surveyed only 20% admitted to taking the time to read the terms and conditions associated with their chosen site.
What's even more concerning is that 62% of players admitted to purposely avoiding them, whilst the remaining 18% admitted they didn't realise terms and conditions existed at all.
Misinformation and a lack of awareness around T&C's often leads to unnecessary disputes
Inevitably, a good portion of the 81% that aren't reading the small print stumble across an issue that leads them to feel wronged and aggrieved by the operator. Upon speaking to a Customer Service representative it's often discovered that the issue could have easily been resolved by reading the site's terms before making a complaint.
The most common complaints ranged from incorrect bet settlements, the non-payment of winnings, the inability to withdraw funds and misleading bonuses and promotions. In some cases the complaint may well be justified, but more often than not this is the minority… Our infographic below breaks the stats down and goes into greater detail on common complaints:

Are they fair? Investigating operator terms and conditions
In response to being told to read the T&C's many players were quick to argue that they just aren't clear or transparent enough. Of those surveyed 26% of players stated that they felt terms and conditions were unfair.
To find out whether this was the case we took a deep dive into the terms and conditions of six of the most popular operators that offer multiple services (in this case online slots and sports betting) to determine whether they had deliberately made their T&C's difficult to understand, or whether players were using this as an excuse when a dispute had not gone their way.
The operators we sampled for this study were: SkyBet, Ladbrokes, Paddy Power, Betfred, William Hill and Bet365, all popular household names that are heavily marketed to a UK audience.
First and foremost we looked at just how easy it was to find each operator's main terms and conditions page… An incredibly straightforward exercise as all of the relevant operators included a link to their T&C's within the footer of their website, meaning wherever players are on the site they're always easily accessible.
More importantly though, we wanted to find out whether operators were displaying the 'significant conditions' relating to their welcome offers and bonuses. Significant conditions refer to items such as whether there are any wagering requirements, if not then how many wager-free spins players are getting, the deposit amounts required for the bonus/offer to be applicable and the time in which a bonus/offer needs to be redeemed before it is invalid.
According to the Gambling Commission's most recent Licence conditions and codes of practice that all operators must adhere to: Licensees must ensure that all significant conditions which apply to marketing incentives are provided transparently and prominently to consumers.
Licensees must present the significant conditions at the point of sale for any promotion, and on any advertising in any medium for that marketing incentive except where, in relation to the latter, limitations of space make this impossible.
In such a case, information about the significant conditions must be included to the extent that it is possible to do so, the advertising must clearly indicate that significant conditions apply and where the advertisement is online, the significant conditions must be displayed in full no further than one click away.
The final sentence matters the most in our case, as being one click away doesn't necessarily mean the terms and conditions have to be easy to find. While the one click away clause is important, it could potentially give operators an excuse to bury this link amongst the text where players aren't necessarily going to see it.
Upon investigation we found that five of the six operators shared the full terms and conditions on the same page as the bonus offer with just minimal scrolling required, one site instead opted to make their promotional terms a single click away (however they did clearly state the significant terms).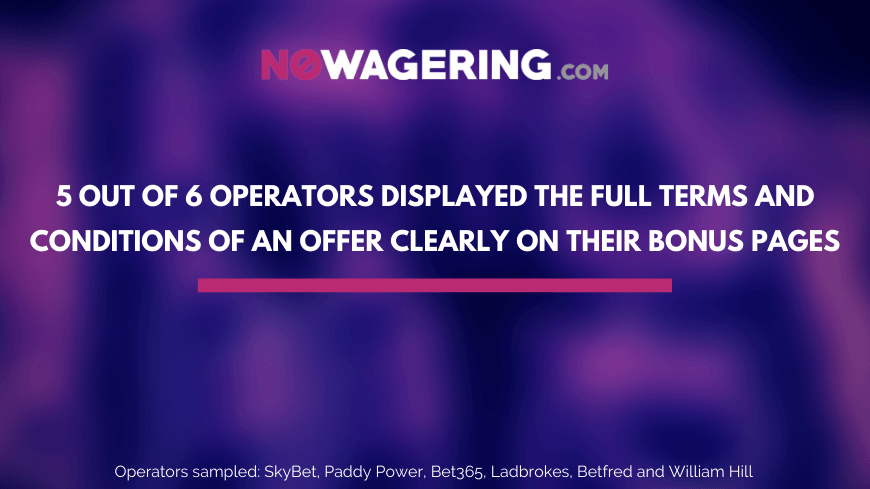 We were delighted to find that where applicable there was clear guidance with regards to wagering requirements, stake value, maximum stake limits and game contributions on the bonus page of all six of the casinos we sampled.
However, the way this information was displayed did vary from operator to operator, with four of the six sites opting to include key information clearly on their promotional banner for all to see. This was before players even clicked through to take advantage of the bonus and opt in.
The remaining two sites instead opted to put something along the lines of 'Terms and Conditions apply' in their promotional banners, with the significant terms then included on the bonus page itself.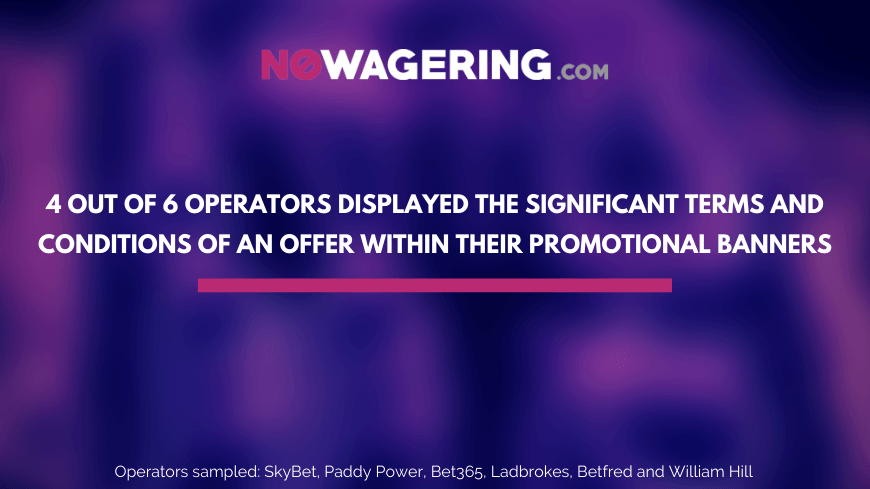 Payment problems - Do casinos need to rethink the way they display minimum withdrawal limits and restrictions?
As alluded to earlier in the article, two of the most common complaints with players are the non-payment of winnings and being unable to withdraw funds from their account.
More often than not both of these issues are down to the fact that the player hasn't been reliably informed as to the minimum withdrawal amount before depositing their own money and playing, or because of unfair wagering restrictions stopped them from withdrawing as they hadn't reached the required threshold to successfully make a withdrawal.
From our research it's clear to us that operators are certainly not shying away from displaying the wagering requirements for all to see. However, there is potentially an argument to be made that operators should rethink the way they display minimum withdrawal limits within their terms and conditions.
When actively searching for the operators minimum withdrawal limits we found that four of the six sites made it very clear what their minimum withdrawal limits were, and where we needed to go in order to get other key payment information. This was mainly thanks to a set of well organised menus within the terms and conditions themselves.
Unfortunately, the remaining two sites were much more difficult to navigate and in the end we found we had to use ctrl + f to manually search for the phrase 'minimum withdrawal' in order to find what we needed amongst thousands of words... And even then it proved quite difficult to find what we were looking for.
Clearer guidelines are needed
We thoroughly believe there should be clearer guidelines with regards to where operators display the minimum withdrawal amount. It seems odd that this wouldn't be displayed clearer in the first place, as all the casinos we sampled had fair minimum withdrawal limits that would not draw any criticism.
Displaying this key piece of information more prominently would certainly cut down the amount of unnecessary complaints.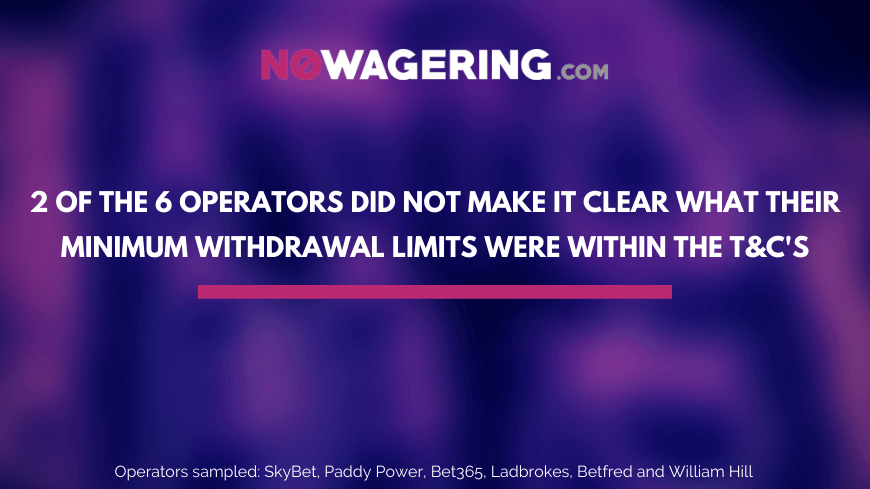 Navigating long and confusing terms and conditions
There's an argument to be made that casinos need to clean up their terms and conditions and make them much easier to digest. Whilst some operators opt to make these pages easy to navigate with menus, jump links and drop down text, others sadly opt to place the terms and conditions on their site as a large chunk of text that isn't organised in a user-friendly way.
Designing terms and conditions this way could be viewed as a bit of a dark practice, as unfavourable rules can be hidden amongst mountains of text that's very easily missed, even by those who know what they're looking for.
Of the six casinos we sampled five casinos offered players means of easily navigating to each specific section of the terms and conditions via one of the aforementioned methods, only one didn't, insisting players trawl through 13,000 words (the length of your average undergraduate university dissertation) in order to find a specific piece of information.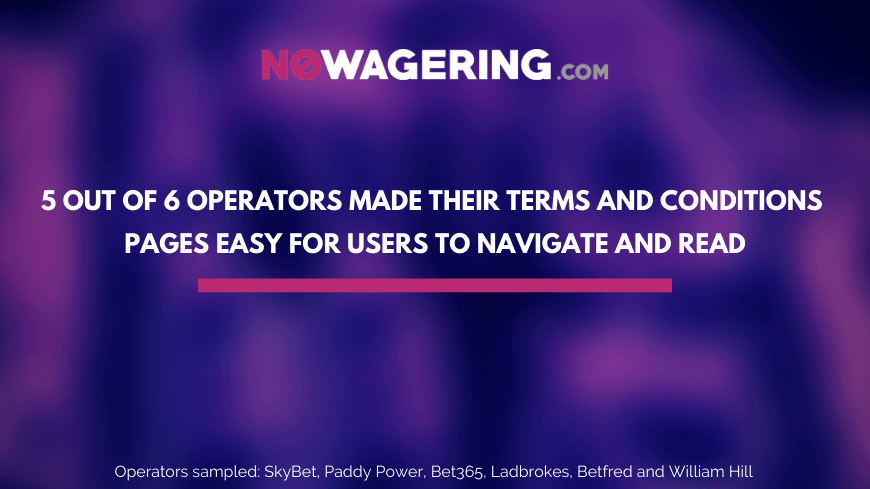 Understanding terms and conditions is beneficial if players want to have a stress free betting experience
Ultimately, we know that customers of most internet-based services just aren't interested in reading terms and conditions.
When it comes to a service like an online casino that sees transactions involving thousands of pounds, they should be taken much more seriously, especially if players want to reap any rewards they may earn whilst playing.
Not only should players make sure they thoroughly read through the terms, but they should also keep up-to-date with any changes that are made to them at a later date (these are usually communicated via email or an on-site message).
Considering these are always carefully put together by a skilled team of lawyers that specialise in contract law within the iGaming industry, it's best to be well accustomed to them.
There's no getting around T&C's and 99% of operators will refer back to them during a dispute.
It may seem like terms and conditions are solely in place to protect the operator and shift liability in the event of an issue, but this isn't the case. They can just as much be used in your favour if you truly feel you're on the right side of an argument.
If you're legitimately looking to resolve a casino dispute, be that on your own or via an Alternative Dispute Resolution Provider then it's VITAL that you're completely confident with the operators terms and conditions from the get-go, otherwise you could find yourself suffering financially as a result of an lengthy, or potentially unsuccessful claim.
Verdict - Casinos aren't looking to purposely sting unsuspecting players
While we cannot stress how important it is to be aware of terms and conditions, it's also important to point out that legitimate regulated operators are not looking to catch players out with their T&C's.
Our findings show that operators are making a conscious effort to make it crystal clear what is expected from players when they choose to bet with them and accept their welcome bonuses and offers, there's no shifty hidden smallprint or clear efforts to deceive users.
There might well be casinos out there haven't made their terms and conditions as easy to digest as others, but they've certainly not neglected to tell their customers exactly what they need to do in order to claim a bonus and successfully make a withdrawal, should they be lucky to win.
Yes, there are rogue unlicensed operators out there who will happily chop and change their terms and conditions in order to keep customers money under lock and key, however in this day and age, as long as you're playing with a trusted operator such as those found at No Wagering then you should be absolutely fine.