£137,000 in holidays to be won in Buzz Bingo's The Big Getaway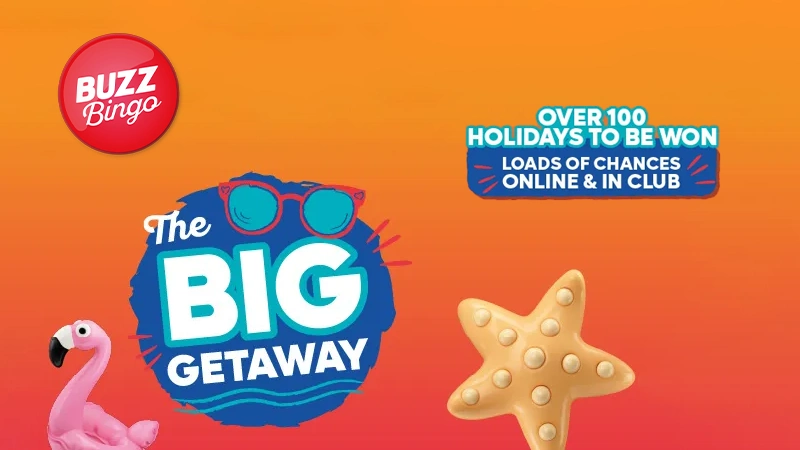 Win your dream holiday with Buzz Bingo's Live Bingo!
Are you dreaming of an exotic holiday destination? Make it a reality with Buzz Bingo's The Big Getaway! In club and online, Buzz Bingo is giving away £137,500 in holidays from Saturday 18th of March to Sunday the 16th of April.
In order to win online, all you have to do is join Buzz Bingo in the special Big Getaway Live Bingo show every Saturday night for a chance to win entries into the prize draw.
Details on The Big Getaway
Head on over to the Buzz Club Room from 7pm to 10pm on the 18th and 25th of March and then the 1st and 8th of April. Players will earn 1 entry into the prize draw to win a £3,000 holiday for any one-line, two-line or full-house win during these games.
Not only that, but everyone who finishes on 1TG will earn an entry too! There will also be 24 full house prizes worth £100 each as well as the special Pick a Beach Ball game guaranteeing cash prizes of up to £100 every game.
The Big Getaway Live Bingo Finale
On Saturday the 15th of April, the finale for this promotion will commence in the brand new Live Bingo Room from 7pm to 10pm. There will be three extra holidays up for grabs during this special game.
From 7pm to 9pm, there will be two £500 holidays up for grabs. From 9pm to 10pm, there will be a £1,000 holiday that can be won. These extra holidays will need to be claimed through full house. Every time they aren't won, Buzz Bingo will increase the ball call by 1 with all of them guaranteed to go on the last game each hour.
At 10pm, the grand winner of the £3,000 holiday will be drawn and announced live on the show! Extra entries can be gained by spinning the daily free spinner 'Big Getaway Spinner' available every day from the 20th of March until the 16th of April.
Unlock your dream holiday with Buzz Bingo's The Big Getaway. There are multiple ways to enter so be sure not to miss out on this wonderful promotion.
Terms and Conditions
The online side of this promotion is available on the 18th and 25th of March and the 1st, 8th and 15th of April between 7pm to 10pm.
In order to enter the prize draw, entries must be gained through the Big Getaway Spinner or from players in the previously mentioned games.
The holiday prizes will be awarded as Love2Shop vouchers with no alternative mentioned. The prize will be delivered in the post within 5 to 7 working days.
There are no wagering requirements attached to this bonus. However, there is a £5 minimum withdrawal that applies as per the general terms and conditions.