Grab No Wagering Cash Prizes & Free Spins at Mecca Bingo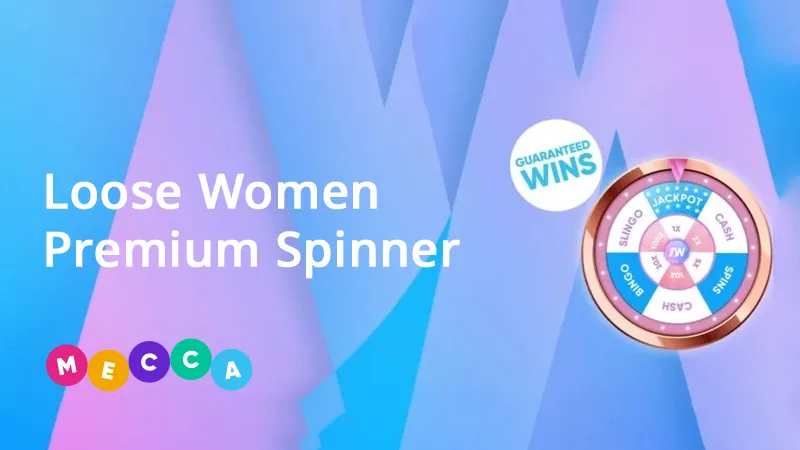 Here's your chance to land daily prizes at Mecca Bingo thanks to the fabulous Loose Women Premium Wheel promotion. And the best thing is that there are absolutely zero wagering requirements.
The deal runs until the end of May 2023 and is available for all players as long as they make a £10 deposit and stake the same amount on games at the site on the same day. The next day, they'll get their chance to spin the wheel.
What can you win?
There's cash and free spins on offer and the prize is determined by taking a spin on the Loose Women Wheel. It could be as little as £1 but it might be the top prize of £1,000; you never know.
Mecca Bingo has stashed £500k aside to accommodate all of the lovely payouts so why not get involved and claim your share?
If you land free spins, then you'll be off to play the game of choice indicated on the prize wheel and you'll get between 5 and 20 bonus spins. The minimum value is 10p per spin but some will be as high as 20p per play.
Whatever you win is yours to keep
Nobody really wants to get caught up with wagering requirements as they can be pretty time-consuming and also make it difficult to walk away with a prize at the end of it. Mecca Bingo has done us all a huge favour and got rid of this caveat completely for the promotion.
No Wagering cash prizes go straight to your balance and can be spent on various bingo or side games.
Playing your free spins will, hopefully, result in some wins here and there, and these will also make their way straight back to you. Again, do with this cash as you please.
Everyone's a winner!
These no wagering prizes might be chosen at random but that's not to say that only some players reap the rewards. There are no 'lose segments' on this prize wheel so everybody walks away with something. Play as often as you like—every day until the end of May if you wish—and you're always guaranteed to get your hands on a freebie of some variety.
Mecca Bingo's Loose Women No Wagering Premium Wheel T&Cs
The Loose Women Premium Wheel promotion will run from 3rd April to 31st May 2023.

The Loose Women Premium Wheel game will be available to play from 2pm – 12am every day from 3rd April to 31st May 2023.

The Loose Women Premium Wheel daily game is for all players who deposited and staked £10 in the previous day (from 01:00 – 00:59) and these qualifying players will receive one spin on the Loose Women Premium Wheel game

The game outcome of the 'Loose Women Premium Wheel' game is determined at random. Every spin of the wheel will result in a prize, there is no lose segment.

The prize segments on the 'Loose Women Premium Wheel' game image asset are for illustration purposes and don't represent the chances of winning each prize.

In the event that you qualify to play the Loose Women Premium Wheel game, and the game is unavailable on meccabingo.com, you will automatically be able to play on the next day when the game is available.

We will make every effort to inform you of any planned downtime of the 'Loose Women Premium Wheel' game, via the promotion and game page.
I don't have a Mecca Bingo Account. What should I do?
Open one, of course! It only takes a few minutes to get up and running at this popular bingo brand and you can deposit and place your £10 stake today to get your free spin on the Loose Women Premium Wheel tomorrow.
Head over to Mecca Bingo and while you're there, unlock the door to a superb new player bonus at the same time.
Spend £10, get up to £120 as a new customer at Mecca Bingo
Simply create your new account at Mecca Bingo and deposit & stake £10 on bingo games within 7 days to spin the Welcome Wheel. 99.99% of spins will result in a win, so the odds are definitely in your favour!
There are no wagering requirements on any of the cash or free spins prizes. Amazing!
Other No Wagering deals to check out this month
While we love the Loose Women promo, it's only right to show you what else is out there right now. Fans of no wagering promos can take their pick from the following deals and remember that there's no limit to how many you can land.
You can only sign up for 1 account at each brand, but there's nothing to stop you from having accounts with multiple bingo sites and feeling the benefits of each and every one.
Remember that T&Cs apply so follow the links to read our full reviews and see exactly how these deals work.